Gourmet Strawberries Dipped in Chocolate
In our opinion everything looks and tastes better when chocolate is involved, and for us chocolate dipped strawberries top the list! According to Roman history, strawberries were the symbol of Venus, the goddess of love. In the 1960's, a lady working in a food store in Chicago, thought up the idea of dipping the fruit in chocolate, and this has since gained in popularity as a dish for Valentine's Day or for other romantic occasions.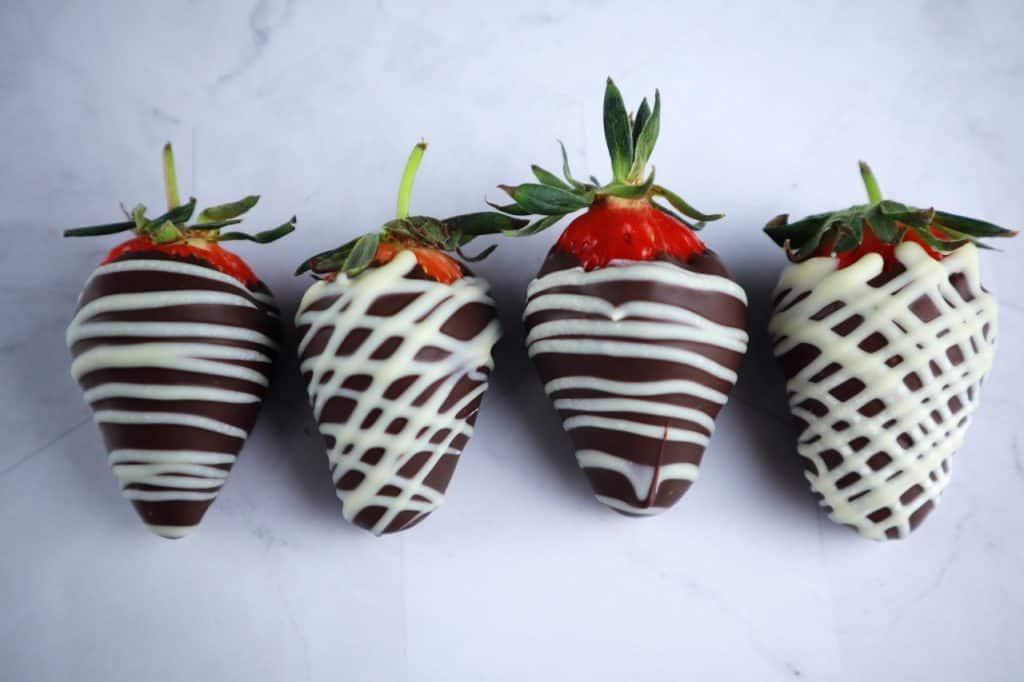 Covering strawberries in chocolate is a fun family activity, and an easy and cheap way to transform the appearance of the strawberry to an impressive and fancy bite-sized dessert.
What is the best chocolate to dip strawberries?
Using good quality chocolate is important. Since only one ingredient besides the strawberries is used the taste of the chocolate will be pronounced. We prefer to use dark chocolate as the main covering but milk chocolate or white chocolate are lovely further additions for decorating and pattern making. Take care not to burn the chocolate during melting, and always allow time for the dipped chocolate to set before further decorating of the strawberries. Most chefs use Cacao Barry or Valrhona chocolate but all depends of course where you are and how much you use chocolate
Is adding oil necessary?
It is not essential but adding vegetable oil or another flavourless oil, such as grapeseed oil can help to make the chocolate look shinier. It will also be smoother to work with and enable thinner coating of the fruit.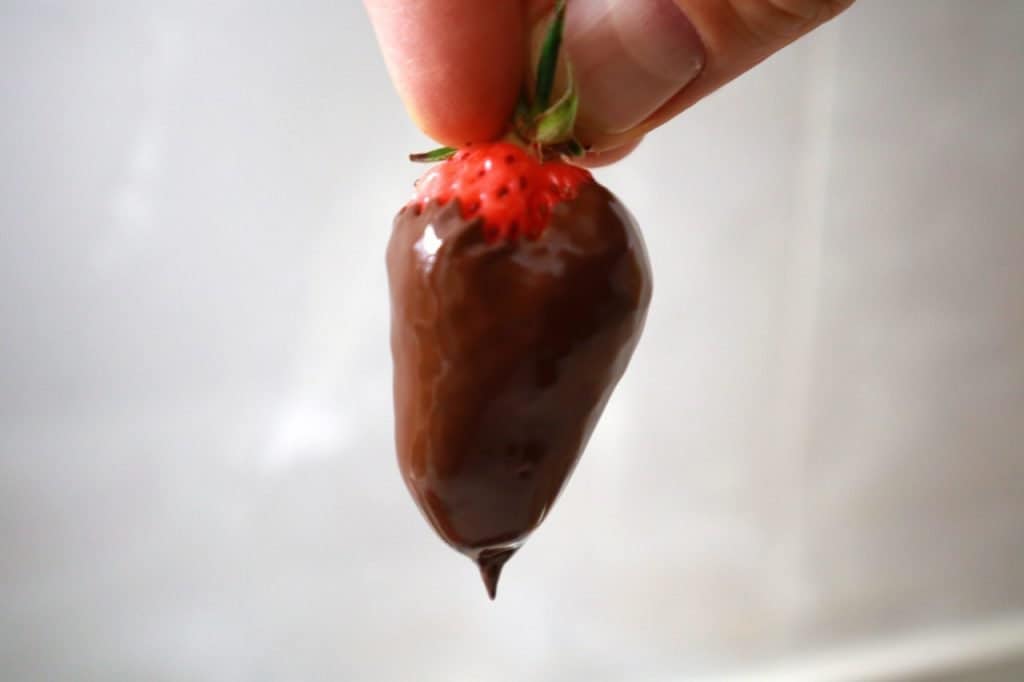 Best practice to melt chocolate for dipping
Follow these instructions to avoid burning the chocolate.
Fill the bottom of a saucepan with water and choose a bowl that fits on top without touching the water.
Bring the water to a simmer and reduce the heat to the minimum.
Place the bowl with the chocolate on top and allow the steam to melt the chocolate.
Keep control of the heat and once the chocolate starts melting, stir until smooth and shiny.
Read also : Easy chocolate mendiants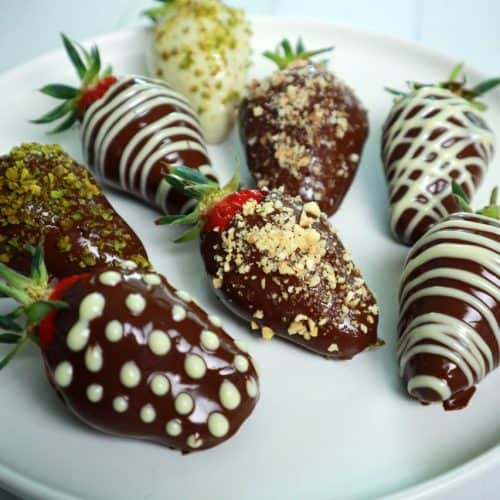 Chocolate Dipped Strawberries
Covering strawberries in chocolate is an easy and cheap way to transform the appearance of the strawberry to an impressive and fancy bite-sized dessert.
Ingredients
16

pcs

large fresh strawberries

400

gr

dark chocolate 72%

300

gr

white chocolate

40

gr

crushed granola

40

gr

toasted crushed hazelnuts

40

gr

toasted crushed pistachios
Instructions
Gently wash the strawberries and dry them well on a kitchen towel.

Prepare toppings of your choice and a tray with parchment paper.

Melt the different chocolates separately in bain-maries (as described above).

Dip each strawberry in the melted chocolate and coat with your favourite topping.

Place the coated strawberries on the parchment paper to crystalize.

Use a 'paper cornet' or a small piping bag to drizzle additional chocolate to decorate the fruits.
Notes
The coated strawberries will keep in the refrigerator for a maximum of 2 days.
Nutrition for 1 portion
Calories:
147
kcal
Carbohydrates:
16
g
Protein:
2
g
Fat:
8
g
Cholesterol:
0.3
mg
Sodium:
28
mg
Fiber:
1
g
Sugar:
9
g
Vitamin A:
3
IU
Vitamin C:
1
mg
Calcium:
78
mg
Iron:
0.4
mg
Tried this recipe?
Let us know how it was! #culinaryambition