Stir fried Winter Bamboo Shoots
Winter bamboo shoots, or 冬筍, grow simply and do not emerge from the ground. They are harvested before they ever see daylight. Digging up bamboo shoots from the soil is hard work, as one must swing a hoe down hard around the shoot to loosen the soil while at the same time avoiding hitting it. For beginners, harvesting one bamboo shoot takes at least 10 minutes.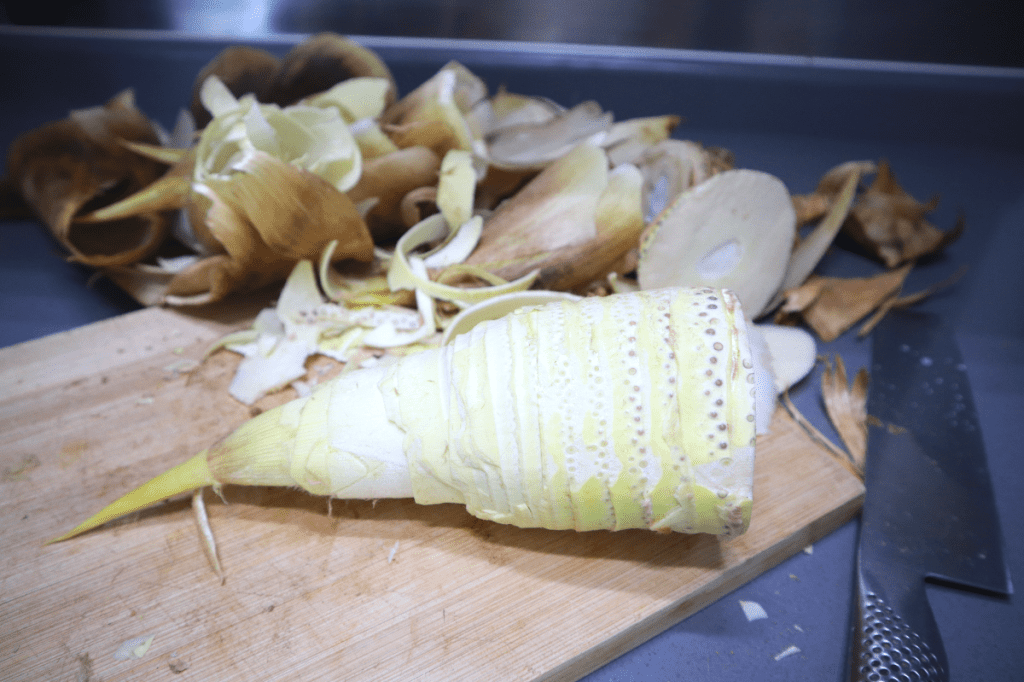 We have eaten bamboo shoots when living in Thailand but in China it is a long standing tradition and during the season you can find plenty of the freshest bamboo at the local markets. Although bamboo shoots are not low priced due the difficulty to harvesting, it must be said that the trees are highly reproductive. Besides, if the shoots grow freely in the bamboo forest, it's difficult for the trees to mature, so eating bamboo shoots is necessary.
Braised bamboo shoots are a common, and a popular traditional dish in Shanghai. It is a low calorie, fully vegan dish which might be out of your food comfort zone, but it is a dish that will not disappoint.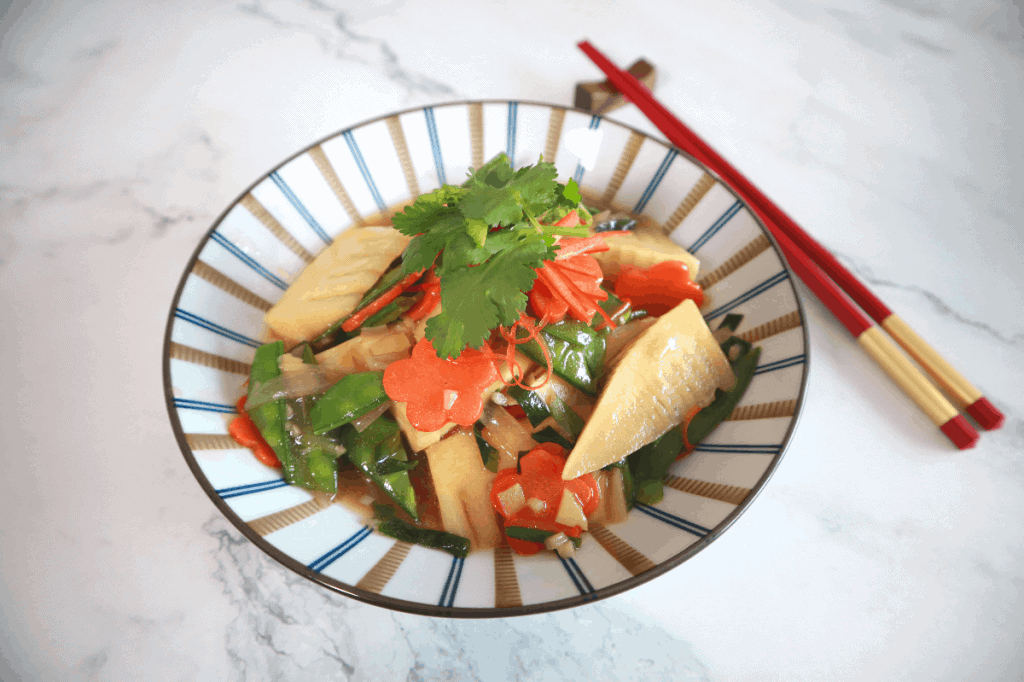 We like them stir fried to keep a little crunch and because we prefer this texture.
How to choose fresh bamboo shoots
Select shoots that are short with a wide base. They should be solid and heavy for their size.
Soft, mouldy, or cracked shoots are best avoided.
There should be no smell.
How to store fresh bamboo shoots
Unpeeled and wrapped in a paper towel will allow you to keep bamboo shoots for up to 2 weeks in the fridge.
If peeled and cooked, you can keep them in a cool place for a maximum of 2 days in the cooking water.
Always keep bamboo in a dark, cool place to avoid them turning bitter.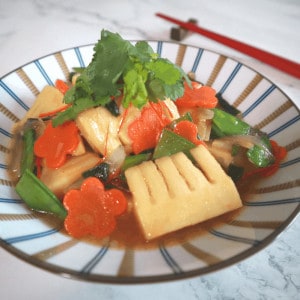 Stir fried Winter Bamboo Shoots
Braised bamboo shoots are low calorie, fully vegan which might be out of your food comfort zone, but it is a dish that will not disappoint.
Instructions
Peel and boil the winter bamboo shoots in salted water until tender. Turn off the heat and let it completely cool down in the water.

Slice the cooked bamboo shoots and stir-fry over a medium high heat.

Add the onion, garlic and carrot and stir-fry continuously for 2-3 minutes.

Season with soy sauce, sugar, salt, and a good pinch of ground white pepper before adding the chicken stock and cook for 2-3 minutes.

Add starch to thicken the sauce enough to cling lightly to the vegetables. Adjust the seasoning with the sesame oil and serve right away.
Notes
You can replace fresh bamboo with canned shoots.
Nutrition for 1 portion
Calories:
33
kcal
Carbohydrates:
4
g
Protein:
2
g
Fat:
1
g
Cholesterol:
1
mg
Sodium:
547
mg
Fiber:
1
g
Sugar:
2
g
Vitamin A:
185
IU
Vitamin C:
9
mg
Calcium:
10
mg
Iron:
1
mg
Tried this recipe?
Let us know how it was! #culinaryambition