Steamed Traditional Chinese Pork Dumplings
Steaming dumplings is the easy part, with most of your effort going into their creation! Fear not though as dumpling making is an enjoyable activity resulting in a delicious snack or meal.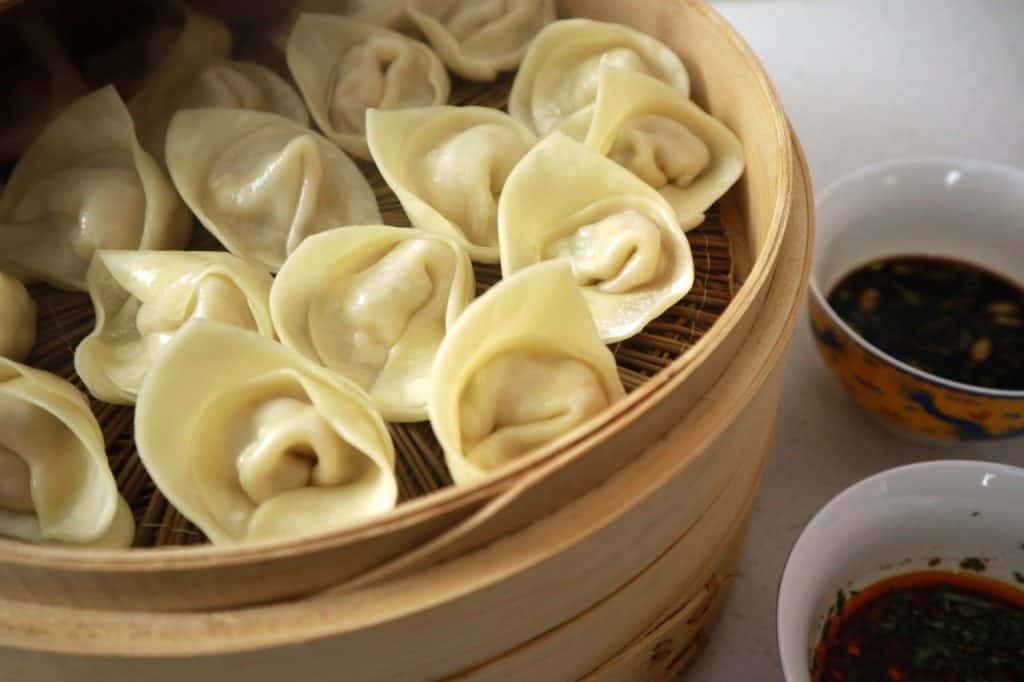 If you have not had the opportunity to taste them then try our recipe and avoid an unnecessary trip to your local Chinatown! Be careful though as we suspect you will like them so much you will also want to check out our potsticker dumplings and gyoza recipes!
How to make pork dumplings?
It is uncomplicated to make dumplings and ingredients are easy to find at regular stores. The challenging part at first might be the folding of the dumplings, but the more you do it the easier it becomes! However, if you prefer there are dumpling making tools available to buy to help with the process.
When are dumplings ready?
When the dumplings are in the steamer basket, it is not always easy to see if they are done. However, you can use the same technique as when baking and use a tooth pick to check the doneness. Simply insert and if it comes out clean, the dumplings are ready to serve. The filling will be tender, and the outside will look slightly translucent.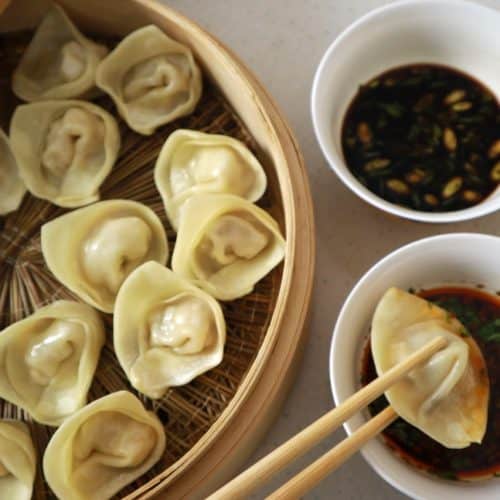 Steamed Chinese Pork Dumplings
It is uncomplicated to make dumplings and ingredients are easy to find at regular stores.
Instructions
Sweat the chopped onions in vegetable oil over a medium heat with a pinch of salt and ground Sichuan pepper until translucent.

Add the grated carrots, stir to combine and cook through for 2 minutes with a lid on the pan.

Remove from the stove and stir in the spring onion, keep aside.

Prepare the dipping sauce by mixing all ingredients together.
Prepare the dumplings
Combine the minced pork with the cooked carrot mix and chopped coriander. Add any other ingredients of your choice.

Season with salt, Sichuan pepper, soy sauce, and oyster sauce.

Add 4-5 tbsp of chicken stock and mix well.

Place a spoonful of filling onto a wrapper. Seal the wrapper to a shape you're most comfortable with. Repeat with all the wrappers.
Steam the dumplings
Place parchment paper or a bamboo mat inside the steamer basket. Slices of carrot will also help to avoid sticking.

Bring water to the boil in a wok or pot, then place the steamer basket over the boiling water. If you have multiple baskets, you may stack up 2-3 baskets to steam all dumplings at once. Cover with a lid and steam over a medium heat for 20 minutes.

Serve the dumplings hot with the dipping sauce.
Nutrition for 1 portion
Calories:
20
kcal
Carbohydrates:
1
g
Protein:
1
g
Fat:
1
g
Cholesterol:
4
mg
Sodium:
54
mg
Fiber:
0.03
g
Sugar:
0.04
g
Vitamin A:
3
IU
Vitamin C:
0.1
mg
Calcium:
1
mg
Iron:
0.1
mg
Tried this recipe?
Let us know how it was! #culinaryambition