Pan seared scallops with orange butter sauce and Endives
We just can't get enough of this delicacy and in this recipe, we introduce some different flavours that marry well with scallops. Scallops with orange and caramelized endives or witlof are a perfect match!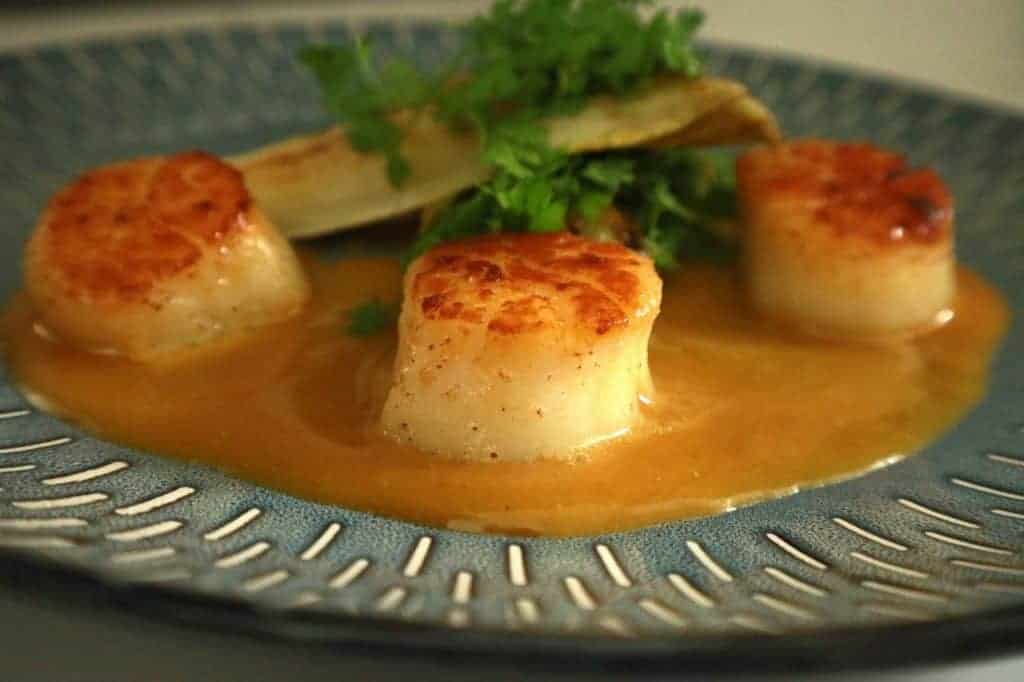 We would like to remind you to use high quality products, and if possible, the Hokkaido Japanese scallops for best results.
In this recipe you will find a great balance between the sweetness of the seafood and the caramelized endives, and the light acidity and freshness of the citrus.
We recommend using clarified butter as this will prevent the scallops from burning. The sauce can best be made with fresh orange and lemon juice. Store bought juices have added sugar which might bring this dish out of balance and become too sweet.
Other recipes with scallops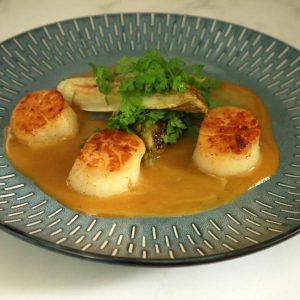 Pan seared scallops with orange butter and endives
Scallops with orange and endives are a perfect match!
Instructions
Prepare the endives
Cut the endives lengthwise and sprinkle a pinch of salt and sugar then keep aside for 15 minutes.

Caramelize the endives in a knob of butter until tender. Remove from the pan when ready and make the sauce in the same pan.

Meanwhile cut a slice of orange (keep aside) and squeeze the rest of the orange and lemon to juices.
Prepare the sauce
After removing the endives from the pan; deglaze the pan with the fish stock and juices. Cook to reduce the liquid by half.

Gently incorporate the cold butter knobs into the reduction of the deglazed endives, monter au beurre and season to taste.
Prepare the scallops
Pat the scallops and dry well.

Use the clarified butter to sear the scallops for 2-3 minutes on both sides and season the scallops with salt and pepper. Remove the scallops and keep warm.

Use the pan of the scallops to place the orange slice and deglaze with some water (60 ml) to detach all caramelized bits from the bottom of the pan.

Sieve the scallop jus over the butter sauce and whisk together.

Arrange the sauce around the plate with the endives in the centre and the caramelized scallops with the fresh chervil.
Notes
The endives should be soft and cooked but hold their shape.
Monter au beurre is a French culinary term used to describe a process of adding or whisking cold butter into a sauce, puree, soup to give a glossy finish and creamy texture.
Nutrition for 1 portion
Calories:
499
kcal
Carbohydrates:
1
g
Protein:
2
g
Fat:
55
g
Cholesterol:
39
mg
Sodium:
583
mg
Fiber:
1
g
Sugar:
1
g
Vitamin A:
1792
IU
Vitamin C:
1
mg
Calcium:
25
mg
Iron:
1
mg
Tried this recipe?
Let us know how it was! #culinaryambition