Savoury Buckwheat Galette Bretonne – a French Specialty
Galette Bretonne is the name given in most French crêperies to savoury buckwheat flour pancakes. Those made from wheat flour are often smaller in size and mostly served with a sweet filling, are named crêpes.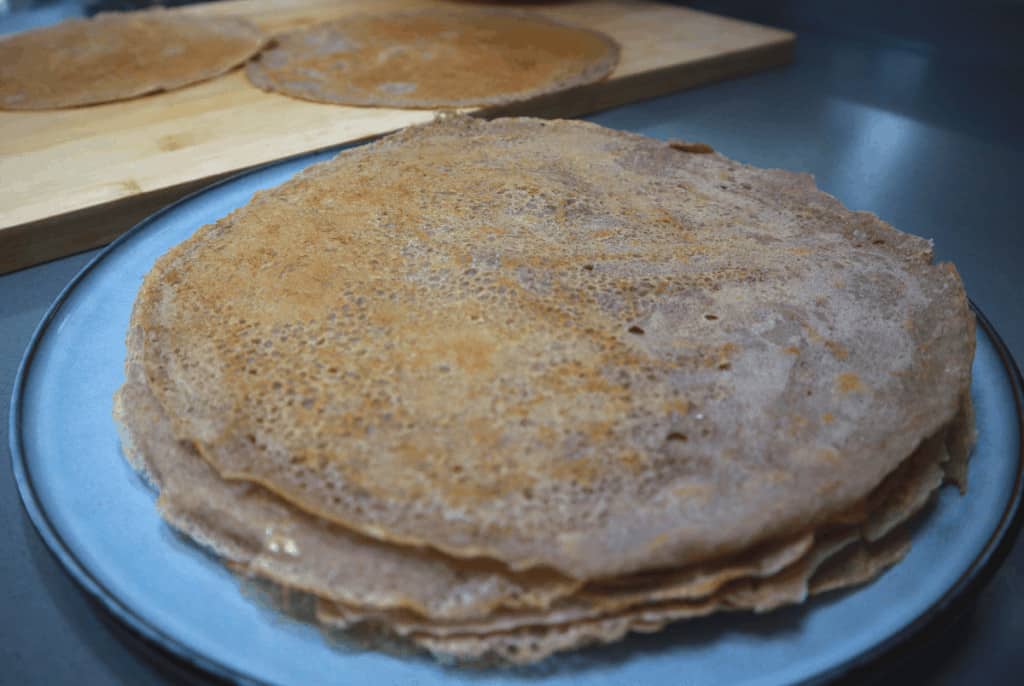 History of galette Bretonne
Galettes Bretonne or savoury pancakes are popular all over France but they originate from the region of Brittany.
Crêpes and galettes have a rich culinary history that dates back to the 12th and 14th century respectively.
Did you know that there's a special day to celebrate all things crêpe? La Chandeleur or crêpe day falls on 2nd February! This catholic religious holiday is exactly 40 days after Christmas. It also has origins in an older pre-Christian holiday celebrating the harvest and marking the midway point of winter.
With all this history you will surely understand that each time we are in France, we have at least one lunch or dinner in a crêperie where we indulge in several galettes.
We like them so much that we gifted ourselves a traditional crêpe pan, also named billig. It is however not a must to have a traditional crêpe pan and a flat carbon steel pan or a non-stick skillet will do the job.
How to flavour your galette Bretonne?
The traditional ingredients in a galette Bretonne are ham, eggs and Gruyère but there are endless ingredients to flavour this dish. If you are using ingredients such as bacon, sausage, leek or mushrooms, cook them before adding them.
Here are some of our favourites but feel free to use your imagination to make your own.
Smoked salmon with crème fresh and lemon
Mushrooms with bacon and cream cheese
Florentine with spinach and egg
Sausage with braised onions and Gruyère
Goats cheese and smoked ham
Savoury buckwheat Galette Bretonne
Galette Bretonne is the name given in most French crêperies to savoury buckwheat flour pancakes.
Instructions
Combine all ingredients to make the batter mix. Keep aside to rest at least 2 hours or overnight (better).

Heat the crêpe pan over a medium heat and brush a small amount of oil on it. Pour a small ladle of the buckwheat batter mix and swirl the pan until you have a thin even layer. Bake the galette on both sides.

The ingredients are placed on top of the galette and folded.
Notes
The original recipe contains buckwheat flour, salt and water only but it is more difficult to cook. This recipe is easier and gives you more satisfaction when the result is not dry and the galettes don't break.
The resting time is very important to allow the full hydration of the flour.
Nutrition for 1 portion
Calories:
60
kcal
Carbohydrates:
12
g
Protein:
2
g
Fat:
1
g
Cholesterol:
1
mg
Sodium:
220
mg
Fiber:
2
g
Sugar:
1
g
Vitamin A:
1
IU
Calcium:
7
mg
Iron:
1
mg
Tried this recipe?
Let us know how it was! #culinaryambition
Highlights of buckwheat galette Bretonne
Since many people will never enjoy the pleasure of travelling to France to try one of these traditional treats, this recipe makes it easy enough to cook them at home.
The ingredients are commonplace in most kitchens, and there is no special equipment needed. Everyone will have a suitable pan for cooking buckwheat galettes.
Once you've mastered the galette Bretonne, you'll want to eat them often, as there is so much variety to add to each one.