Sangkhaya Fak Thong – Thai Coconut Pumpkin Custard
Sangkhaya fak thong is a traditional Thai dessert and available at street food stalls as well as in high end restaurants. "Sangkhaya" in Thai means coconut custard while "fak thong" means pumpkin.
What is Thai pumpkin custard?
This sweet coconut custard is steamed inside the pumpkin and sliced or cut into large wedges when cool. The best thing is that everything can be eaten, including the skin!
How to make Thai pumpkin custard
Not many ingredients are required to make this sweet comfort food dessert. Get a 'local' kabocha pumpkin, also called Japanese pumpkin of medium size, usually about 1 kilogram, which fits into your steamer. The most difficult part of this dish is to make sure that the custard is steamed to perfection and set properly. 
Some of the standard recipes might use rice flour and others substitute with regular flour, but we don't use any flour at all which makes this a perfect gluten free and lactose free dessert.
We also recommend using Thai palm sugar because it is light in colour and subtle in taste.   
If you want to really show off and obtain layers in the custard, fill the pumpkin halfway when  steaming for the first time, and then add a second layer before steaming again. Just be careful not to 'overcook' the pumpkin.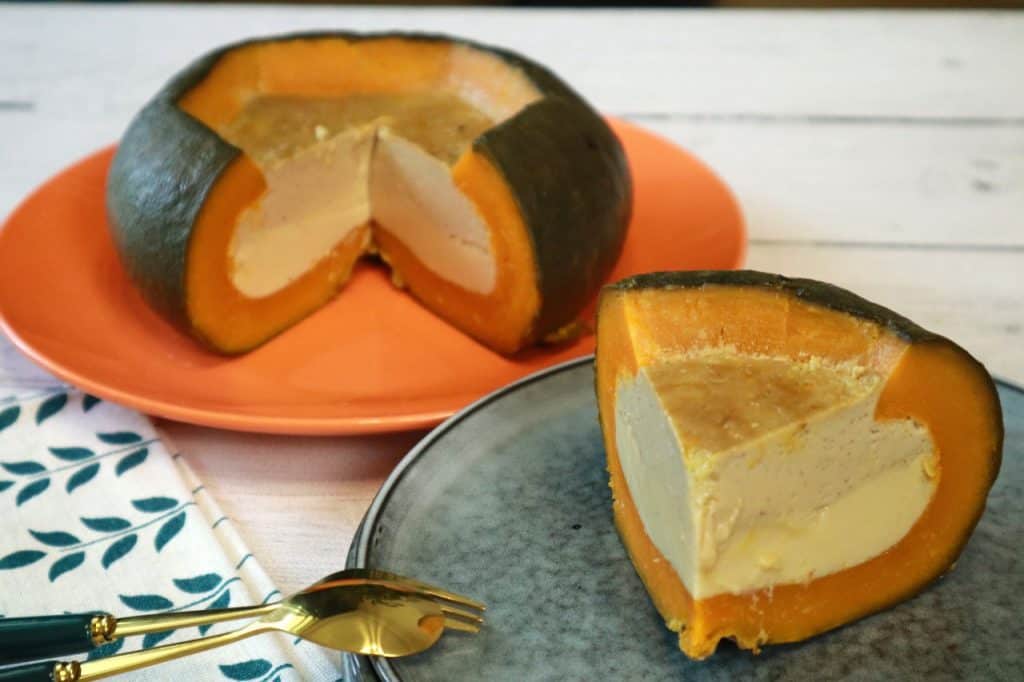 Other pumpkin recipes
Sangkhaya Fak Thong Thai Coconut Pumpkin Custard
"Sangkhaya" in Thai means coconut custard while "fak thong" means pumpkin. This sweet coconut custard is steamed inside the pumpkin
Instructions
Prepare the custard mix
Bring the coconut milk to the boil with the grated vanilla pod.

Beat the whole eggs with the sugar, add salt and cinnamon powder.

Pour the warm coconut milk over the egg mixture and whisk to combine.
Prepare the pumpkin
Open the top of the pumpkin with a small knife and remove the seeds.

Fill the pumpkin with the egg mix.

Steam for 45-60 minutes until the custard is cooked properly.

Cool down completely before serving.
Notes
Check the doneness of the pumpkin custard with a bamboo stick. If it is done the bamboo comes out clean if not you need to steam a little longer.
Nutrition for 1 portion
Calories:
121
kcal
Carbohydrates:
16
g
Protein:
2
g
Fat:
7
g
Cholesterol:
2
mg
Sodium:
28
mg
Fiber:
2
g
Sugar:
7
g
Vitamin A:
1370
IU
Vitamin C:
13
mg
Calcium:
34
mg
Iron:
2
mg
Tried this recipe?
Let us know how it was! #culinaryambition
Highlights of Thai pumpkin custard
Thai pumpkin custard looks absolutely delicious, and tastes fabulous too.
If you enjoy pumpkin pie, a slice of Sangkhaya Fak Thong seems even more decadent with the lovely coconut custard. And, you won't add more calories by eating the skin, unlike eating crust on a pie.
You can see how this can be a lovely treat for any occasion or fancy dessert to serve guests.