Salmon en Papillote – A healthy way of cooking fish
Preparing the salmon 'en papillote' is an effective way to prepare and cook the fish perfectly. 'En papillote' is French for 'enveloped in paper' or wrapped in a package of parchment or foil.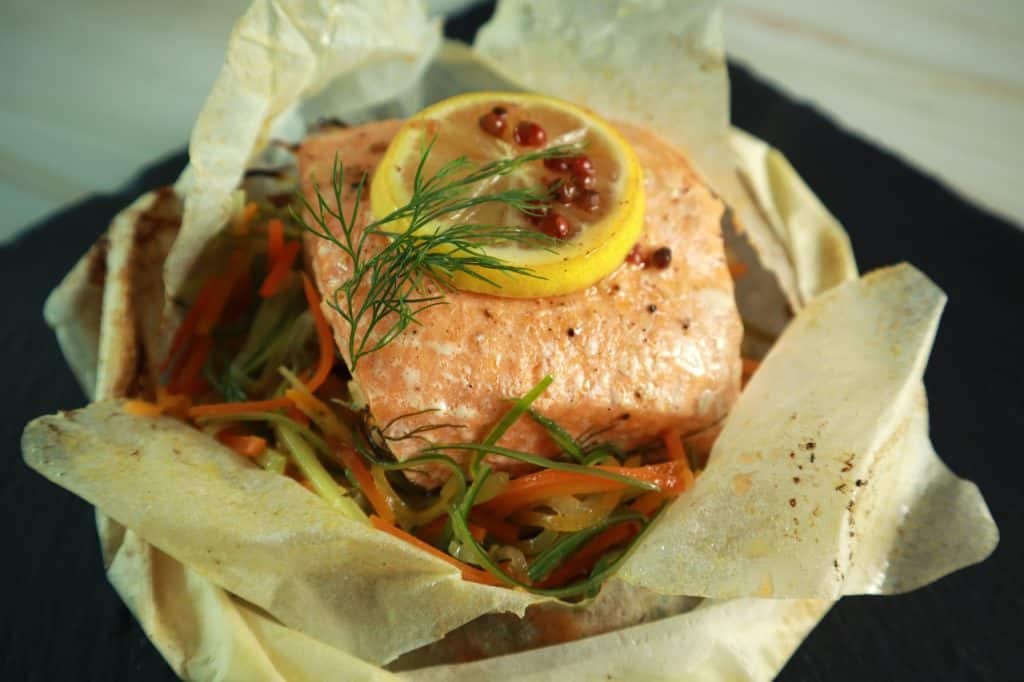 This recipe is a guaranteed success and looks fantastic served on a bed of julienned vegetables. A little white wine is added to the parchment or foil package to produce steam and help puff out the paper pouch in the oven or the air fryer. All flavours are tightly packed in the papillote resulting in moist, tender, and fragrant fish.
How to wrap salmon en papillote correctly
Cut a large piece of parchment paper or foil; a large oval is probably the easiest shape if you are preparing a papillote for the first time.
Fold it in half and make a crease in the paper before opening it again.
Brush with some olive oil and layer your ingredients on one side near the crease.
Close the parchment and start folding on one side. Make little folds every 5 cm (inch) and seal tightly.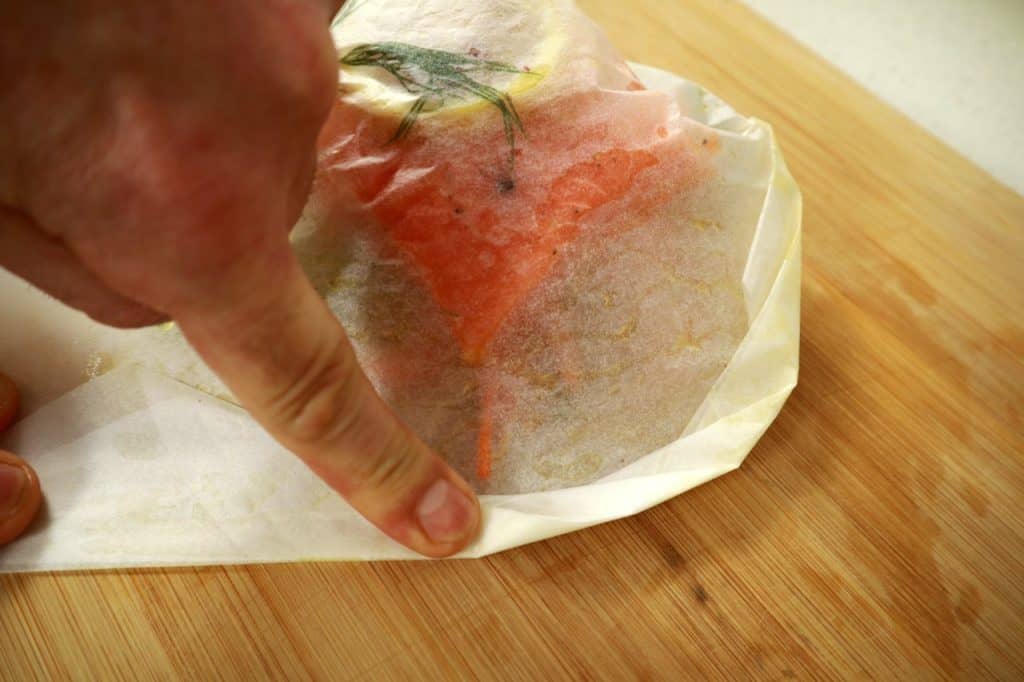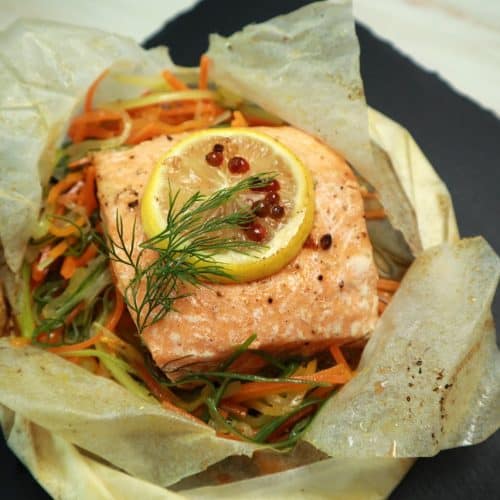 Salmon en Papillote
Preparing the salmon 'en papillote' is an effective way to prepare and cook the fish perfectly.
Instructions
Check all the fish bones are removed from the fillets. Remove the skin.

Combine the julienned vegetables and season with salt and pepper.

Brush some olive oil on a large piece of greaseproof paper or aluminium foil.

Arrange the julienne in the centre, place the fish on top, and season to taste. You can include fresh herbs depending on your taste or mood.

Fold the greaseproof paper so it is a closed bag. Add the white wine just before closing.

Heat up the oven to 200°C and bake the papillote for 15-20 minutes. The fish is ready when the 'bag' is puffed!
Notes
The papillote can be prepared 1 day in advance. It's a great technique to cook food.
Fresh fish smells only of the sea. The eyes must be shiny and the gills bright red. The fish flesh is firm.
Nutrition for 1 portion
Calories:
396
kcal
Carbohydrates:
10
g
Protein:
29
g
Fat:
23
g
Cholesterol:
77
mg
Sodium:
126
mg
Fiber:
2
g
Sugar:
4
g
Vitamin A:
7245
IU
Vitamin C:
10
mg
Calcium:
63
mg
Iron:
2
mg
Tried this recipe?
Let us know how it was! #culinaryambition