Roasted Whole Pigeon – a Great Way to Mix up Weeknight Dinners
Pigeons can be tricky to prepare because the meat will dry easily as with other poultry.
Don't let this prevent you from making this dish and treat this little bird the same way as when you cook chicken. Choose young pigeons with a minimum of fat under the skin and if following this recipe all will go well.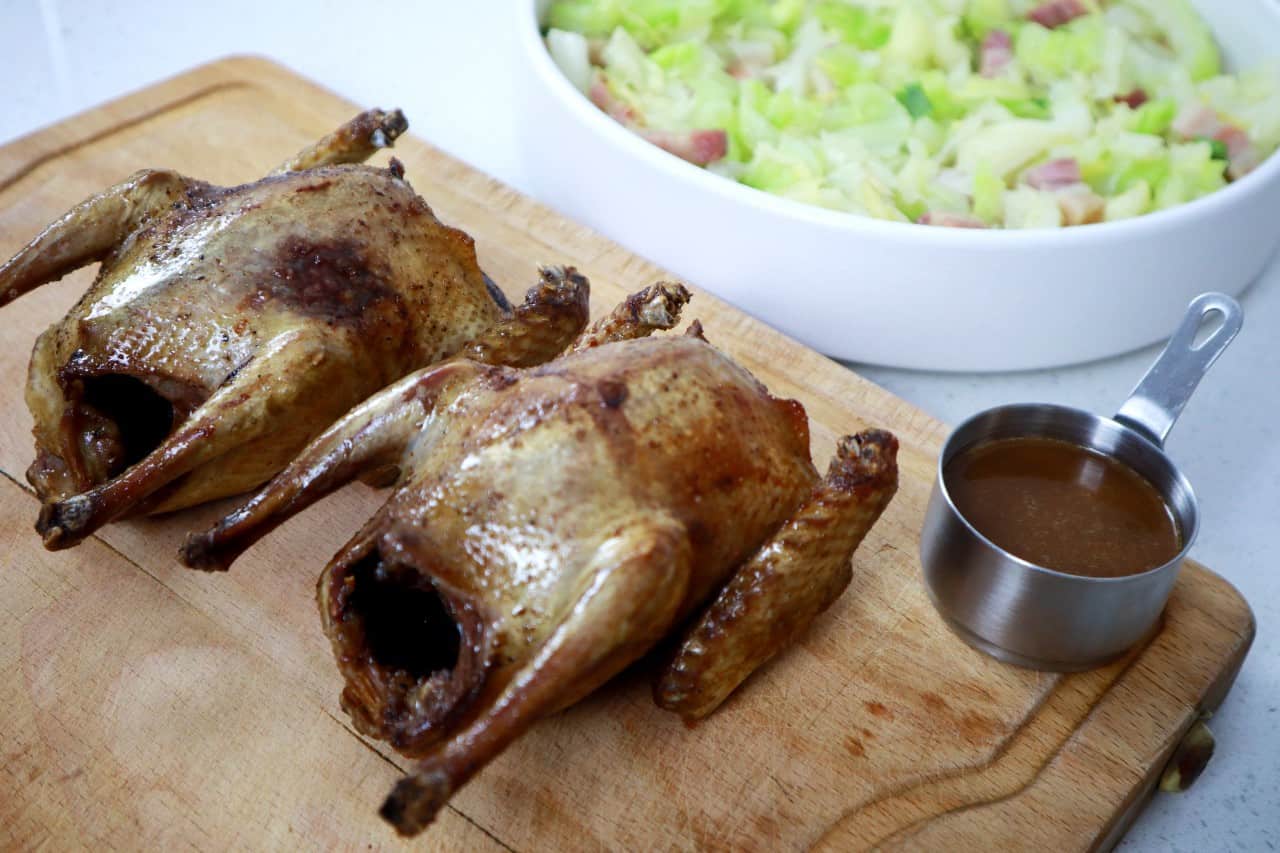 Roasting pigeons whole brings out their rich flavour and keeps the meat tender and juicy. In this recipe we serve them on a layer of braised cabbage with pancetta. We flash fry first, flambé, and finish the cooking process in the air fryer to make a crispy skin.
Flavour can be added to the pigeon cavity with fresh herbs, mushrooms or other aromatics. The fillet tends to cook quicker than the legs during roasting. To avoid dryness, place some bacon or pancetta rashers over the breast.
Since pigeons are only small you can serve 1 whole bird per person.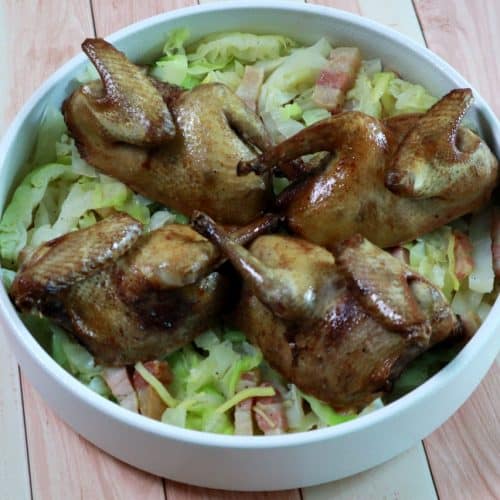 Roasted Whole Pigeon
Roasting pigeons whole brings out their rich flavour and keeps the meat tender and juicy.
Ingredients
2

pcs

pigeons

50

ml

armagnac or cognac

1

tbsp

butter
Garnish
Braised cabbage with pancetta
Instructions
Prepare the pigeon
Check that all feathers are well removed.

Cut the legs, the wing tips, the neck and the head off the body. Concasser all trimmings and keep for the sauce.

Check the cavity and remove the heart, liver and gizzards if still inside.

Season the pigeon with salt and pepper.

Melt butter and oil in a cocotte over a medium to high heat then sear the pigeon.

Turn the pigeon to sear evenly on all sides to obtain a golden colour all over. Remove the pigeons from the pan.

Flambé with the Armagnac.

Roast the pigeon in the oven at 120°C for 30 minutes.

Place the pigeon upside down on the wire rack, place foil on top and rest for 5 minutes.
Make the sauce
Sauté the pigeon trimmings in the heavy-base pan until brown.

Add the veal stock and cook the jus for 10 minutes.

Season the jus to taste and strain.

Cut the pigeon in half and serve with the jus aside.
Notes
If the jus has reduced too much, add some water.
Nutrition for 1 portion
Calories:
220
kcal
Carbohydrates:
11
g
Protein:
11
g
Fat:
8
g
Cholesterol:
1
mg
Sodium:
867
mg
Sugar:
4
g
Vitamin A:
253
IU
Vitamin C:
1
mg
Calcium:
2
mg
Iron:
1
mg
Tried this recipe?
Let us know how it was! #culinaryambition