Creamy Risotto with White Asparagus
We already made some risotto, but when white asparagus are in season we can recommend this combination as a main dish or as a side dish.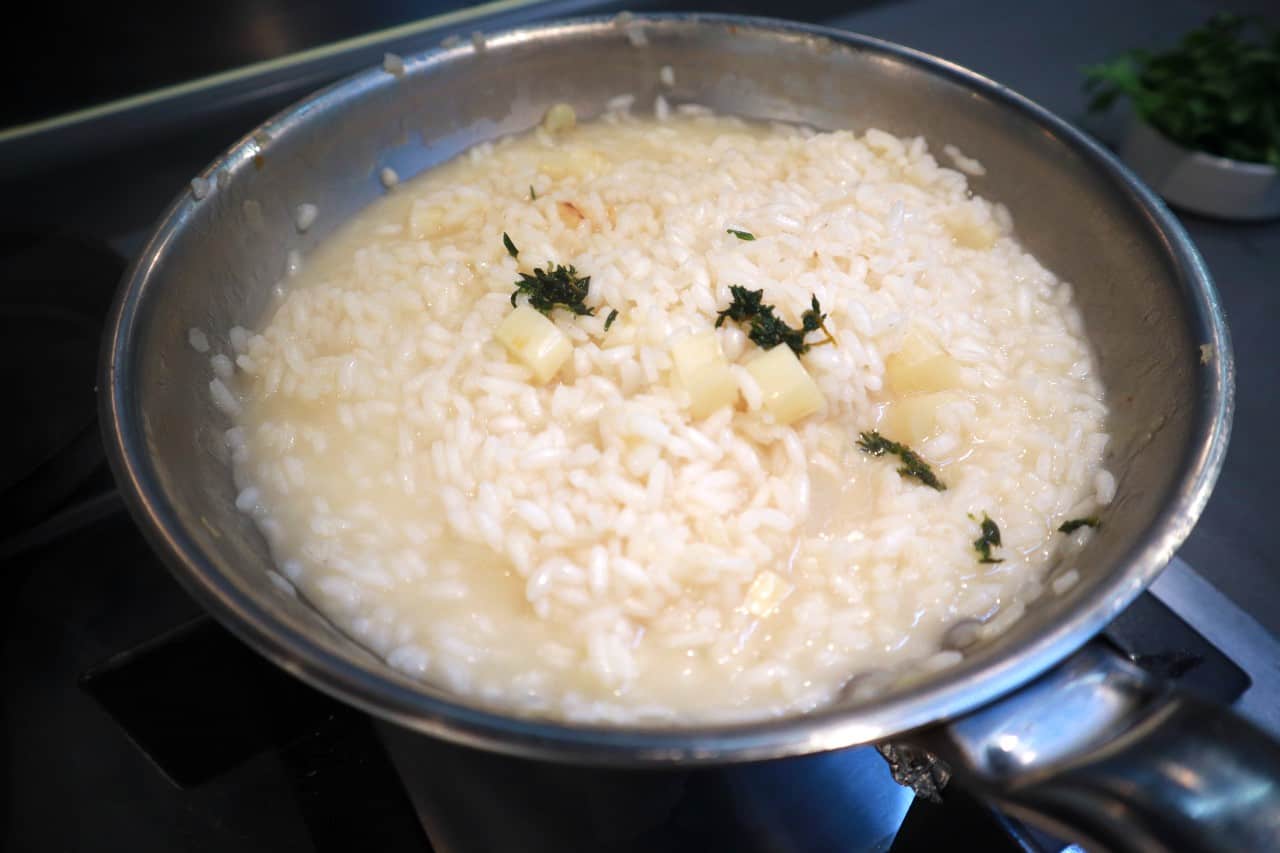 Vegetarian or vegan foodies can swap the chicken stock for vegetable stock. Make sure to make your stock very flavourful for optimal results.
You can jazz up this risotto with some crab lumps, truffle or chopped mint to create a luxurious version.
We made a fresh Parmesan cracker to finish the dish but it is totally up to your taste.
How to peel white asparagus?
Keep the asparagus between your fingers and snap the bottom. This part is woody and chewy but good enough to make white asparagus soup.
White asparagus have a thick outer skin that needs peeling before cooking. Lay the spear on a flat surface and run the peeler down starting at 4-5 cm from the top.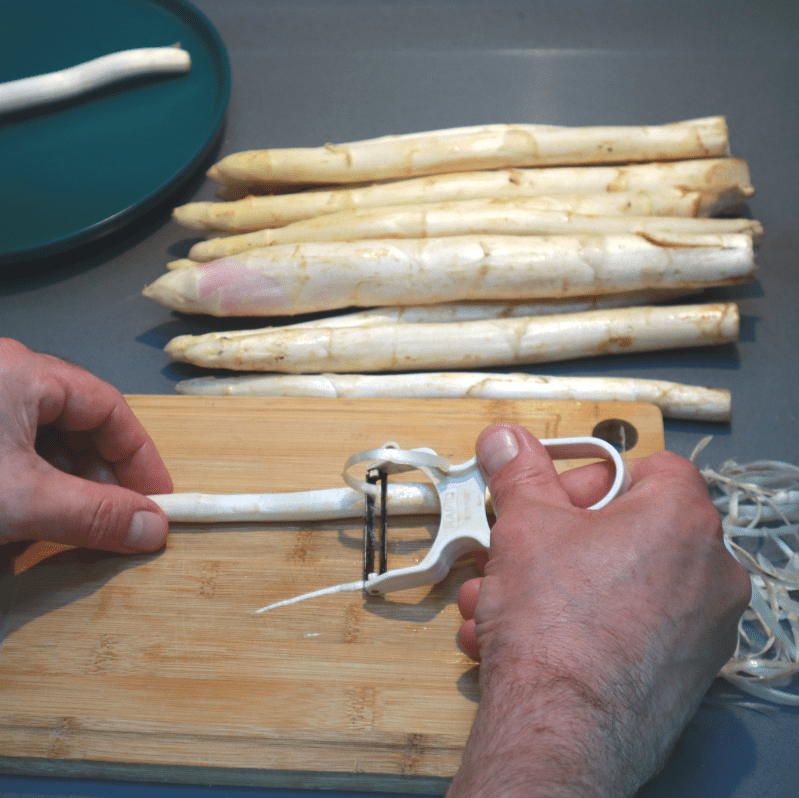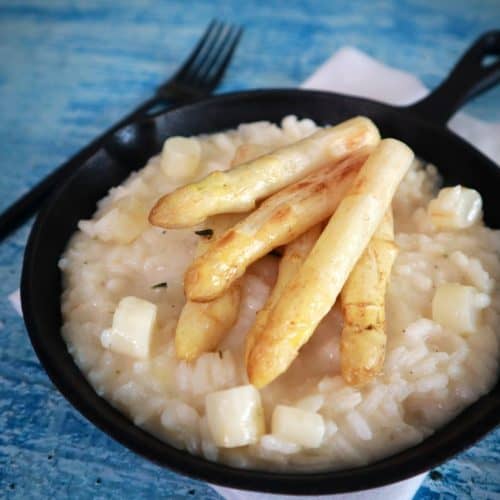 Creamy risotto with white asparagus
You can jazz up this risotto with some crab lumps, truffle or chopped mint to create a luxurious version.
Instructions
Prepare the asparagus
Peel and clean the asparagus. Melt 20 gr of butter with the olive oil and sauté the asparagus until golden brown and tender.

Check the doneness of the asparagus with the knife and season with salt and pepper. Let them cool.
Prepare the risotto
You can use the same pan used for the asparagus. Sauté the chopped onion until translucent with a knob of butter. Add the raw arborio rice and cook for 2-3 minutes. Stir until the rice is shiny and translucent (nacrée).

Add the white wine and the fresh thyme, gently stir, the rice must absorb the wine.

Once the wine is almost absorbed add a ¼ of warm chicken stock and cook until the liquid is completely absorbed, stir gently. Repeat the same with the rest of the chicken stock until the rice is cooked and creamy.
Finish the risotto
Cut the pan roasted white asparagus tips and slice the remainder of the spears.

Add the sliced asparagus into the risotto and stir to combine.

Season the risotto to taste and adjust the texture if required with a knob of butter, extra chicken stock, or a dash of cream for a smooth and creamy finish.
Make the Parmesan cracker
Sprinkle the grated Parmesan onto a baking tray with parchment paper.

Bake in the oven at 160°C for 8-12 minutes until golden brown and let it cool.
Nutrition for 1 portion
Calories:
559
kcal
Carbohydrates:
58
g
Protein:
13
g
Fat:
28
g
Cholesterol:
14
mg
Sodium:
602
mg
Fiber:
2
g
Sugar:
4
g
Vitamin A:
831
IU
Vitamin C:
5
mg
Calcium:
132
mg
Iron:
3
mg
Tried this recipe?
Let us know how it was! #culinaryambition