Sautéed Rice Noodles with Chicken
Alongside the traditional cooked rice grain, rice noodles are considered to be the highest consumed rice product in Asia. The major ingredients are water and rice but sometimes corn starch or tapioca is added to enhance the chewy texture of the noodles.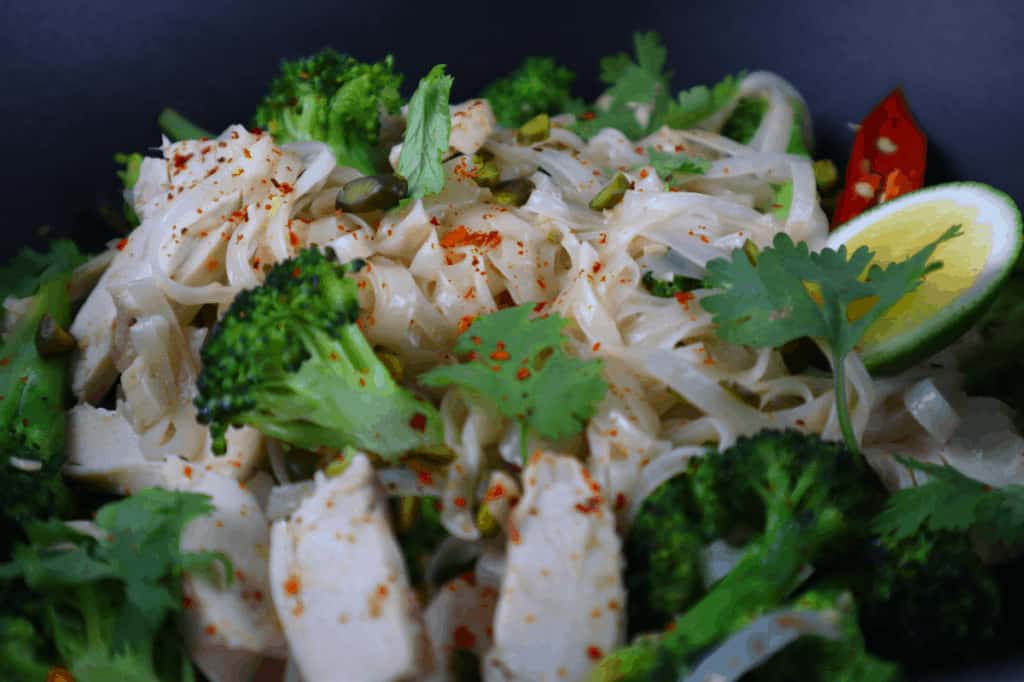 Rice noodles have different thicknesses and shapes and can be found fresh, frozen or dried. They are brittle when raw and turn translucent and chewy when cooked.
It's a good alternative for people allergic to gluten as they can enjoy noodles without wheat being used! However, don't overeat on this product as carbohydrates and calories are high and nutrition is low.
We both grew up in Europe in small villages and we only knew of Asian food through the 'local' Chinese restaurant. The food was good but nothing like the real deal which we got to know throughout Asia.
Thais call it 'Pad Thai', Vietnamese say 'Mi Tron' and Chinese order 'Chow Mein'. Every region has its own style and flavours for sautéed rice noodles with chicken.
It is the extra ingredients that flavour the noodles, and chicken is a perfect accompaniment. Feel free to make your own vegetarian version or exchange the meat for pork or shrimps.
This recipe is featured in our cookbook, Cooking,A CULINARY ADVENTURE.
Sautéed rice noodles with chicken
Rice noodles are a good alternative for people allergic to gluten as they can enjoy noodle cuisine without wheat being used!
Instructions
Wash and cut the broccoli into pieces.

Cut the chicken breast into strips and season with salt, pepper, chilli flakes and lemon juice.

Sauté the chicken strips until light brown. Add the broccoli, garlic and continue frying with a lid on until tender.

Remove from the pan, add the fresh rice noodles and toss well for 2-3 minutes.

Combine the chicken mixture with the noodles. Add the pistachios, some soy sauce, and sesame oil.

Season to taste and serve.
Notes
If you use dry rice noodles, soak them for 8-10 minutes in warm water. Then use the same way as the fresh noodles.
Pistachios can be substituted with flaked almonds.
Nutrition for 1 portion
Calories:
593
kcal
Carbohydrates:
93
g
Protein:
35
g
Fat:
8
g
Cholesterol:
80
mg
Sodium:
863
mg
Fiber:
5
g
Sugar:
2
g
Vitamin A:
680
IU
Vitamin C:
91
mg
Calcium:
82
mg
Iron:
2
mg
Tried this recipe?
Let us know how it was! #culinaryambition