Rabbit in Mustard Sauce, a French country classic
Rabbit in mustard sauce is a French country classic with endless variations, and in our opinion, they are all good! When looking at rabbit recipes, you will find those where the rabbit is baked, and others that are braised. Our recipe shows how to braise the rabbit.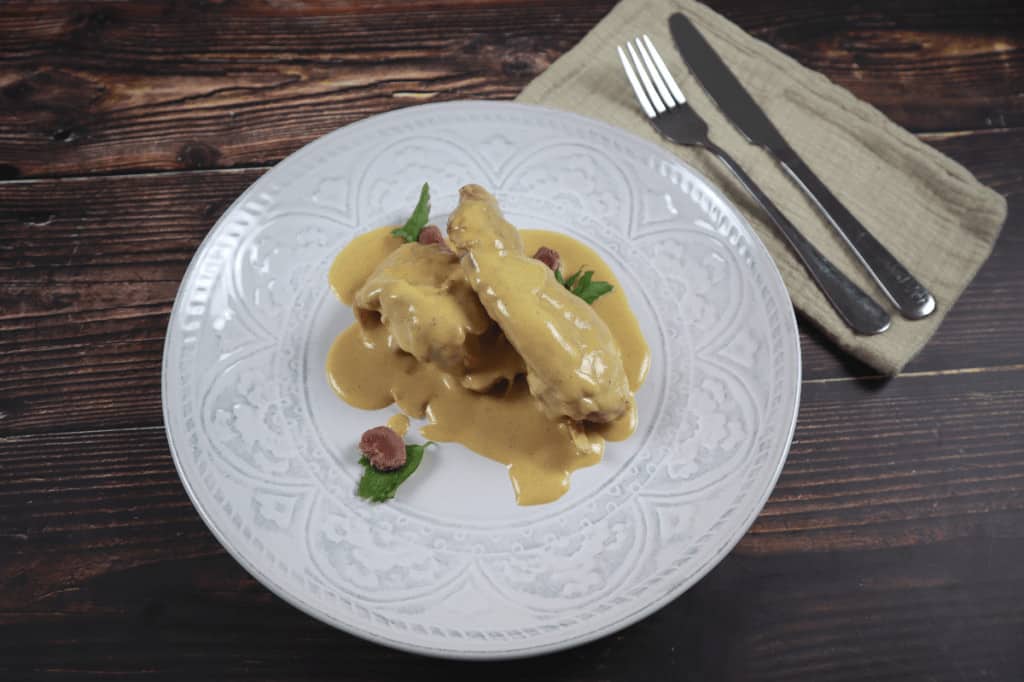 The secret is to use good quality mustard, wholegrain if available and not the bright, sweet, yellow variety. We use fiery English mustard powder in this recipe as we like to give it a bit of a 'kick', but also because it boosts the taste of the Dijon mustard sauce. The onions and heavy cream are perfect to counteract the mustard and balance the flavours of this dish.
Rabbit has white, lean meat, like chicken breast, but with a milder flavour. Rabbits usually come whole, but if you are not confident to break them down yourself, ask the butcher to do it for you. If you are eager to learn and do it yourself, you can follow our step by step instructions to separate a rabbit.
Also read other rabbit recipes.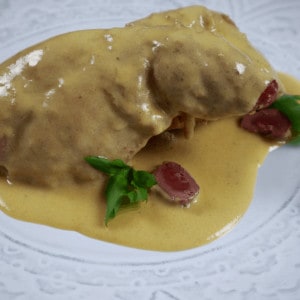 Rabbit in Mustard Sauce
The secret is to use good quality mustard, wholegrain if available
Instructions
Cut the rabbit into 8 to 10 pieces. Season with salt and pepper.

Coat the rabbit pieces in the wheat semolina. Dust off the excess.

Heat the oil with the butter in a heavy cooking pot or a cocotte over a medium heat and sauté the rabbit on all sides for 3-4 minutes until nicely brown. Transfer all pieces to a tray.

Use the same cocotte to cook the onions until translucent. Add the rosemary and garlic and cook together with the onions until fragrant.

Dissolve the mustard powder in the white wine and add it to the cocotte with the aromatic stock.

Return the sautéed rabbit to the sauce, and simmer under cover for 45-60 minutes until the meat is soft and tender.

After cooking, remove the rabbit from the cocotte and sieve the sauce.

Bring the sauce back to the stove, add the cream and bring to the boil.

When the sauce starts thickening, stir in the Dijon mustard and adjust the seasoning to taste.Reheat and coat the rabbit in the mustard sauce and serve hot.
Notes
Pay close attention while sautéing the rabbit as the wheat semolina can burn fast, so make sure there is enough fat in the pot.
The rosemary can be replaced with other herbs such as thyme, tarragon or sage.
Nutrition for 1 portion
Calories:
293
kcal
Carbohydrates:
16
g
Protein:
3
g
Fat:
22
g
Cholesterol:
41
mg
Sodium:
134
mg
Fiber:
2
g
Sugar:
3
g
Vitamin A:
588
IU
Vitamin C:
5
mg
Calcium:
51
mg
Iron:
1
mg
Tried this recipe?
Let us know how it was! #culinaryambition