Easy to make Pumpkin Spice Mix
Pumpkin spice mix is a balanced combination of "warm" spices that are often used during fall and the festive season. The basic recipe consists of cinnamon, nutmeg, cloves, allspice and ginger. You probably have all ingredients already at home, and making this blend yourself is quick and easy, and will save you a trip to the grocery store.
Some recipes are a personalised version of the original and we do make our own. The added mace, coriander seeds, peppercorns and cardamom add more earthy, but refreshing flavours, as well as a little 'kick' to this already delicious spice mix. You can keep the spice mix coarse or you can pass it through a fine sieve.
The recipe can easily be adapted for larger quantities if you are planning to bake or cook more with them. Just place the mix in an airtight container and keep with your other spices in a dry place.
Why is it called pumpkin spice mix?
It was originally called pumpkin pie spice because it was specifically used to flavour pumpkin pies. The use of these spices was later added to many other pumpkin recipes, and because the spice mix lifts many of these recipes to higher levels, it is now called pumpkin spice mix.
Other uses for pumpkin spices
The mix doesn't always have to be used with pumpkin recipes. Other dishes made with cinnamon can surely get a little twist and use this mix too.
Cookies, especially during the festive season will benefit.
Soups and other warm drinks.
Bread and other baked treats such as muffins.
Pancakes and waffles.
Related: Shichimi Togarashi spices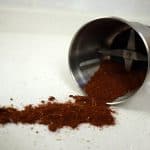 Print
Pumpkin Spice Mix
Pumpkin spice mix is a balanced combination of "warm" spices
Instructions
Blend the coriander seeds, cloves, cardamom and peppercorn to powder.

Add all remaining spices, blend together and store in a small jar or container.