Cooking - A Culinary Adventure
---
---
Are you ready to embark on a culinary journey around the world?
In this cookbook,  we share our love of food discovered in all the places we've visited and lived in over the last 20 years.
From Thailand to Vietnam, from Qatar to Abu Dhabi and Singapore to China… Let us take you on a world tour of the foods that nurtured and fuelled our culinary ambition.
Food is all about creating social occasions that are both enjoyable and memorable for the right reasons!  Join us on this trip and discover our culinary adventures through 60 unique fun and functional recipes with plenty of cooking tips and tricks.
Cooking, A Culinary Adventure makes cooking accessible to all.
Whatever your experience, you will be able to cook surprising and delicious dishes without any complicated culinary techniques.     With helpful chapters including 'Minimum equipment needed' and 'Useful skills for cooking without stress' Cooking, A Culinary Adventure is perfect for both, beginners and seasoned cooks.
Are you ready for this culinary adventure?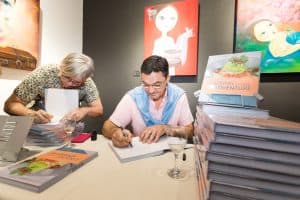 We will donate 2€ of every book to the 'Make a Wish' foundation!
---
Order Your Hardcover Copy now