Grilled Pork Cheeks With White Peaches
Pork cheeks are the little nuggets of flesh found in the cheek of the pig. They are low fat and relatively lean, and like hock meat, they are surrounded by tissue and collagen. When braising for a stew or in a casserole, the meat breaks down into tender flesh that melts in the mouth.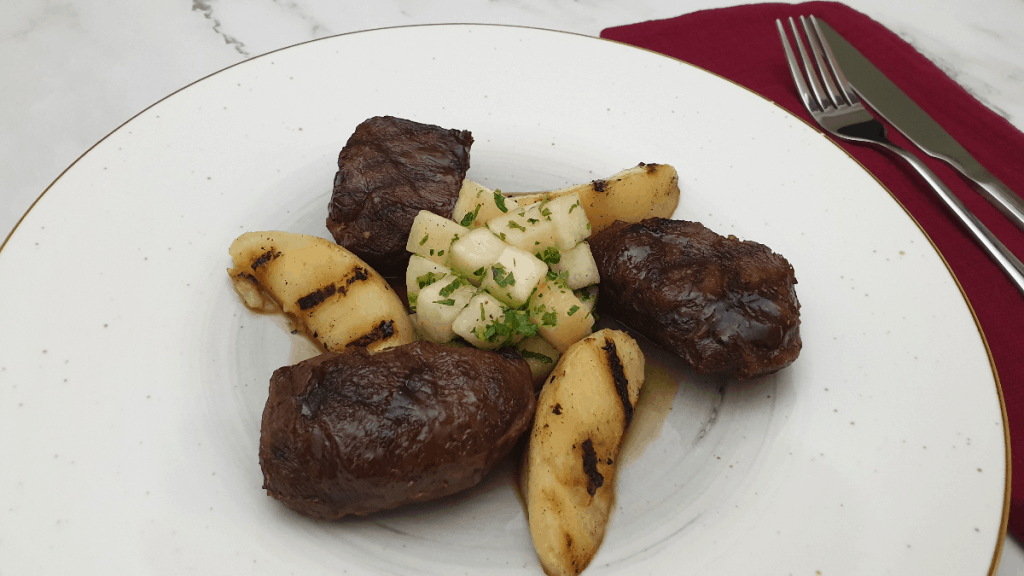 Because this cut is often overlooked and less well known, your butcher will not always have it readily available. If you plan to make this dish, order in advance. Three pork cheeks per person is a perfect main portion size as the fat melts during cooking and the volume will shrink significantly.
Pork and apples are a classic match but this week it's all about fresh peaches, so we are pairing this dish with white peaches and using them in 2 different ways.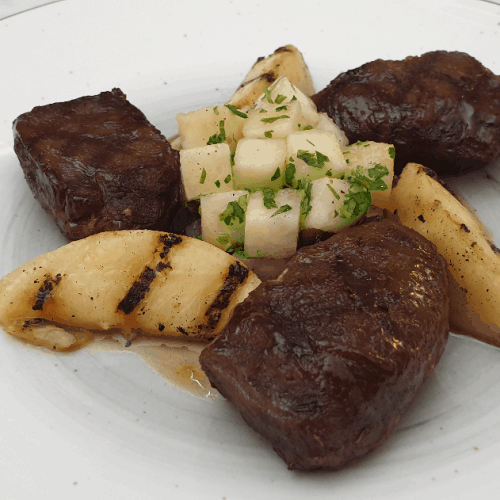 Grilled pork cheeks with white peaches
Pork cheek meat breaks down into tender flesh that melts in the mouth.
Instructions
Prepare the peaches
Cut 2 peaches into 6 segments and brush some olive oil over them.

Blanch and peel the other 2 peaches and cut into small dice. Stir the diced peach with a good pinch of pepper, vinegar, coriander, some olive oil and refrigerate.
Cook the pork cheeks
Sear the pork cheeks in olive oil for 6-8 minutes in a large cooking pot.

Add all the vegetables and stir fry for 3 minutes.

Pour the white wine into the pot and add enough water to just cover the pork cheeks. Add thyme, the bay leaf, rosemary, salt and pepper and simmer for 60 – 70 minutes until soft and tender.
Finish the sauce
Remove the cooked pork cheeks from the pot, remove the vegetables and strain the jus. Bring the jus back to the stove and reduce until thickened. There is no need to use a thickening agent.
Finish the dish
Grill or pan fry the cheeks and peach segments over a high heat

Arrange the grilled components on the peach salad and spoon the sauce around.
Notes
Don't use too much salt in this recipe as the sauce will reduce and concentrate the flavours.
Nutrition for 1 portion
Calories:
144
kcal
Carbohydrates:
7
g
Protein:
1
g
Fat:
11
g
Sodium:
36
mg
Fiber:
2
g
Sugar:
3
g
Vitamin A:
4266
IU
Vitamin C:
5
mg
Calcium:
25
mg
Iron:
1
mg
Tried this recipe?
Let us know how it was! #culinaryambition