Persimmon Jam with vanilla flavour
Persimmon jam is a wonderful way to preserve persimmons and straightforward to make. Whilst it is delicious as spread on toast or a condiment on a cheese platter, it is also versatile and great to use in other recipes such as pudding or cake.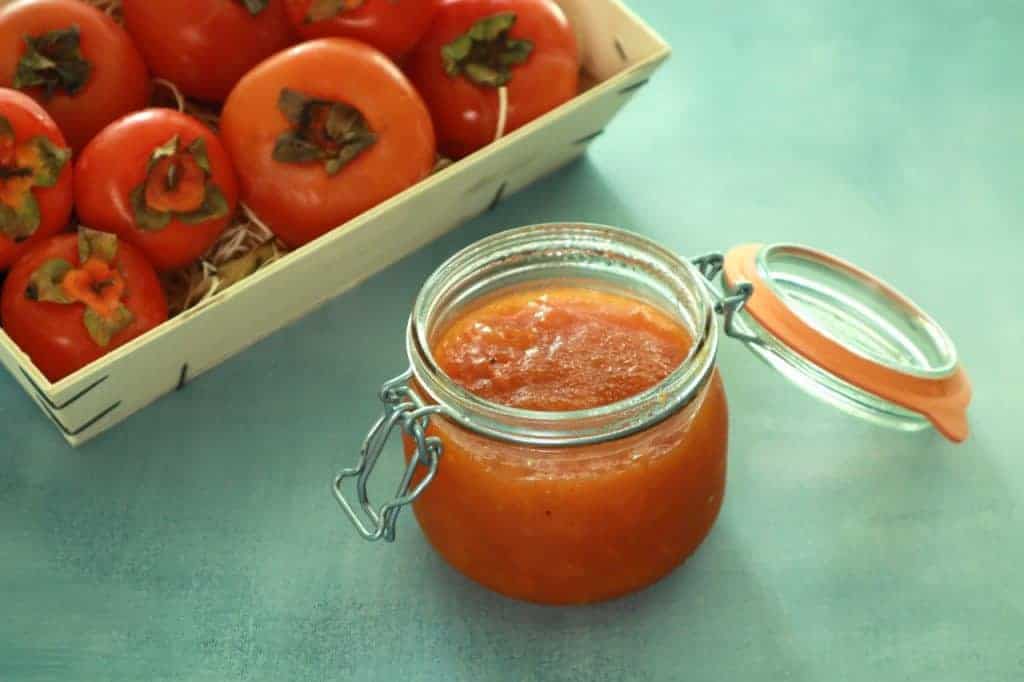 Some people call persimmons 'date plums' and some say it is the Western pumpkin to Asians. When making jam it is important to know that persimmons naturally contain pectin, and that is why you only need three ingredients to make the basic recipe.
Jam made of this fruit is not readily available at stores and making it yourself is the only way to capture these unique flavours.
What is a persimmon?
It's an edible fruit that grows on a variety of trees with the most widely cultivated among these being the Diospyros kaki or the Asian persimmon. When these fruits are ripe, they range in colour from light yellow to dark orange and red which make them look like tomatoes.
What variety is best for persimmon jam?
The most crucial factor to making an excellent quality jam is to get ripe persimmons. If unripe, they might have an unpleasant astringent flavour and texture. Don't worry if your local store doesn't have ripe persimmons, you can still buy them, and let them ripen on your counter in a brown paper bag. Besides the Diospyros kaki, the sweeter Giant Fuyu or a very ripe Hachiya is also possible. Whatever variety you use, we would like to recommend tasting the fruit before use, to ensure that it is not astringent. In this recipe we are using the Fuyu variety which breaks down more quickly than the other varieties.
Related: Chunky cherry jam
Evaluate the texture
If you have a sugar thermometer, 104°C is the perfect temperature to cook jam.
There is a manual way to assess the doneness of your jam. Before you start cooking, place a small plate in the freezer. Once your jam is cooked, spoon a small amount of the jam on the chilled plate. The jam cools quickly and thickens instantly. Use your fingertip to press into the jam. When it's cooked right, you should see the surface wrinkle. If it doesn't, simmer the jam for another 5 to 10 minutes.
Related: Food thermometers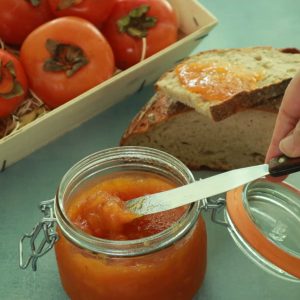 Persimmon Jam with Vanilla
The most crucial factor to making an excellent quality jam is to get ripe persimmons.
Instructions
Remove the skins, stems and seeds from the persimmons and cut into small pieces.

Combine the diced persimmon with the sugar, lemon slices and vanilla bean pod in a mixing bowl and mix well to dissolve the sugar with the persimmon pulp.

Transfer the fruit mixture into a cooking pan and bring to the boil. Stir constantly and skim off impurities.

Lower the heat and simmer to reduce for another 20-25 minutes. Evaluate the texture of the jam.

When ready, remove from the heat and discard the lemon slices and vanilla bean pod. You can stop here if you want, but for a smoother consistency, use an immersion blender to blend the chunks to a finer consistency. Pour the hot jam into clean sterilized, airtight jars.

You can store the jam for up to a year in your pantry if unopened. Once opened, it lasts up to a month in the fridge.
Nutrition for 1 portion
Calories:
244
kcal
Carbohydrates:
63
g
Protein:
1
g
Fat:
1
g
Sodium:
1
mg
Fiber:
1
g
Sugar:
62
g
Vitamin A:
1
IU
Vitamin C:
1
mg
Calcium:
1
mg
Iron:
1
mg
Tried this recipe?
Let us know how it was! #culinaryambition