French Style Mouclade Mussels
Mussels can be a subject of discussion in our household. Is the French version better than the Belgian, or is it the other way around?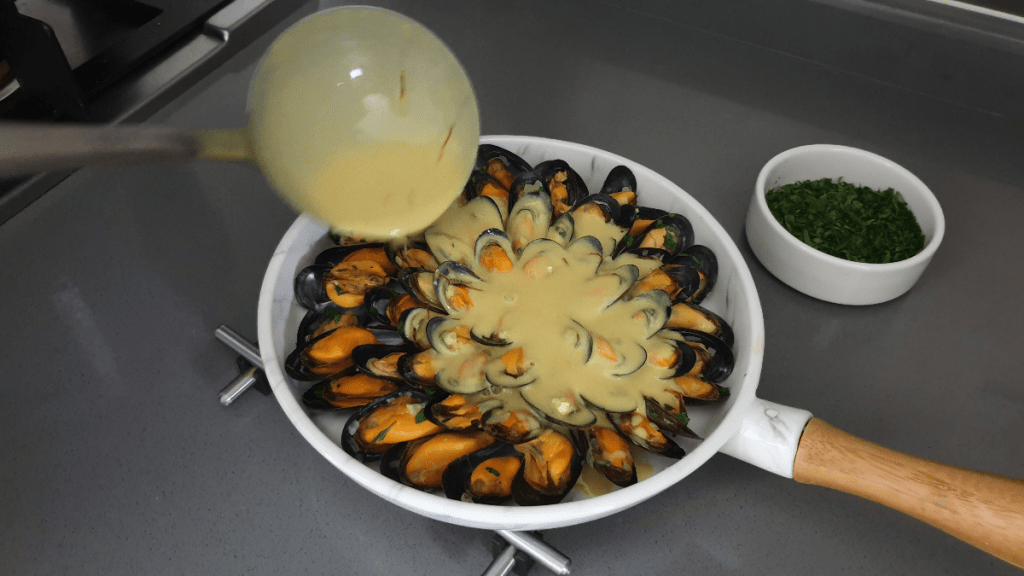 Well, we like them both ways and today we'll share this traditional French dish which is not so well known but still popular in La Rochelle and Île de Ré, where it originates and where Yannick grew up.
Which mussels are best for mouclade?
A mouclade is made with bouchot mussels and bouchot is referring to a type of farming.
The mussels grow on wooden stakes (known as "bouchots" in French), erected in the coastal area between the highest and lowest points reached by the water.
The Frenchies won't like to hear this but It is not a sin to use regular mussels if you can't find bouchots, which is the case for us in China. It is however important to have very fresh, meaty mussels.
It is time consuming to prepare a mouclade but it's so good that it is worth it in the end. Start by cooking the mussels marinière style. The finishing touch with the creamy, mild curry sauce is simply great. This dish is on our list of finger-licking delights. 
Judge for yourself and let us know what you think.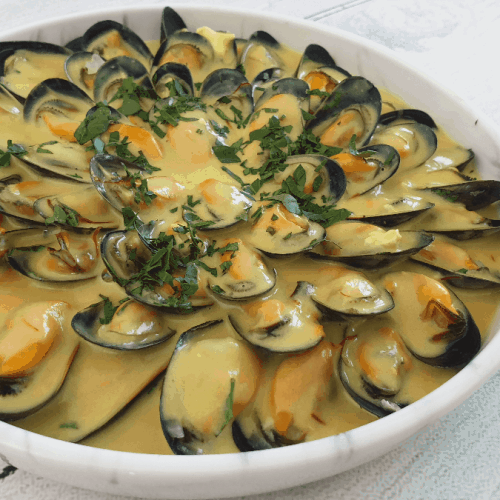 Mouclade mussels
The finishing touch with the creamy, mild curry sauce is simply great.
Instructions
Clean the mussels and cook them Marinière style.

When the mussels are open, strain the jus and keep to one side

Remove one shell of each mussel and arrange them on an oven proof tray.

Bring 450 ml of mussel jus to the boil with the crème fraiche and the curry powder and simmer for 3 minutes.

Meanwhile, whisk 50 ml of mussel stock with the saffron and the egg yolks, then add it to the simmering mussel cream sauce.

Cook until the sauce thickens but don't boil otherwise the yolks will scramble, and then pass through a sieve.

Season to taste with salt, pepper and add extra saffron or curry powder if required.

To finish the mouclade, pour the sauce over the mussels and warm in the oven. Sprinkle some parsley on top before serving.
Notes
The egg yolk works as a thickening agent in the sauce but it remains a challenge for beginners to keep the temperature under 83°C to 84°C maximum.
Pineau des Charentes is an aperitif wine from the Charentes made with cognac and wine. If this sweet and fruity tasting wine is difficult to find in your region, it can be replaced with white wine.
Nutrition for 1 portion
Calories:
638
kcal
Carbohydrates:
27
g
Protein:
62
g
Fat:
20
g
Cholesterol:
172
mg
Sodium:
1471
mg
Fiber:
1
g
Sugar:
3
g
Vitamin A:
1181
IU
Vitamin C:
44
mg
Calcium:
157
mg
Iron:
21
mg
Tried this recipe?
Let us know how it was! #culinaryambition