Monkfish Tails à l'Americaine or Armoricaine 
Talk about an easy recipe with a fancy name!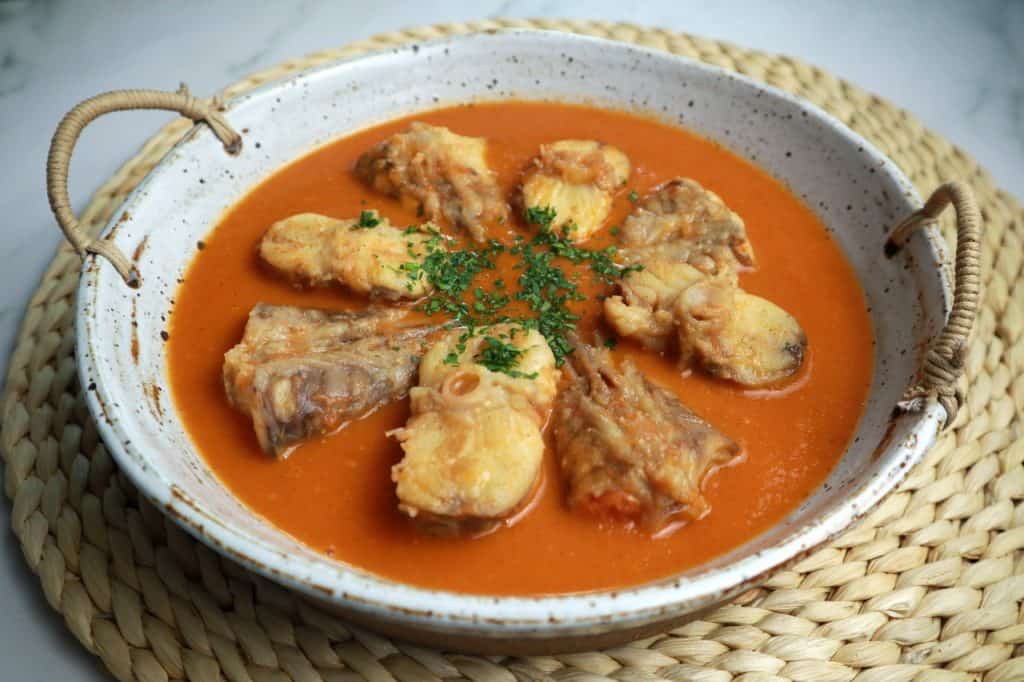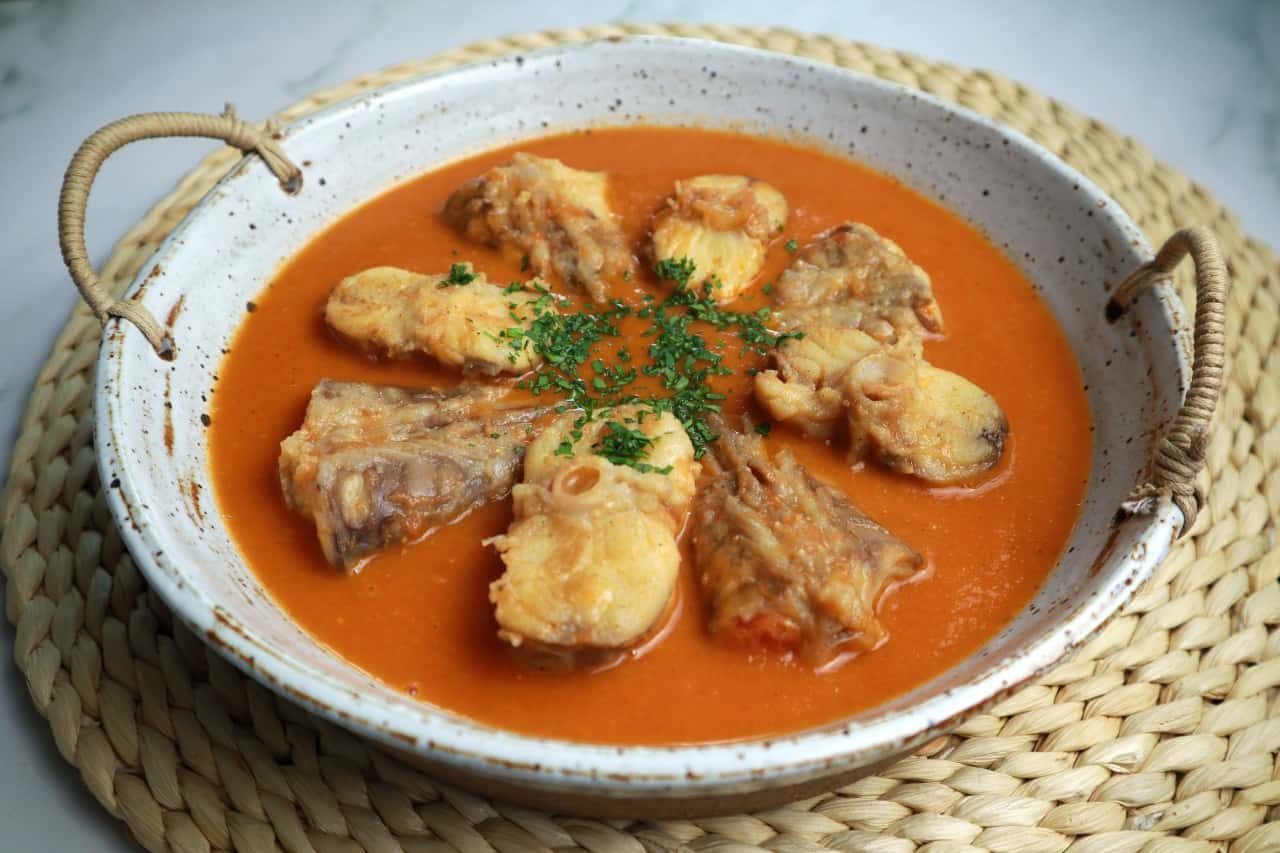 There are a few different ways to make this dish but fish or shellfish, fish stock and tomatoes are essential ingredients. The fish is coated in corn flour before pan frying and flambéing with cognac, then the cooking process finishes in the thick tomato sauce.
History of Armoricaine sauce
Armoricaine sauce is a traditional French recipe originating from coastal Brittany of which the creation dates to 1860 when French chef Pierre Fraisse first made it. This Breton chef who had been working in Chicago and recently returned to Paris opened his own restaurant serving traditional Britannic cuisine.
According to legend, customers arrived late at his restaurant hoping to be served dinner just before closing time! With little time left, limited produce and only a few lobsters and staples such as aromatic herbs and fresh tomatoes available, the chef had no time to slowly cook the lobster in a bouillon, and instead he would flambé the lobster flesh in cognac and then cook it in a sauce of diced tomatoes, white wine, garlic and fresh herbs. The dish was a success with late night diners and was called 'sauce Américaine,' in homage to his experience of working in America where he learnt to prepare delicious dishes much more quickly to accommodate the pace of his American clientele!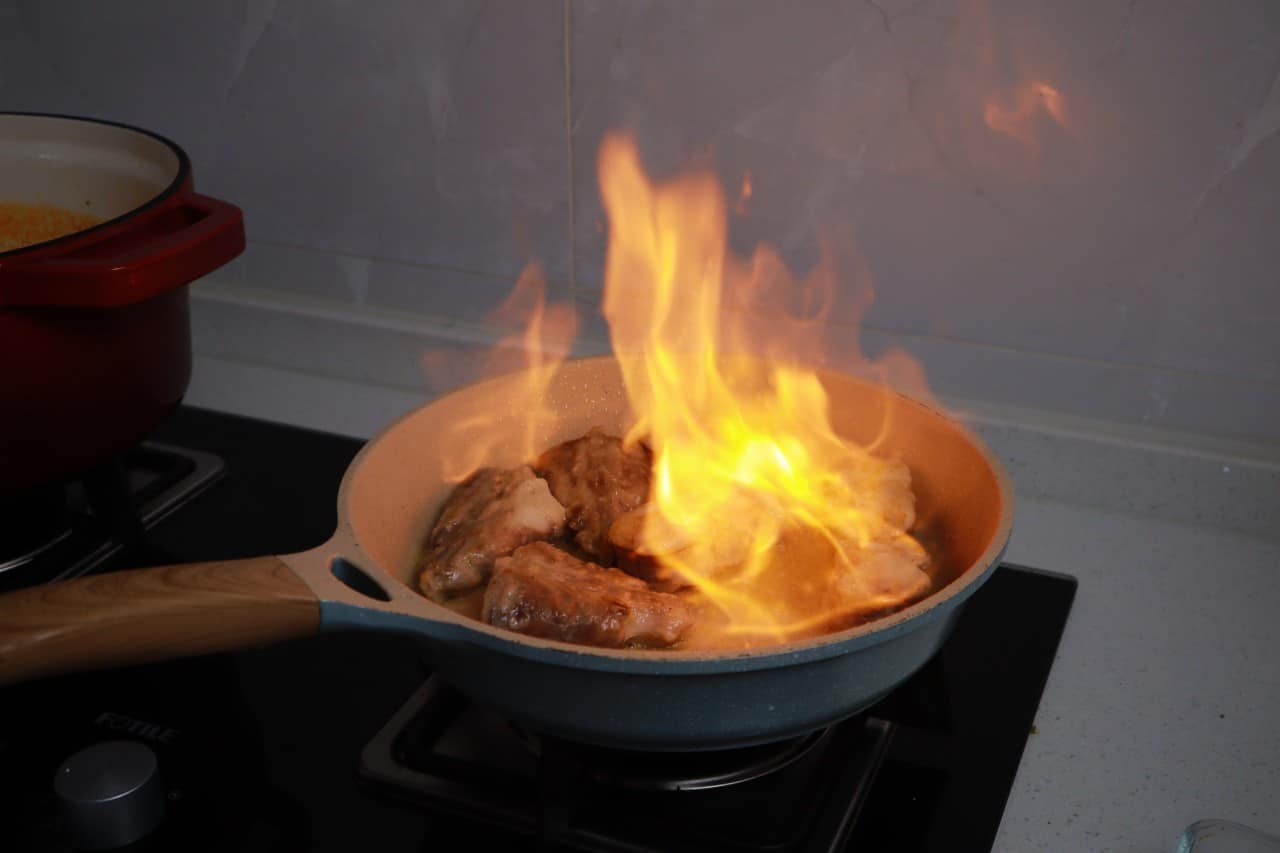 Still to this day, a friendly battle of recipe ownership exists between the Americans and the French, who commonly refer to the sauce respectively as either Americaine or Armoricaine. 'Armorique' is the ancient name for the northern region of Brittany where the coast is called les Côtes d'Armor. Till today the dish is commonly prepared with shellfish, or the sauce is used to flavour firm white fleshed fish such as monkfish, otherwise known as poor man's lobster and so Monkfish tails a l'americaine is now a classic.
Related: Choo chee curry with monkfish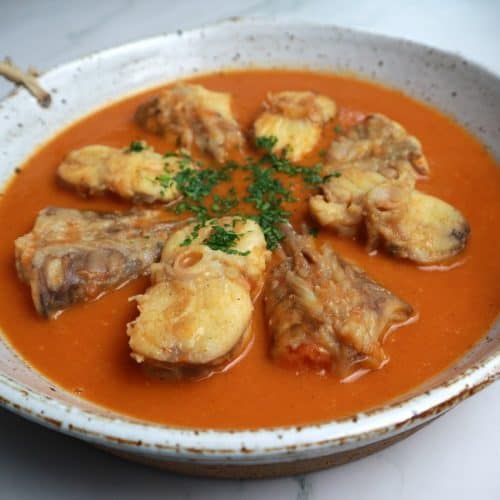 Monkfish Tails à l'Americaine or Armoricaine
Fish or shellfish, fish stock and tomatoes are essential ingredients of this dish.
Instructions
Cook the sauce
Sweat the onions, shallots and garlic until translucent.

Add the tomato paste, stir well and cook for 2 minutes. Add the tomato concassée.

Pour in the white wine. Then add a bouquet garni, the prawn bisque and chicken stock. Bring to a boil and simmer for about 30 minutes. The liquid should evaporate.
Prepare the monkfish
Cut the monkfish tails into large chunks. Season with salt and pepper and coat the fish lightly in flour.

Heat the olive oil in a heavy-based sauté pan and sauté the fish until light brown on all sides.

Flambé with Cognac.

Transfer the seared monkfish with the juice onto the tomato sauce and simmer for 15 minutes.
Finish the sauce
Remove the cooked monkfish from the sauce, keep aside. Discard the bouquet garni and blend the tomato sauce.

Season the tomato sauce to taste with cayenne chilli pepper, salt and pepper.
Serve the dish
Place the monkfish onto the tomato sauce and sprinkle with chopped parsley.

You can stir in crème fraiche if you want the traditional Armoricaine version.
Nutrition for 1 portion
Calories:
240
kcal
Carbohydrates:
7
g
Protein:
26
g
Fat:
8
g
Cholesterol:
42
mg
Sodium:
245
mg
Fiber:
1
g
Sugar:
2
g
Vitamin A:
166
IU
Vitamin C:
5
mg
Calcium:
34
mg
Iron:
1
mg
Tried this recipe?
Let us know how it was! #culinaryambition