This classic mushroom risotto is part of traditional Italian foods. It's full of umami and can't be missed from your menu.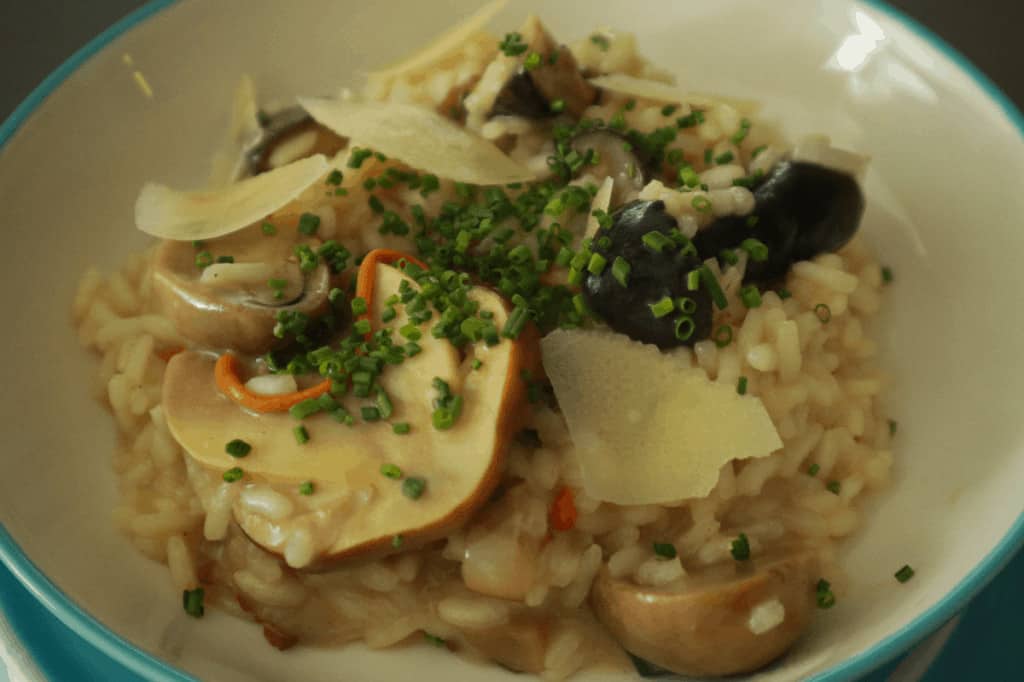 It is one of these dishes that you usually don't learn at home, unless you are Italian, but once you learn how to make it, you will make it regularly. Although risotto is not the easiest dish to prepare, we will guide you step by step to make this a successful delicious recipe.
For this classic risotto we start with a delicious homemade mushroom ragout (link) and vegetable stock for full flavours. You can of course also buy readymade stock and you can even substitute the vegetable stock for pure mushroom stock to intensify flavours in this dish.
Basics to make classic mushroom risotto
Making this dish doesn't involve difficult techniques, but it requires patience and careful stirring of warm stock into uncooked rice for 30 minutes until the rice has slowly absorbed the liquid. The warm stock will prevent the temperature dropping each time you add some.
Choose quality ingredients over cheaper alternatives to get best results such as Italian risotto rice, better known as Arborio rice, which is extra starchy, and quality Parmesan cheese. The released starch from the rice makes the creamy texture without adding extra cream or thickening agents. 
Once you master this dish, it is the perfect side dish to any protein or it can be served as a meal in itself. The possible variations of risotto are endless.
Also check our other vegetarian recipes.
Mushroom risotto
This Italian classic mushroom risotto is full of umami and can't be missed from your menu.
Instructions
Warm the vegetable stock and keep it simmering.

Slowly sweat the onions in olive in a large sauté pan.

Then turn the heat up a little and add the rice, sauté the rice (nacrer) until translucent.

Add the white wine and stir until the liquid is absorbed by the rice.

Return to low heat and add the first ladle of stock, simmer and stir gently until the liquid is absorbed. Repeat a few times until the rice is al dente.

Add the mushroom ragout, stir to combine and season to taste.

Grate the Parmesan cheese over the hot mushroom risotto and quickly stir to combine the cheese into the mixture and get an extra creamy texture.

Finish the risotto with a knob of butter for a silky smooth finish; adjust the seasoning if necessary and let the risotto rest for 2-3 minutes before serving.

Garnish with chopped parsley.
Notes
If the risotto is served as a meal, 100gr of raw rice per person is perfect. 60gr is calculated for a starter.
Do not rinse the risotto rice before cooking because you need the starch inside the dish.
Risotto rice needs 2.5 to 3 times the volume of liquid.
Nutrition for 1 portion
Calories:
617
kcal
Carbohydrates:
94
g
Protein:
17
g
Fat:
17
g
Cholesterol:
13
mg
Sodium:
2982
mg
Fiber:
4
g
Sugar:
9
g
Vitamin A:
2219
IU
Vitamin C:
6
mg
Calcium:
183
mg
Iron:
5
mg
Tried this recipe?
Let us know how it was! #culinaryambition