How to Make Clarified Butter?
Butter contains butterfat, water and milk solids. Clarifying butter means separating the milk solids or "lactocerum" and water from the butterfat. It sounds complicated but it just means melting butter and allowing the components to separate.
The milk solids are the reason butter burns, even at low temperatures. When using clarified butter in a hollandaise or béarnaise sauce you will get a more stable emulsion. This counts for all butter-based sauces. Baked goods will brown more evenly when using this pure butterfat.
For people with lactose intolerance, clarified butter is a good choice. Those who have strong milk allergies though should be aware that a small amount of milk solids may remain in the butter.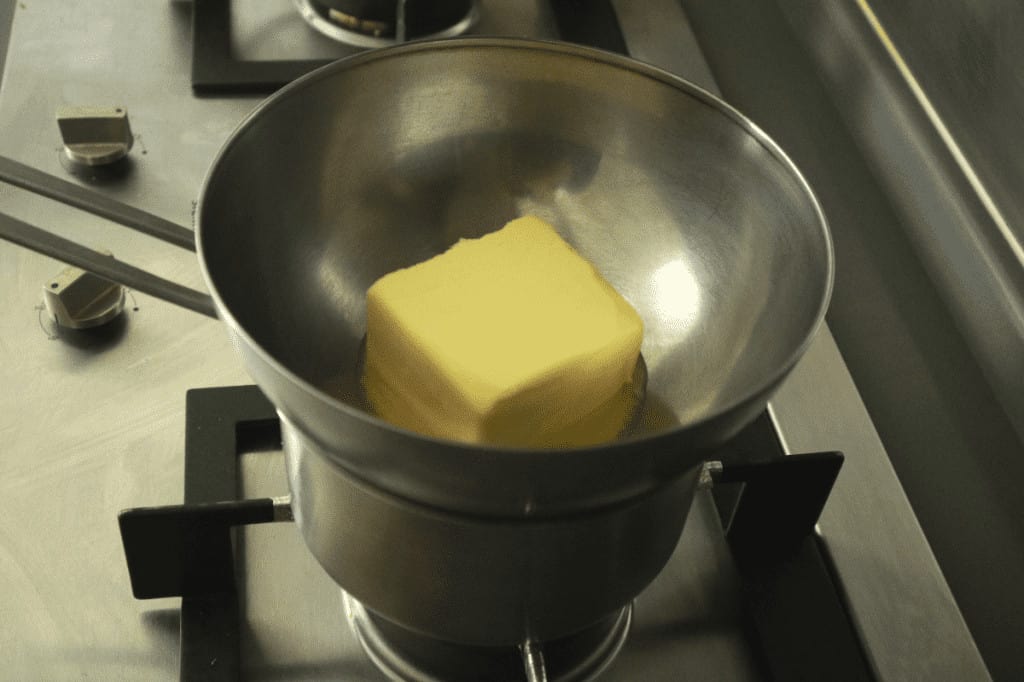 Shelf life of clarified butter
Cooked butter has a longer shelf life than regular butter.
Clarified butter kept in a covered jar will keep up to six months at room temperature and stay semi-solid. It can also be stored covered for up to 1 year in the fridge. It will harden in the fridge but it does not turn grainy after refrigerating and re-melting.
Differences between drawn butter, ghee and clarified butter
Some people don't think there is much difference between these 3 kinds of butter but let's be serious here, the process is different each time and more importantly the outcome is not at all the same. There is a big difference and we want to make you aware.
Clarified butter is pure butterfat which is formed after separating the water and milk solids.
Ghee originates from ancient India. It is clarified butter with extra cooking time. During the separation process, the milk solids kind of caramelise and this adds colour and flavour.
Drawn butter is sometimes explained as being clarified butter and this depends on the chef, but in reality, it is just melted butter if the milk solids are not separated.
We'll explain in short how to clarify the butter. Stay tuned and prepare your batch because next time we'll make a recipe with this!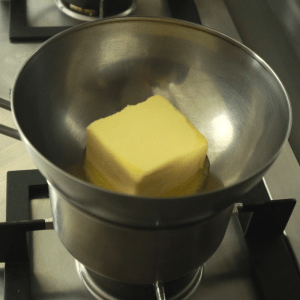 Clarified butter
Clarified butter has a higher heating point.
Instructions
Melt the butter over a low heat in a small saucepan or over a bain-marie.

Remove the white foam that rises to the surface with a skimmer. The amount of foam depends on the quality of the butter.

Put the butter to one side and keep it lukewarm. This will keep the milk solid at the bottom and the clear clarified butter on top of your saucepan. You can also place it overnight in the fridge.

When pouring the clear butterfat into your jar, make sure not to pour the milk solids as well. Use a mesh sieve or a filter if you don't feel confident.

If you have placed the butter in the fridge, you scrape the whey off the clarified butter.
Nutrition for 1 portion
Calories:
3595
kcal
Carbohydrates:
5
g
Protein:
5
g
Fat:
403
g
Sodium:
4715
mg
Vitamin A:
17885
IU
Vitamin C:
1
mg
Calcium:
150
mg
Tried this recipe?
Let us know how it was! #culinaryambition