Lotus Root Stuffed with a Delicious Prawn filling
Choose a heavy and firm root, with a vibrant brownish colour. Avoid any root with black spots or bruises on the rind. We prefer thicker roots over smaller ones as the holes will be more dominant. If you can't find fresh lotus root, which is the best option, it is possible to find canned or prepackaged roots at Asian markets. The food preparation is exactly the same as with the fresh product.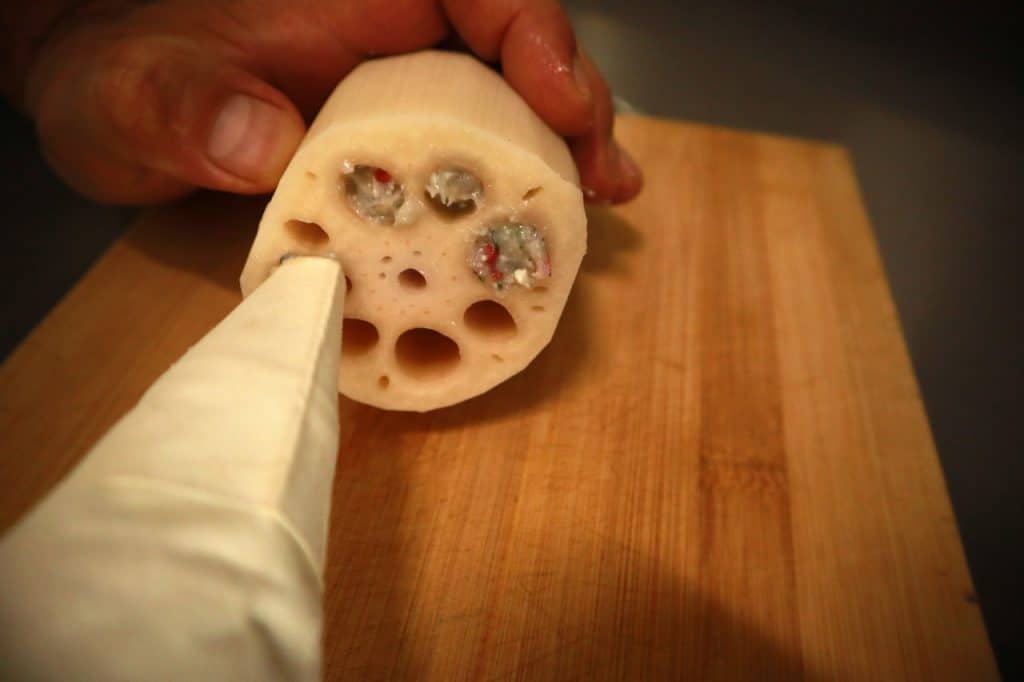 How healthy is lotus root?
Lotus root is nutritious and contains many properties that make it an especially healthy ingredient to consume. It contains a good number of vitamins and minerals, including Vitamin B, Vitamin C, iron, potassium, copper, thiamine, and zinc. It is also a great source of protein and dietary fibre.
Why stuff lotus root?
Stuffing the root with a flavourful prawn mixture is fun and delicious. The delicious, light tofu and prawn filling pairs well with the mild taste of the lotus root. The added prawn bisque adds a touch of fusion and links with the western cooking world.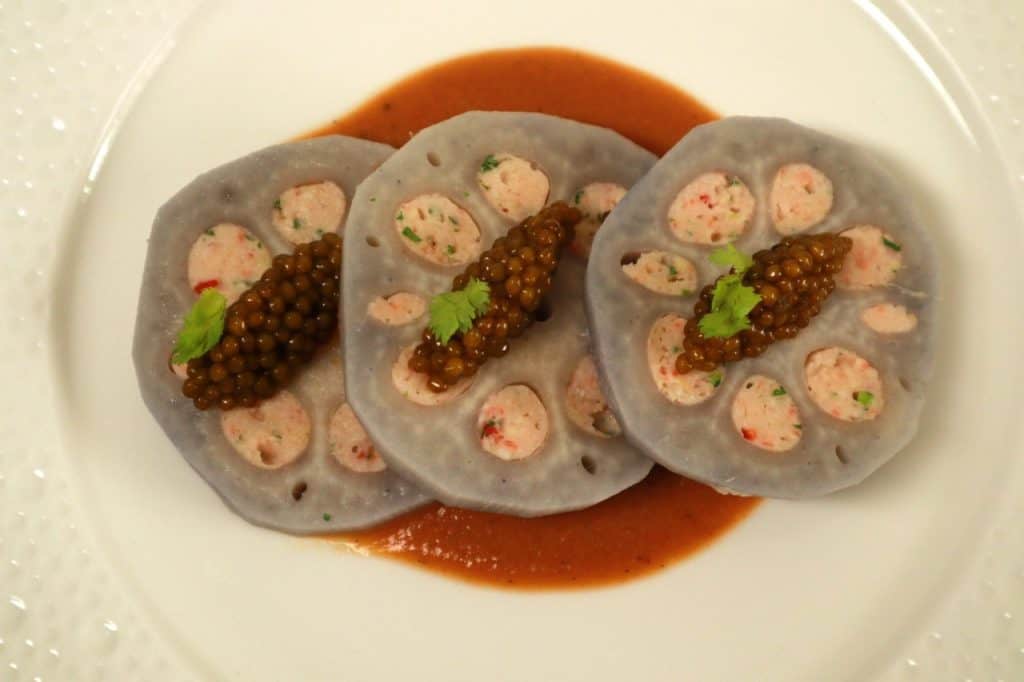 Related: Crispy lotus root chips and Kinpira renkon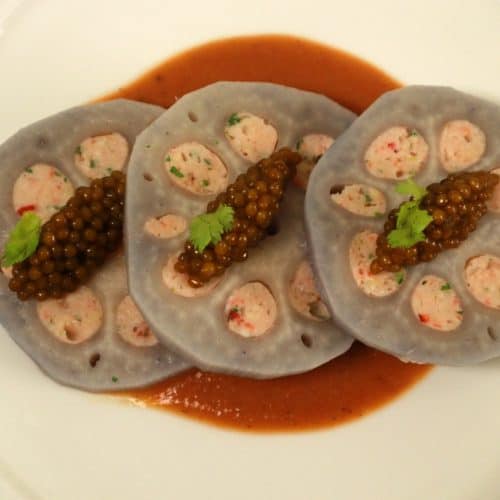 Lotus Root Stuffed with Prawns
Stuffing the root with a flavourful prawn mixture is fun and delicious.
Instructions
Prepare the prawn stuffing mix
Peel the prawns and blend the tails with the egg white and a pinch of salt.

Add the silken tofu and blend again.

Season the prawn stuffing mix with the ginger, garlic, lemongrass and chili.

Transfer the mixture into a piping bag.
Prepare the lotus root
Peel and wash the lotus stems properly so that the porous part is also clean.

Place the lotus stem on a chopping board and cut both ends.

Use the piping bag to fill all cavities with the prawn mixture.
Cook the lotus root
Steam the lotus roots for 15-20 minutes.

Remove the lotus root from the steamer, and roll into the toasted white sesame seeds.
Finish the dish
Spoon the prawn bisque in the centre of the plate.

Place the lotus root on the chopping board and cut it. Arrange the slices on the plate.
Notes
A lotus root needs to be peeled and cooked.
There is a bitter and/or tannic substance in the skin so should not be eaten raw. Inside, it's a light flesh colour.
Nutrition for 1 portion
Calories:
22
kcal
Carbohydrates:
1
g
Protein:
2
g
Fat:
1
g
Sodium:
3
mg
Fiber:
1
g
Sugar:
1
g
Vitamin A:
2
IU
Vitamin C:
1
mg
Calcium:
13
mg
Iron:
1
mg
Tried this recipe?
Let us know how it was! #culinaryambition