Chinese crispy Lotus Root chips
When lotus plants are blooming they look majestic! Besides having a sacred, symbolic significance in Hindu and Buddhist art and literature, the entire plant is edible and the most commonly used root is particularly popular in Chinese cuisine.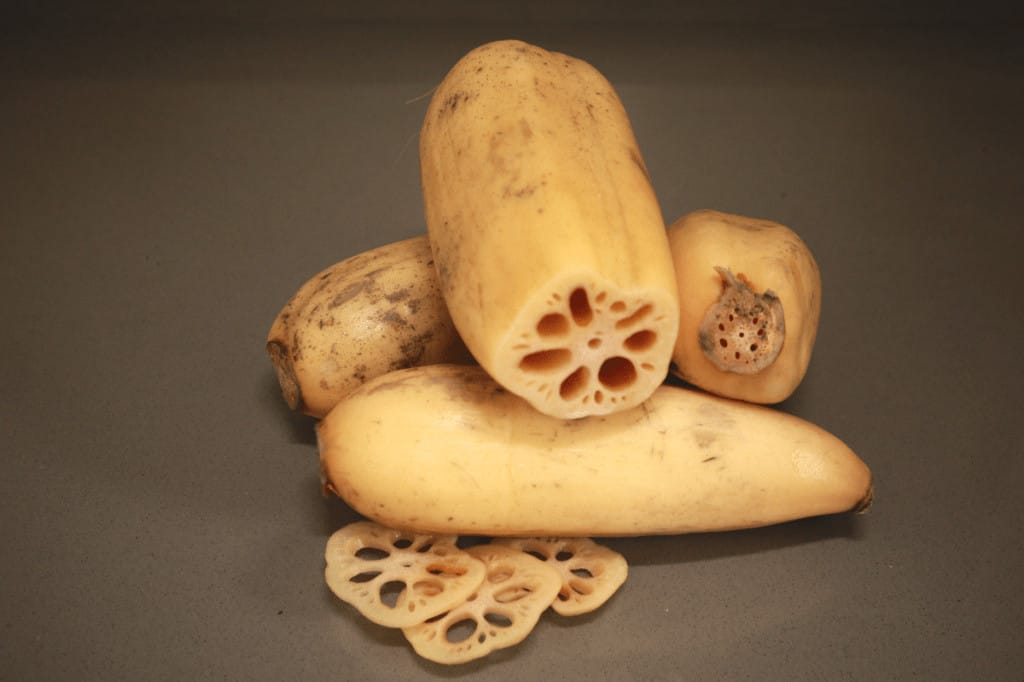 Lotus root is the edible rhizome or stem of the lotus plant that grows underground in shallow waters. The cylindrical form measures up to 20 centimeters in length and 10 centimeters in diameter with a brownish skin colour. It is starchy with a dense and crunchy texture and a slightly sweet flavour.
Lotus root chips are easy to prepare. Adding a pinch of Himalayan pink salt and Aonori seaweed elevates the flavour.
How to prepare lotus root chips?
The skin sometimes has a slightly bitter taste and can't be eaten raw. To avoid the bitterness, you need to peel the root, and rinse it well under cold running water. Once finely sliced, keeping it in vinegar water prevents it from turning dark quickly and keeps the flesh colour light. Pat dry the slices well before frying.
Where to find lotus root?
Because it is not part of Western cuisine, it will not be easy to find it in your regular shop. Make it a trip out and visit a Chinese market where you will surely find some.
Read also about our other lotus root recipes.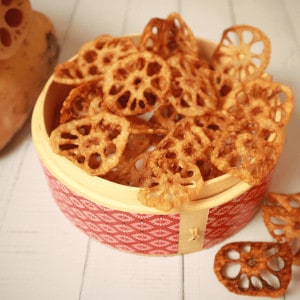 Crispy Lotus Root chips
Lotus crisps or chips are easy to prepare. Adding a pinch of Himalayan pink salt and Aonori seaweed elevates the flavour.
Instructions
Prepare the lotus root
Peel and wash the lotus root.

With a sharp knife or a mandoline slicer, cut the lotus root into 3 mm or thinner slices.

Add 2 tsp rice vinegar to the water. Soak the lotus root slices in the vinegared water for 5-10 minutes.

Pat dry the lotus root slices dry on a kitchen towel.
Deep fry the lotus root
Heat the oil to 170°C and deep fry the lotus root slices until they are crispy and golden brown.

Once they are nicely fried, spread out on a wire rack or a paper towel to remove excess oil.
Nutrition for 1 portion
Calories:
647
kcal
Carbohydrates:
1
g
Protein:
1
g
Fat:
75
g
Sodium:
4
mg
Fiber:
1
g
Vitamin C:
1
mg
Calcium:
3
mg
Iron:
1
mg
Tried this recipe?
Let us know how it was! #culinaryambition
Highlights of lotus chips
Indeed, there are many benefits to preparing and eating lotus chips. They are quick to make and fun to eat. The unique design of the lotus root makes the crispy treats lovely to look at when presented.
In addition, this root vegetable offers a long list of health benefits. What better way to snack than munching on something nutritious and great tasting at the same time!