How intense is life in Qatar?
We landed in Qatar in September 2011 and our plan was to stay 2 years in the Middle East. However, life in the Persian Gulf was full of surprises and we ended up staying over 5 years. This tiny country with a huge sandpit and its way of life surely left a mark and we have many good memories!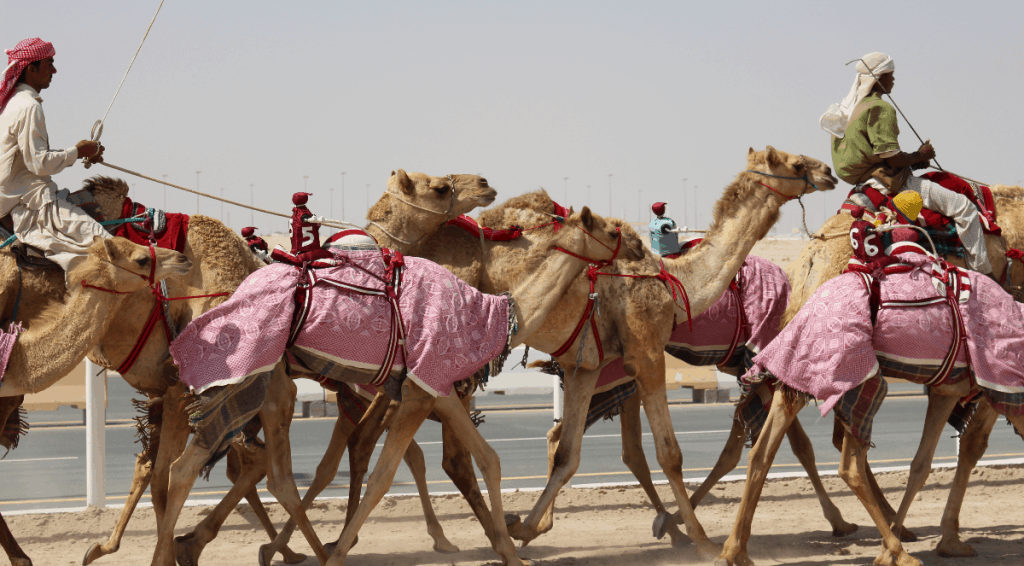 From the first day, we realised we had a lot to learn and we had to adjust some of our habits and accept certain rules and regulations. Overall, it was one big, intense discovery, we did break a few rules here and there but never on purpose or anything too shocking.
Culture Shock
We dealt with the biggest culture shock in our history. Here are a few of our bigger ones.
Population – only 10% of inhabitants are Qatari. The local language is Arab but Indian dialects are widely spoken as they form the biggest group of expats. English is widely spoken too, and locals are always helpful. So a small shock but this was easy to overcome.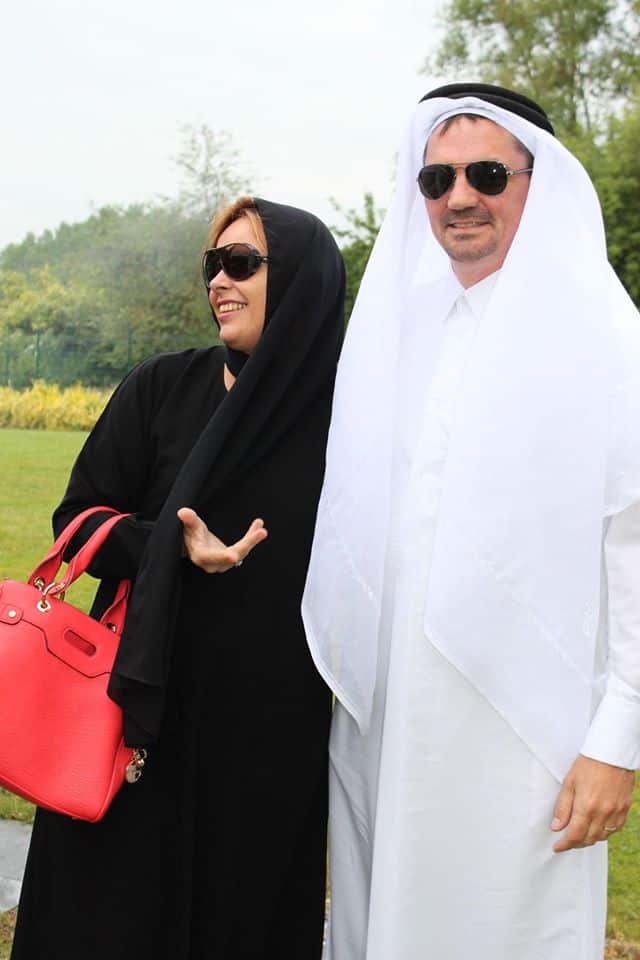 Dress Code – maybe a little surprising to you that we find it very stylish the way Qatari respect their national dress code. Women usually wear an abaya and they cover their heads. Expat women don't need to follow this dress code, but they should always display modesty in their attire. This means knee-length dresses or loose pants and shoulders covered up. I remember running in the park in our first days with Yannick where a woman stopped us to point out that I was wearing shorts…that was the last time I ran! Men wear long white robes with a headpiece. Expat men don't have to adhere to this, but just dress decently.
Ramadan – the holy month and fasting. We knew about it and I have experienced it already while living in Indonesia but here it's a serious thing. Working hours are shorter which is positive, and all restaurants are obviously closed which is still ok. It is forbidden to eat or drink in public. For us foodies, this was a really difficult task but we managed to snack here and there behind closed doors and so we survived. At sunset the 'party' starts, and traffic is crazy as everyone tries to get to their homes or hotels to break the fast and enjoy the most delicious buffets.
Alcohol – we've spoken about food but what about drinks? Can you image to have only 1 shop in the entire country where permanent residents can buy limited amounts. You need a permit from your employer to shop there. Some 4 and 5 star hotels serve alcohol as well, but there are a lot of 'dry' hotels where alcohol is disallowed.
Sleepless Nights – the mosques that are on every corner of the street caused us a few sleepless nights. While we respect the Islam culture, we would often wake up thinking, WHY??? We kind of got used to it but still, this was the time where we set ourselves a challenge to find a house as far away as possible from a mosque.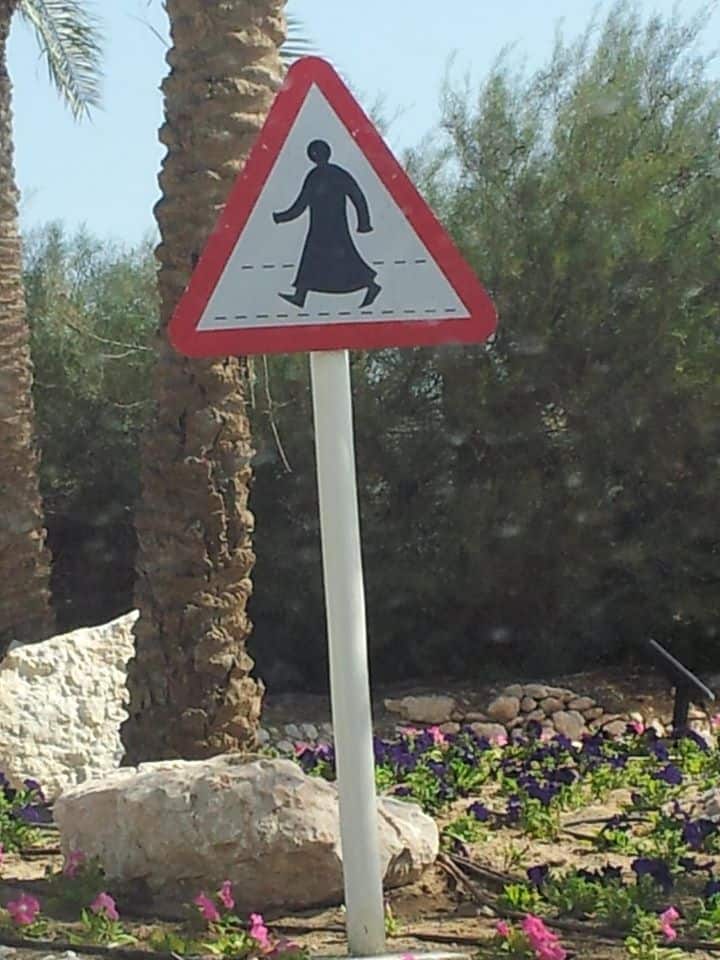 Ladies Only – that was completely new. As much as it was unsettling to have separate and secluded places for ladies only, it was at times extremely convenient too. Sometimes it was frustrating that hubby couldn't come for a swim or a walk with me because it is 'ladies only' time in the park or at the pool. Going to the bank on the other hand was my job;the men's section was often too crowded with long waiting lines and I would cruise through the ladies' section.
Inshallah – we heard it all the time in the Middle East… Inshallah, which means, 'if God wills'.
'The meeting starts at 9am, inshallah.'
'Delivery will be in the afternoon, inshallah.'
'We are happy to host this event, inshallah.'
'Let's have coffee, inshallah.'
Although they mean it well, and they intend to be on time, it just never worked. We don't want to offend anyone (and our friends know this) but this one word is often 'food' for discussion, delays and mainly for us Westerners' frustration.
Wedding Bells
We can also call this part of our Qatar adventure a surprising event.
We had no idea that it is not allowed to live together when unmarried and consequently had to plan a wedding! I contacted our respective embassies, gathered the necessary information and learned that a wedding in Belgium would be the quickest way to tie the knot.
Yannick prepared his official proposal; he designed our wedding rings and got a suit. Friends in Qatar helped me choose a wedding dress, design invitations and others in Belgium organised the party place. We had the most beautiful weather on March 24, 2012 and we would do it all over again.
Things to Visit
Souq Waqif
We always enjoyed this place to relax and get a glimpse of the Qatari culture, daily life, architecture and food. Walking through the cobbled streets and the narrow alleys, we always made a new discovery. The vendors offer their fresh spices or local sweets to taste. There are tailors, art galleries,local crafts, a bird market and a gold market. The souq is always lively with daily live performances and it is also the best place to try local food.
Falcon Souq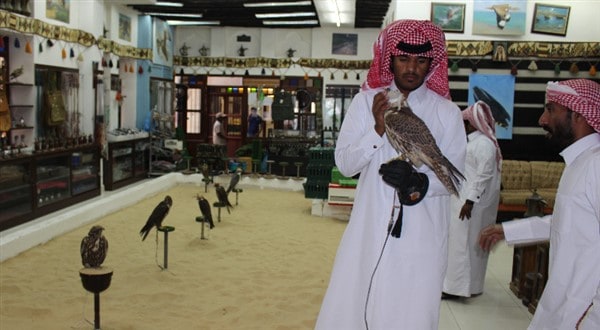 Falcons are among the most prized and expensive animals in the Arabian Gulf. Seeing these birds in action is impressive. But it is In the falcon souq that you can get up close and personal. The falcon hospital is a unique place where owners bring their fierce creatures for treatments.
The Pearl
This artificial land is home to the largest real estate development in the Middle East. Every time we went there, we had a feeling of leaving Qatar and arriving in another world. The many mega yachts and upmarket restaurants make it a luxury destination. There is always something to astonish you there.
Sheikh Faisal Museum
Some describe it as 'kitsch' and Sheikh Faisal shares his idea of art with everyone who wants to pass by. His personal collection is a journey through place and time. This fortress is the home of old coins, traditional clothes, paintings, 700 carpets, 600 cars of all types and much more. You can also find pieces of Qatar culture and heritage with some real size dhows (typical ships). A must visit and another surprising place to visit.
Camel Races
These are not ordinary camel riding excursions but you get to see the real deal. These live traditional competitions are legendary. The camels race on the track while the owners control the little 'computerised man' sitting on each camel. The cars follow alongside the camels, on a car track, until the finish…it is amazing that there are so few accidents with all the cars racing side by side. The only problem with this cultural event is that it is so local, it's difficult to find the correct timetables in order not to miss out.
Activities
Dune Bashing
Do you need sand? Qatar is the only country in the world where the desert is beside the sea. Driving your own car in this huge sandpit is the most popular and enjoyable activity in Qatar. Fridays, the weekly Sunday in the Middle East, are the busiest day in the sandpit.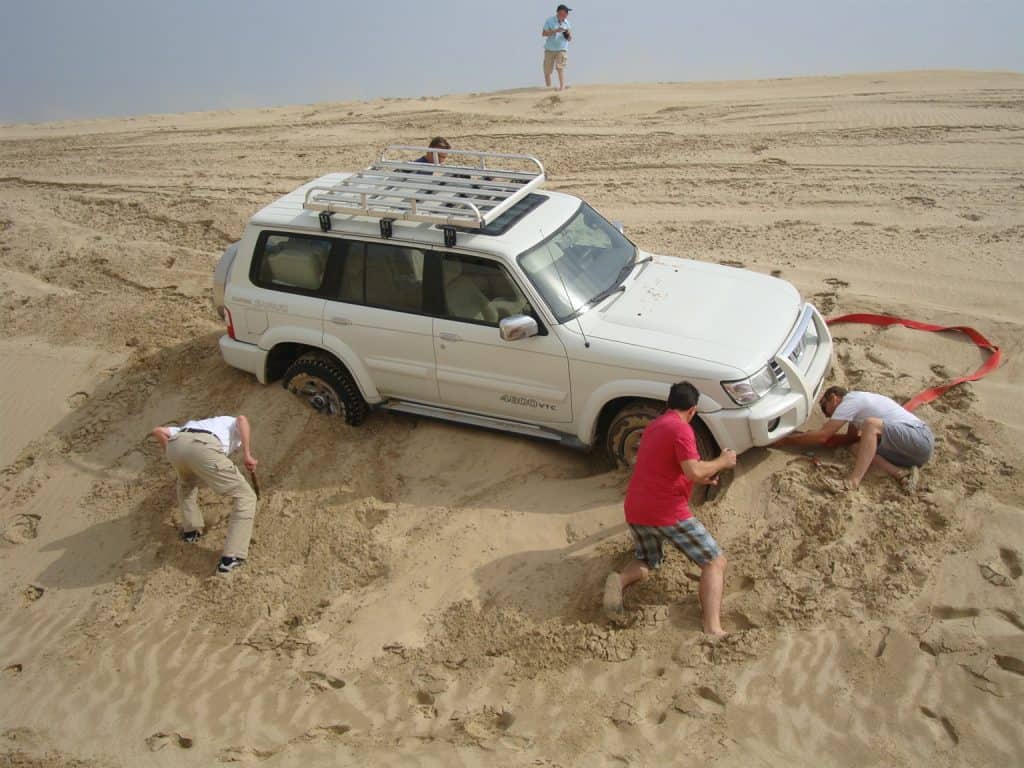 There are rituals before heading to the desert…packing a great picnic, a table, chairs, and clean water. Then time to meet for extra snacks and gasoline fill up. Upon arrival in the desert, it is wise to let air out of the tires to have better grip and to secure all equipment in the car. Off we would go with groups of friends bashing in the sand dunes. Getting stuck was part of the fun ,and we got stuck the most, but we found the dessert a great place to get to know Qataris in a different way. They are so experienced, that they would always get us out of the sand so we could continue our day and have time for a swim and a chat before heading back home in the evening or after a night of camping.
Zekreet & Film City
The west of Qatar is home to completely different scenery. The desert has no soft sand but has mainly stones which makes it a rough ride to visit the area. Nonetheless it is worth visiting this part of the peninsula. The limestone rock formations are stunning. Film city is intriguing, and this part of the desert is host to the art sculpture by Richard Serra. It's a little out of the way but we have nice memories of this part of the peninsula.
Banana Island
Another artificial island built in crescent shape is just off the coast of Doha. It's home to Anantara hotel and hosts many restaurants and activities to keep you busy for the day. It opened at the end of our Qatar episode and was a welcoming luxury getaway.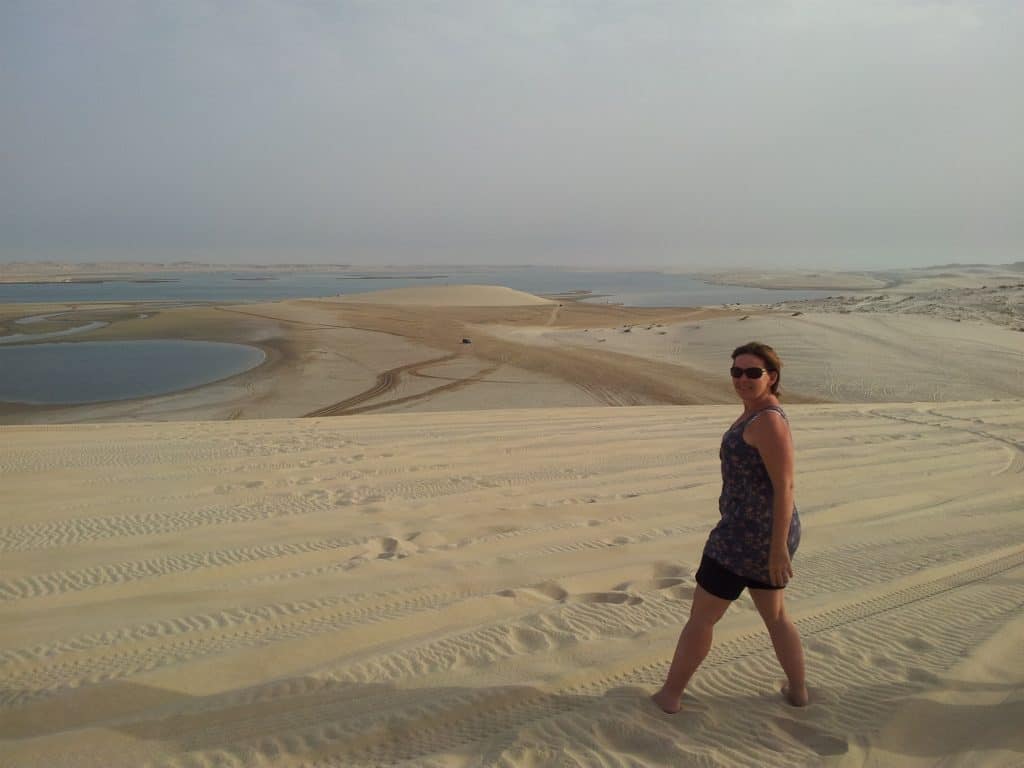 Living in Qatar has changed our way of thinking about Muslim culture. It was a unique experience to get to interact with the locals and get to know their habits and way of life.
Although it is most probably the furthest away of how we usually live and exist, we are very happy to have lived here for some years.
If you want something different, don't hesitate to add this beautiful destination to your list.
Our Recommendations
Sleeping
Most 4 or 5 star international hotel chains operating in Qatar are comfortable and very luxurious. Intercontinental hotel is our favourite because of the beachfront and the various dining possibilities. There is also a Belgian cafe for a good beer and some good Belgian food.
The Souq Waqif boutique hotels are a must if you are searching for a more traditional, yet very stylish high-end stay. Most hotels are hidden treasures in the middle of the Souq and offer also refreshing culinary concepts. Definitely worth a try.
Dining
Damasca One restaurant is in a historical building in Souq Waqif and is the most popular and has outdoor seating. They serve delicious Syrian comfort food. Make a reservation in advance as they are often fully booked.
The Belgian Cafe is a classic in Doha for beer and some snacks. Another popular address for drinks and some snacks, is Champions Sports Bar at The Mariott Marquis city hotel.
If you like to get a little of both worlds, try a Friday brunch in one of the hotels. It is the ideal way to get to taste cuisines from all over the Middle East and there is always a choice of European dishes available. Grand Hyatt Doha is a good choice.
Get Organised
Book Your Flight
Find cheap flight deals on Skyscanner. This search engine is easy to use and will find you the best deals!
Find Accommodation
Agoda.com and Airbnb are both popular. You will find the best up to date deals for your preferred stay.
Car Rental
Discover Cars is a good website for comparing prices to find the best deal. They search both local & international rental companies.
Protect Your Trip
Get yourself travel insurance and offer yourself a stress free trip! Protect yourself from possible injury and theft while travelling. World Nomads has good and affordable cover for short term trips.