How to Choose a Non-Stick Pan
If you have a non-stick pan in your kitchen, then you will understand how essential it is when cooking!  If you don't have one you are missing out as non-stick means hassle-free cooking and easy cleaning!  Non-stick pans allow you to cook absolutely anything in them including delicate dishes such as omelettes and pancakes, all with the minimum of cooking oil resulting in healthier dishes.
It's good to appreciate that non-stick pans aren't all created equal, and the safety of the product as well as construction and durability are factors to consider when purchasing. At this point, it's worth saying that the modern non-stick pans and pots are PFOA-free, which means they are free from cancer causing elements.
The non-stick coating
Non-stick coatings come in different forms. The most popular of these coatings is Teflon which is designed to repel water, and ceramic coatings which increased in popularity after the 1960s.  These two coatings have a guarantee of longevity and durability. However, the durability of either coating is highly dependent on usage and the care you accord to your pans. Whichever coating you choose, make sure to use soft, non-abrasive utensils when cooking or cleaning.  
Construction material
A non-stick pan is as efficient as the construction materials used to make it. Non-stick pans are largely made from stainless steel tri-ply or aluminium. This makes the difference as far as weight, cost, and heat distribution is concerned. Stainless steel tri-ply constructions are a bit heavier but offer even heat distribution. However, these will be a little more expensive compared to their aluminium counterparts. Aluminium pans might heat up faster but are not as good for even heat distribution. It's also good to understand that aluminium pans aren't ideal if you're using an induction stove and you should always check if the pan is compatible with induction stoves.
Utility
Cookware should fit your needs and it is important that pots and pans live up to your expectations. A good pan should not only be durable and offer even heat distribution, but also be compatible with your appliances. For example, is the non-stick pan oven safe? If you're using an induction stove, would it work with that without getting damaged? It's important to buy cookware that matches your lifestyle and meets your kitchen needs.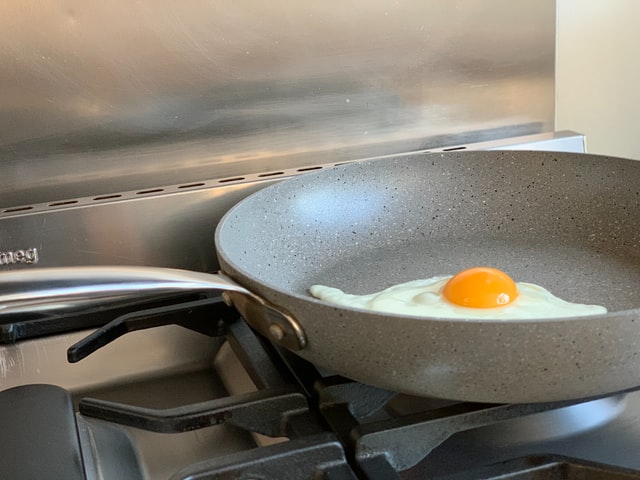 The price
Quality kitchen equipment can be expensive, but there is cookware available for all kinds of budgets. Non-stick pans and pots eventually wear out no matter how much care you accord them. Understand the pros and cons of the different materials used and check if it fits the cookware and appliances you have already. Compare shiny metals and a non-stick pans ,but understand that to a great extent, these two types of pans work almost the same way.
Conclusion
A good purchase comes in handy and helps make your cooking safe, easy and hassle free.
Avoid any compromise and follow the manufacturer's guidelines as a way of extending the lifetime of your non-stick pan. Never clean your pans with an abrasive material and never use sharp and abrasive utensils to stir the food. With this in place, your pan will serve you for many years without the need for a replacement.