Green Curry Fried Rice with Prawns
Fried rice is probably the most common dish in Asia, to eat by itself or as an accompaniment to another dish. It is a very straightforward recipe of rice that is stir fried in a wok or a frying pan and is usually mixed with ingredients such as eggs, vegetables, seafood, or meat.
It is a good way to recycle leftover cooked rice, either jasmine rice or brown rice and transform it into a delicious dish.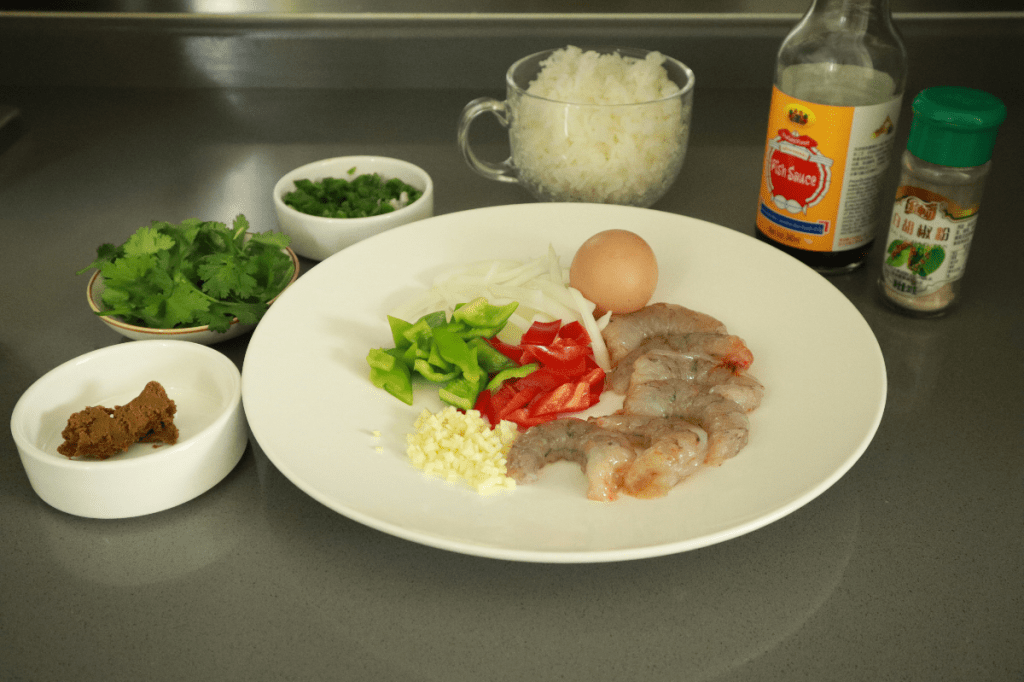 Why Add Green Curry to Fried Rice?
What ingredients can be added to fried rice?
This recipe is totally adaptable! You can keep it vegetarian or you can add a protein of your choice. We are adding green curry paste for a "kick" because we like it. In Thailand they often add pineapple to give it a sweet touch. Whatever flavours and ingredients you choose, the technique will always remain the same.
Some of the many traditional fried rice recipes include soy sauce and sugar. The sugar is used to compensate or balance the saltiness of the soy sauce and fish sauce, but we prefer to control the amount of fish sauce so we can avoid adding sugar.
If you want to know more about the ideal wok, also read 5 tips to master useful wok skills.
Green curry fried rice with prawns
Fried rice is probably the most common dish in Asia, to eat by itself or as an accompaniment to another dish.
Instructions
Heat the wok with oil and sauté the onions and peppers for a minute, add the garlic, chili, green curry paste and the eggs. Stir everything together and cook as a scrambled egg.

Add the prawns and stir fry for a minute before adding the rice.

Keep stir frying continuously until the rice is evenly coated with the egg mixture.

Add and stir the spring onion and season with the fish sauce and white ground pepper.

Serve the fried rice with the lime wedges, fresh coriander and fresh chili sauce.
Nutrition for 1 portion
Calories:
480
kcal
Carbohydrates:
52
g
Protein:
28
g
Fat:
17
g
Cholesterol:
281
mg
Sodium:
1587
mg
Fiber:
2
g
Sugar:
4
g
Vitamin A:
6253
IU
Vitamin C:
11
mg
Calcium:
203
mg
Iron:
3
mg
Tried this recipe?
Let us know how it was! #culinaryambition
What Does Green Curry Taste Like
Green curry tastes like a sweet sauce. It is made with green chillies and coriander root, plus, it is not as hot as red curry which uses the spicy red chillies. Although sweeter and more gentle on the palate, green curry does have an intense flavour profile. For many Thai dishes, it is mixed with coconut milk.
Highlights of Green Curry Fried Rice
Green curry fried rice is a fun, quick meal to make when wondering about lunch or dinner. It can be made with leftover rice, or steam a new pot of rice especially for the meal. Either way it is fast and easy with lots of options for variety!