Glazed Baby Carrots with Cumin
Glazed carrots with cumin are easy to prepare with only a few ingredients. It is the perfect side dish for every budget.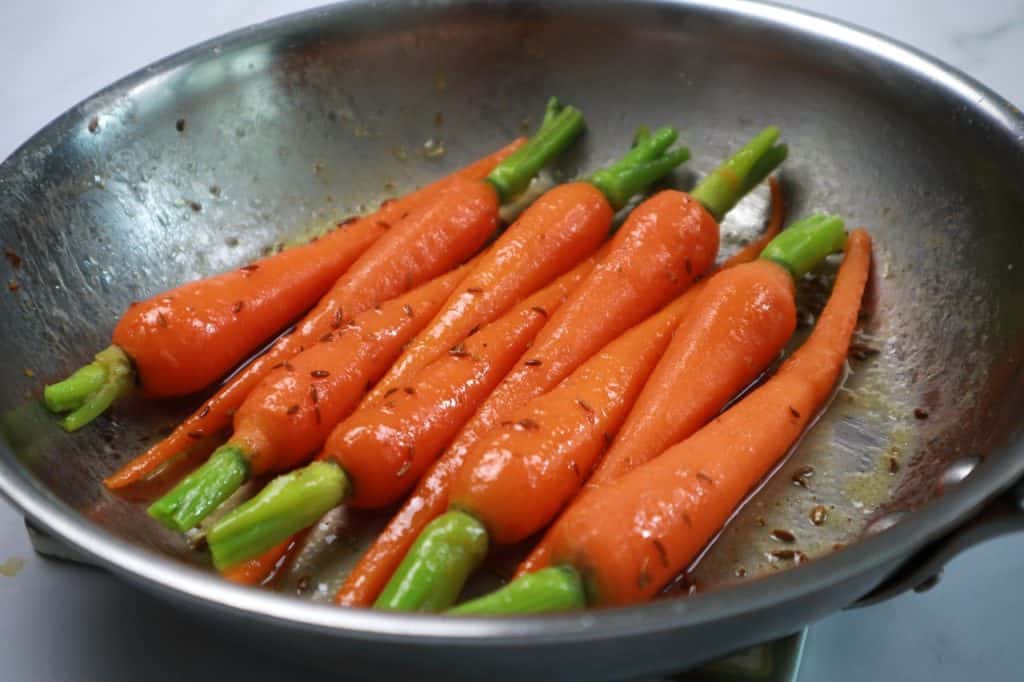 This culinary glazing technique can be applied to a variety of vegetables and can be defined in three ways, 'glacer à blanc', 'glacer à blond' and 'glacer à brun'. These culinary terms translate as white, blonde and brown, and describe the colour of the caramel that coats the vegetables.
We tend to use baby carrots but you can also cut larger carrots into the same sized pieces. The outcome is a tender but slightly crunchy batch of carrots coated with caramelised sugar that makes them look shiny.
Substitute the sugar with honey if you prefer and you can leave cumin out if you don't like it or if you prefer other spices.
A vegetable peeler isn't necessary to peel baby carrots or young carrots as the skin is very thin and can easily be removed with the back of a knife after short blanching. Get the right technique on how to peel young carrots.
Other ingredients that go well with glazed carrots
Citrus enhances flavour when glazing vegetables with lemon and orange juice being the most popular.
Fresh herbs add an aromatic touch. Chopped parsley or coriander can be added just before serving.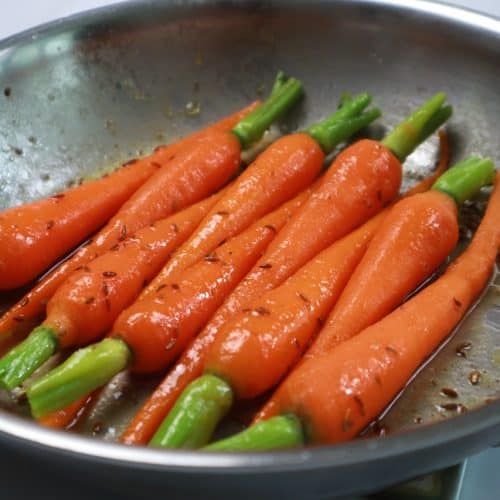 Glazed Carrots with Cumin
Glazed carrots are easy to prepare with only a few ingredients. It is the perfect side dish for every budget.
Instructions
Peel the baby carrots.

Melt the butter, sugar and cumin seeds in a large pan over low heat.

Add the carrots to the pan, and gently shake the pan to coat them with the butter and sugar.

Cook for 5-6 minutes until just tender then increase the heat a little.

The baby carrots should be slightly caramelised before adding a small amount of water (1 tbsp) to the pan to deglaze the caramel. Keep rolling the carrots in the light caramel.

Keep cooking until the water has completely evaporated. Repeat 3 to 5 times to obtain nice and shiny baby carrots.
Notes
Check the doneness of the baby carrot with the knife tip.
Nutrition for 1 portion
Calories:
93
kcal
Carbohydrates:
18
g
Protein:
1
g
Fat:
2
g
Cholesterol:
5
mg
Sodium:
157
mg
Fiber:
6
g
Sugar:
11
g
Vitamin A:
27642
IU
Vitamin C:
5
mg
Calcium:
66
mg
Iron:
2
mg
Tried this recipe?
Let us know how it was! #culinaryambition