Fragrant Oven Baked Tilapia Whole Fish
Now and again, we love to eat and enjoy a whole fish. It brings back memories of many dinners at the beach while living in Thailand.
Preparing a whole fish can be overwhelming for many people, but at the same time, serving such a dish is a great way to impress your guests! So, why not give it a try?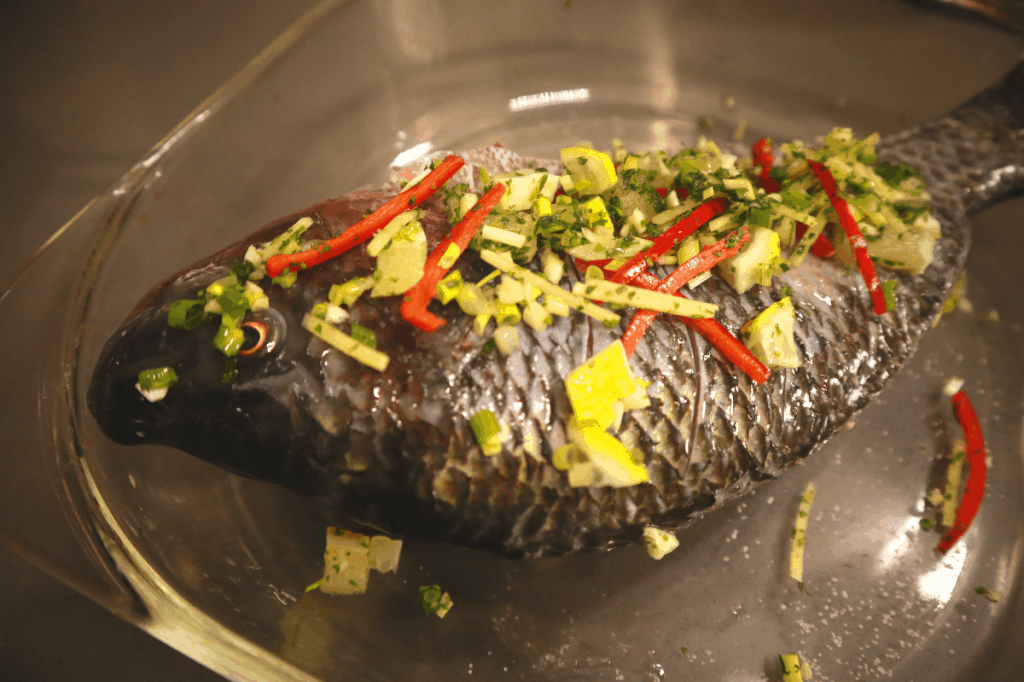 If you are adventurous enough and you know how to take care of fresh fish, you can gut and clean it yourself. If not, ask your fishmonger to clean and scale the fish so it is ready for you to prepare with a delicious marinade. There will still be a little work to be done before cooking but everyone can use scissors to cut off the fins. All the steps are in the recipe below and this will allow you to check if your fishmonger did everything your required.
Tilapia has beautiful, firm, white fish flesh and it has a very subtle, plain flavour which is ideal to add your own aromatics and spices. In this recipe we stuff a combination of Asian flavours such as coriander, garlic, ginger and lemon into the fish. The scoring of the fish and rubbing more of the marinade over it helps the fish absorb more of the flavours, but don't forget to scale the fish before starting to cook.  
Don't give up on this recipe if you don't find whole fish, fillets of fish will taste equally as good!
Read also other fish recipes and how to filltet a round fish.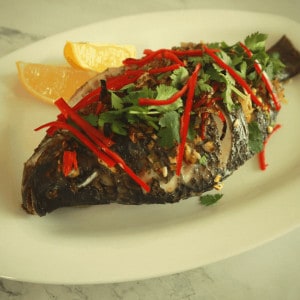 Oven Baked Tilapia Whole Fish
Preparing a whole fish can be overwhelming for many people, but at the same time, serving such a dish is a great way to impress your guests!
Instructions
Prepare the marinade for the fish
Blend the coriander roots and stems, garlic, ginger, ½ lemon, ½ lime, 1 red chili to obtain a coarse mixture; keep aside.
Prepare the fish
With a scaling tool remove the scales from the tail towards the head.

Use scissors to trim the fins on the sides, except the tail and remove the gills and guts if your fishmonger didn't do this.

Rinse the fish well and pat dry.
Bake the fish
Drizzle some olive oil with a little chili-lemon mixture in a baking tray.

Score the fish on both sides, season with salt and pepper then stuff the cavities (where the guts were removed) and rub the fillet slashes with it.

Place the fish onto the baking tray and bake at 180°C for 20-25 minutes. Halfway through, baste the whole fish with the juice in the baking pan.

After baking, rest the fish for 5 minutes covered with foil.
Serve the fish
Serve on a large plate, garnish with fresh coriander, julienne of chili and lemon.
Notes
Any whole fish such as snapper, sea bream, barramundi is suitable to replace the tilapia.
Scoring is a culinary term for making diagonal criss cross cuts. In this recipe it helps to cook the fish evenly.
Nutrition for 1 portion
Calories:
581
kcal
Carbohydrates:
1
g
Protein:
121
g
Fat:
10
g
Cholesterol:
300
mg
Sodium:
318
mg
Fiber:
1
g
Sugar:
1
g
Vitamin A:
844
IU
Vitamin C:
4
mg
Calcium:
70
mg
Iron:
4
mg
Tried this recipe?
Let us know how it was! #culinaryambition