Top 10 Parent-Approved Finger Food Ideas for a Kid's Birthday Party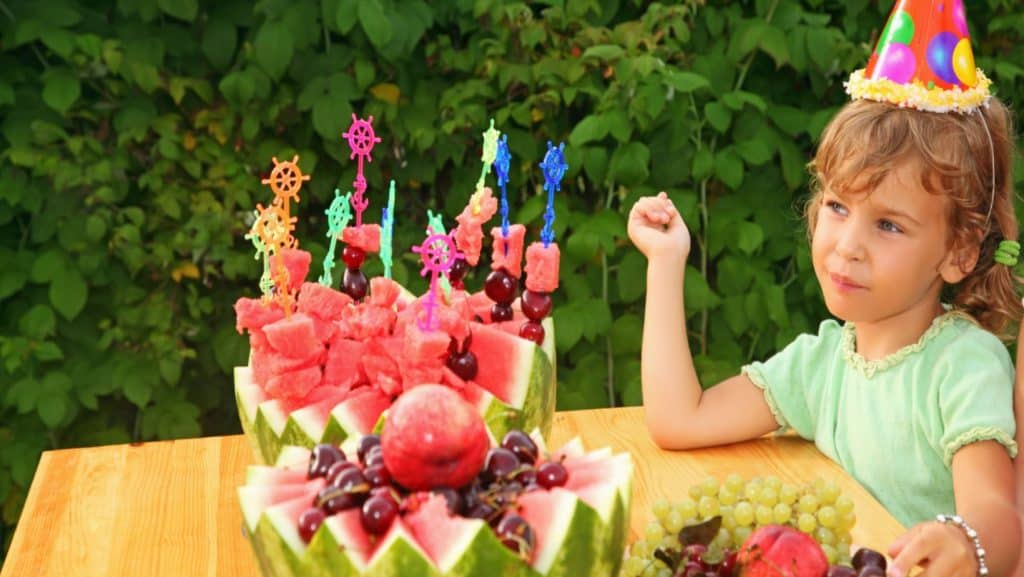 Are you trying to plan the best birthday party possible for your child's upcoming birthday? If you need some simple finger food ideas to keep the kids fed, you've come to the right place! Besides that birthday cake, children will love munching on tasty food. For instance, you can find a variety of under $50 fruit arrangements that provide great fruit kabobs for kids to grab while on the go. 
10 kids birthday party finger food ideas
Below, you can find out about the top 10 finger food ideas to make your kid's birthday party perfect. These tips are also useful for any other kid's party. Now, let's get started! 
Burger sliders
You can either make your own mini-burger sliders or you can buy them prepared. Also, if you can't find mini-buns, you could even make regularly-sized burgers and quarter them for kids to enjoy. 
Another option is to make lettuce burgers or vegan burgers if you're looking for the healthiest type of burger. Whatever you choose, children always love biting into a juicy and savoury hamburger.
Ants on a log
Remember ants on a log from your childhood? The same fun snack is still a popular choice for children today. All you need to do is cut up some celery sticks, smear globs of peanut butter on top, and sprinkle sweet raisins in a row. The snack's appearance is that of ants walking on a log.
Muffins
Making muffins for your kids' birthday parties is a perfect idea since muffins are incredibly versatile. You can make cranberry, blueberry, or chocolate chip muffins. If your kids love bananas, you can also make some banana muffins, or for apple lovers, you can go for something tasty like apple-cinnamon muffins.
These treats are relatively easy to make and provide a healthy and delicious meal for kids of all ages. 
Fruit cones
If you want to keep the kids healthy, you can't do much better than filling them up with fruit. It doesn't get much simpler than buying a bunch of ice cream cones and adding chunks of fruit inside. You can pick all sorts of sweet fruit like:
Mango
Kiwis
Oranges
Strawberries
Bananas
Raspberries
Blueberries
Grapes
Peaches
Cake pops
The best desserts often come in cake form. Cake pops are simple and sweet treats that any child will enjoy. It's also a versatile dessert where you can choose tons of different flavours.
You can bake vanilla, chocolate, lemon, red velvet, or strawberry cakes and then divide them up into spheres. Add some toothpicks or cake pop sticks with frosting and let the kids grab these treats at the birthday party. 
Oatmeal peanut butter protein bites
You can also follow a basic recipe and make oatmeal peanut butter protein bites. These tasty balls have ingredients like:
Peanut butter
Honey
Rolled oats
Chocolate chips
Chopped walnuts and raisins
Vanilla
These healthy treats make a perfect addition to any kid's birthday party. So, hire that magician or clown and bring these snacks to keep the children fed.
Goldfish crackers
All kids love to munch on goldfish crackers. These make great snacks and are easy to pick up in any grocery store. So, grab a few boxes and pour them right into a large bowl for the kiddos at the party. Don't forget to have some juice for the kids to enjoy as well, as these cheesy crackers can make children thirsty.
Veggies with a dipping sauce
Another easy and popular snack for little kids includes some of their favourite veggies with a tasty dipping sauce like ranch or guacamole. Does your son or daughter love carrot sticks or baby tomatoes? You can pick up a veggie platter from any grocery store and make some guacamole or ranch dip on the side. If your child's birthday party is near Halloween, you can even do something fun and Halloween-themed like Halloween Spider's Web Guacamole. 
Make-your-own taco bar
Older kids will love the idea of a make-your-own taco bar. All you need is a few pieces of pita, ground turkey, lettuce strips, diced tomatoes, beans, salsa, and guacamole. You can separate these items on a table and let the kids pile on whatever ingredients they like. 
Popcorn
Another great idea is to microwave a bunch of popcorn and grab popcorn boxes from the store. Make sure to pick out a tasty, buttery flavour. Put some popcorn in a box for each child and let them watch a popular movie. There are plenty of cartoons to choose from like Encanto, The Lion King, or Frozen.
Wrap up for kids birthday party finger food ideas
With our top 10 choices, you should have now figured out what finger foods to buy or make for that awesome birthday party you're planning. Don't forget about that sugary birthday cake either. Before you know it, you'll start singing "Happy Birthday" and watching your kid blow out those candles.
And remember that this list of kids birthday party finger food ideas is great for any gatherings that involve the younger set. In fact, here's another fun and easy recipe to keep children happy.