Mixed Fish and Seafood Terrine
Are you looking for a recipe to impress your guests?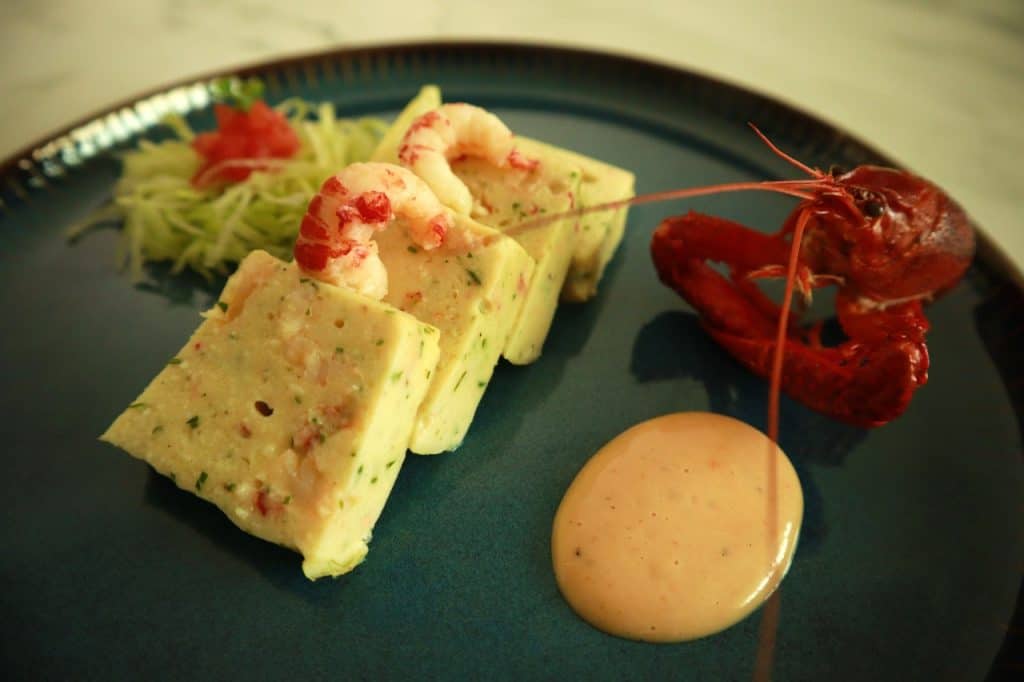 This fish and seafood terrine will take a little of your time to prepare but it is straightforward to make. The white fish makes for a smooth silky mixture which you can spice up with your preferred flavours, while the crayfish or shrimp will add some texture.
Serve the terrine cold with a cocktail or curry sauce or slightly warmed with a beurre blanc sauce. If you want to add a luxurious touch, add a little roe or caviar to the plate. Plan at least 4 hours in advance if you plan to serve it cold.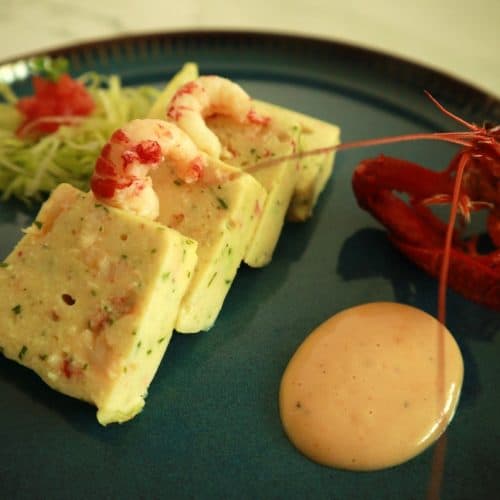 Fish and Seafood Terrine
The white fish makes for a smooth silky mixture which you can spice up with your preferred flavours.
Instructions
Use a saucepan to make a reduction of the shallot and white wine.

Combine the fresh breadcrumbs with the milk and let it sit for 10 minutes. This is called a panade.

Chop the fish fillet coarsely in a food processor and mix with the soft butter, the panade, and the shallot reduction.

Add salt, pepper, a pinch of cayenne chili pepper (optional), potato starch, eggs and blend until smooth and silky.

Transfer the crayfish meat into a mixing bowl and gently combine with the whipping cream, coarsely chopped crayfish tails and parsley.

Grease the terrine tin and preheat the oven to 150°C.

Arrange the fish mousse in the terrine tin. To avoid air-pockets, bang the fish terrine on the bench and smooth the top with a tablespoon.

Cover with tin foil and bake the terrine in a water bath (bain-Marie) for 35-40 minutes.

After baking, place the terrine upside down over a wire rack with a catch pan underneath.

Unmould after about 10 minutes and use a sharp knife to slice the terrine.
Notes
Choose firm white fish fillet, such as tilapia.
A panade is a mixture of fresh breadcrumbs combined with a liquid such as water, milk or wine. It is incorporated into any ground meat or fish recipe to keep the mixture moist after cooking.
Nutrition for 1 portion
Calories:
197
kcal
Carbohydrates:
6
g
Protein:
14
g
Fat:
13
g
Cholesterol:
80
mg
Sodium:
132
mg
Fiber:
1
g
Sugar:
2
g
Vitamin A:
573
IU
Vitamin C:
2
mg
Calcium:
54
mg
Iron:
1
mg
Tried this recipe?
Let us know how it was! #culinaryambition