Top Tips to Make Exciting Non-Alcoholic Drinks
Have you ever visited a bar or been a guest at a party where the non-alcoholic drinks options are boring and limited? Do you find it's always the same options of juice, fizzy pop, soda water or just plain water? If your answer is "Yes" then this article is for you! At your next home party or family event push those boring drinks options to one side! We'll show you how easy it is to create some fresh and tasty non-alcoholic drinks with some simple at home creativity.
It's all in the glass
In the way a triangle sandwich seems to taste better than a square one, the glass used for a non-alcoholic drink makes a huge difference! Goblet, Chalice, Tulip and Cosmopolitan are some of our favourite glass types to serve drinks in (and drink from), all of which can be easily purchased in shops or online to jazz up your glassware collection for a great addition to your home bar. Most bars will have a variety of glasses, so the next time you're out and want to order a soft drink, why not ask the bartender to serve your drink in a balloon glass instead of a boring half pint one?
A garnish adds appeal………and the options are endless!
All sorts of fruits, herbs, flowers, vegetables and even sweets are used as garnishes for cocktails, so why not use them for non-alcoholic drinks to give them more character! The next time you're hosting a party or BBQ, set up a 'pimp my drink' table alongside the non-alcohol options so your guests can get creative. You could even incorporate this into the theme of your party with fun straws and fruit cut into shapes.
We've listed below some of our favourite, easily accessible garnishes and made some suggestions on how to use them.
Switch lemon or lime wedges to juicy grapefruit slices – the bigger the glass, the bigger the fruit slice can be.
Sugar and salt – just like a classic margarita use sugar or salt on the rim of a glass to compliment a sweet or sour creation.
Fresh mint, lavender or rosemary can be tied together adding fresh flavour and aroma to any drink.
Slice a cucumber into ribbons and place in the base of a glass before adding ice.
Use cocktail sticks to make a mixed berry garnish and rest on the top of the glass.
Paper straws come in many designs to match any party coloured party theme and are environmentally friendly.
Make your own fruit syrup
With just a few simple steps you can make your own syrup that will compliment any soda or tonic water with a fresh taste and a splash of colour!Homemade syrups can be stored in your refrigerator for up to two months and make an ideal gift for a party host.
Using only a blender and a mesh strainer, mix some of your favourite fruits or vegetables together with water and sugar and serve straight away.
Cucumber, mint and lime create a feisty and fresh syrup, especially when added to tonic water creating a perfect drink for those summer months in the garden. Serve in a balloon glass with ice and a mint garnish!
Don't forget the ice – but not too much!
A warm juice or too much ice that you freeze your top lip isn't what anyone wants is it? But we do need to add some ice to compliment what's in the glass. The obvious reason we use ice in our drinks is to cool it down, however it helps to dilute some stronger flavours and makes the refreshing drink last longer.
Bar stocks and supplies to always have at home
Along with ice and a fun choice of glasses, we recommend having the following available in your home bar to create some yummy non-alcoholic drinks.
Bubbly water (AKA Soda Water) is a versatile drink across the globe. Its fizzy freshness can make any drink look just as fancy as champagne but with less calories!
Tonic water; like sparkling water with its own dash of taste and softer bubbles. Some popular brands of tonic water have added their own flavouring so all you need to do is add a fun garnish!
Fruit bowl for garnishing; think grapefruit, strawberries, berries, cucumbers, apples, oranges to name only a few.
Hand juicer for getting the freshest of juice.
Herbs, as many as you want as they can be used for flavour and garnish.
Salt, pepper, sugar and even some chilli flakes for seasoning.
Stock of refrigerated homemade syrups.
Straws and stirrers.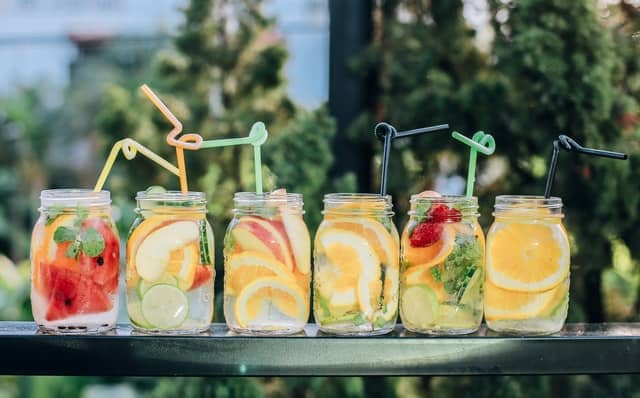 Kid friendly options
It's always difficult getting kids to drink water at the best of times, especially at an event where there may be an endless supply of fizzy pop and squash – all containing high amounts of refined sugar! Thank goodness for bubbly water, homemade fruit syrup, creatively cut fruit shapes and jazzy straws – kid proof and healthy!
Shop bought non-alcohol options
We're seeing an increase in high street options for a healthier way to drink, and they are surprisingly tasty. Breweries are recognizing people want to cut down on their alcohol intake or drink less beer for weight loss and health purposes so they're creating alcohol free beer with much the same taste and appearance, plus a new low calorie 'hard seltzer' style drink, basically a pre-mixed bubbly water with alcohol and fruit flavours.
Look for the 'little blue label' on beers in supermarkets and have a try for yourself. There are plenty of options out there for those that don't have time to get creative at home.