Essential Foods to Take on a Camping Trip
Camping is a great way to get away from it all and enjoy the outdoors, but one thing that can make or break your camping trip is the food you take. We'll explore some of the essential foods to take on a camping trip so that you can get the most out of your time in nature. From snacks to keep you going through the day to delicious meals that will bring everyone together around the campfire, there are plenty of healthy and delicious food options for your trip!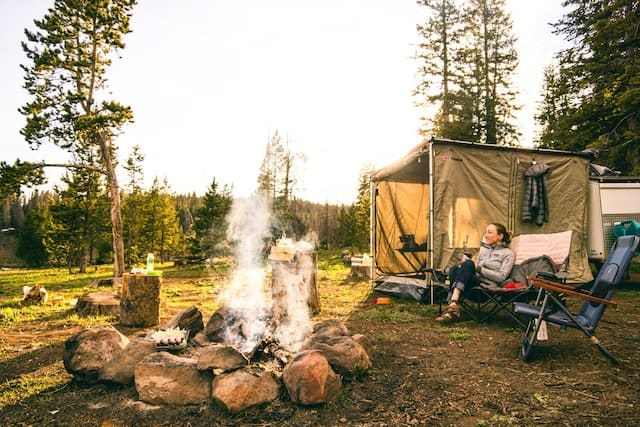 Planning ahead for a successful trip
When it comes to camping, preparation is key for a successful trip. This includes packing the right food to keep you well-nourished throughout your adventure.
1. Breakfast foods: Oatmeal, eggs and bacon, muffins or pancakes are all great options for campfire breakfasts. Pack easily perishable items like eggs in an insulated cooler bag or proper storage boxes.
2. Lunch and dinner items: Sandwich fixings, burgers, chicken, pasta salad, fruit, and veggie sides are all great lunch and dinner options for campers. If you're choosing foods that need cooking over the fire, be sure to pack extra propane or charcoal.
3. Snacks and desserts: No camping trip is complete without s'mores! Make sure you take the sticks and don't let them burn. Fresh fruit is also a nice treat after a long day of hiking or canoeing.
4. Drinks: Don't forget to pack plenty of water to help you stay hydrated, and avoid sugary drinks. If you're bringing along alcohol, be sure to pack it in plastic containers to avoid broken glass.
5. Miscellaneous: Be sure to pack a can opener, matches or a lighter, spices, salt, and pepper, garbage bags, plates, bowls, and utensils.
Healthy meal ideas
When it comes to eating healthily while camping, there are a few essential foods you should bring along. If possible, and if the camping accommodation allows, pack plenty of fresh fruits and vegetables. These will help you keep your energy levels up and provide you with the necessary nutrients.
Here are some healthy meal ideas to easily prepare when camping:
– Veggie wraps – Wrap up some grilled or steamed veggies, like bell peppers, carrots, mushrooms, and onions in a whole wheat tortilla with hummus.
– Fruit salad – Mix your favorite fruits together and add a few nuts or seeds for added crunch.
– Grilled fish or chicken – Grill up some lean protein over the campfire if possible and serve it with a side of roasted vegetables.
– Quinoa bowls – Cook some quinoa and top it with roasted vegetables, and a light vinaigrette dressing.
– Vegetable stir frys – Sauté a variety of fresh vegetables in olive oil over the campfire (or bring it from home), add some homemade pesto sauce and you will have a delicious dish to eat cold or warm.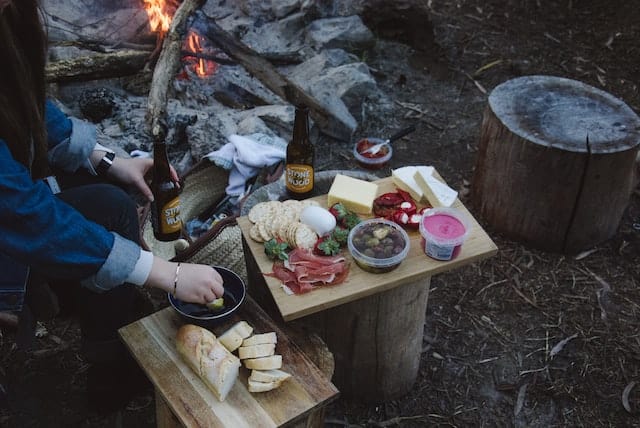 Non-perishables to pack
Non-perishables are a great choice for packing when you are traveling, and can often be stored in your luggage or backpack. Not only can they be beneficial in saving you money while traveling, but they can also fuel your body's energy and provide required nutrients. Nuts such as almonds, cashews and pecans are always good choices together with dried fruits such as raisins, cranberries and apricots.
Other great snack options include trail mix, granola bars, and jerky.
When packing non-perishables for your camping trip, it is important to consider what you will be cooking and plan accordingly. It is also important to pack food that will not require refrigeration or special storage. If you are camping with kids, it is a good idea to pack some snacks like crackers, fruit leather, and other easy-to-eat items. Keep in mind that the food won't need to last the whole trip; you can always supplement it with store-bought items.
Snack ideas
First, as mentioned above, you'll want to bring some non-perishable items. These are great for when you're on the go and need a quick snack. We also talked about bringing along fruit such as apples or oranges. This is a great way to get your daily dose of vitamins while you're out in the wilderness. If you are craving something sweet, pack some chocolate or other sweets but be aware that this could become a messy affair if the weather is hot!
Conclusion
Food is an essential part of any trip, and packing the right foods can make all the difference. We hope that the above article has given you some ideas for what to pack. With these delicious and nutritious foods in your bag, you'll be sure to have plenty of energy while out in the great outdoors. So don't forget to stock up before heading off into nature – happy camping!