Easy to make vegetable soup
Vegetable soup is easy, quick to make and affordable. It is one of the most comforting meals and suits every season as all available vegetables are good to use.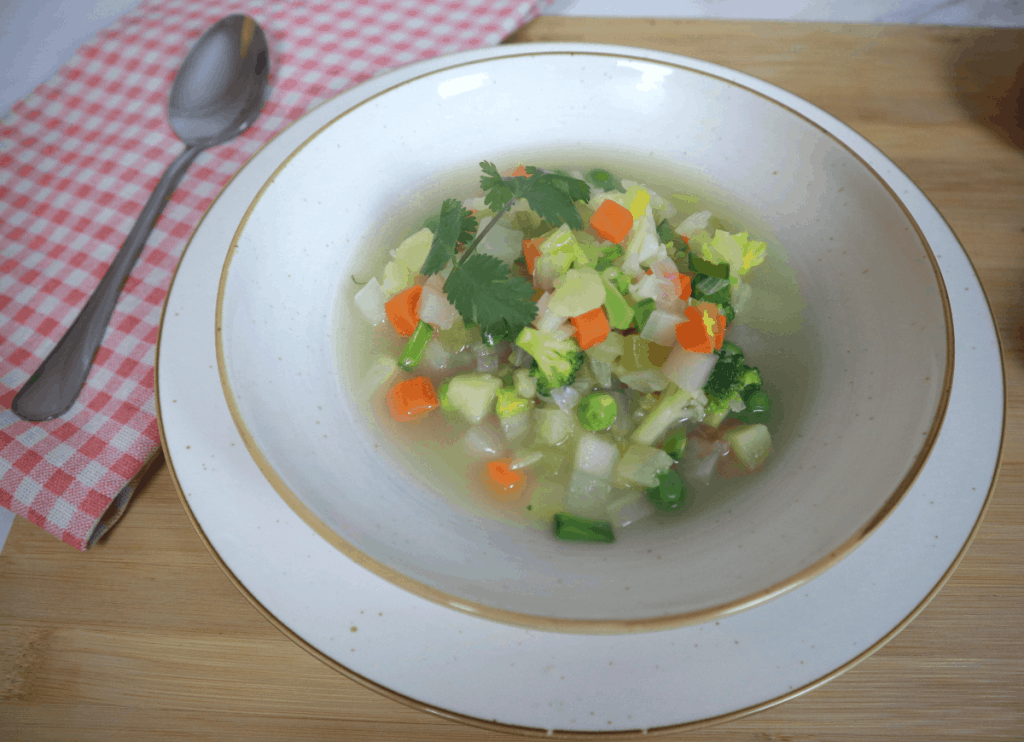 You can make it with chicken stock or you can use vegetable stock to create a complete vegan version. Take advantage of seasonal vegetables and cook variations of this basic recipe. We usually make a batch, freeze some portions and boost flavours. 
Additionally you can blend or mix the vegetables to give it a smooth, silky texture and 'hide' all the vegetables.
Also read our other soup recipes.
How to boost flavour in vegetable soup?
Adding spices such as chili pepper, paprika or curry powder will give some kick.
A refreshing dash of lemon juice will brighten up the dish and balance flavours.
Drizzling olive oil will perfume a soup and add a little richness.
Instead of adding cheese at the end, add parmesan rind during the cooking process to soften and flavour.
Croutons with pesto sauce add extra crunch and flavour and make it a more complete meal.
Easy to make vegetable soup
It is one of the most comforting meals and suits every season as all available vegetables are good to use.
Instructions
Prepare and cut all vegetables into bite sized pieces first.

Sweat the shallots, garlic, carrot and celery for 3-4 minutes over a medium to low heat until soft. Add a pinch of salt.

Add the stock and bring to the boil.

Add the potatoes, turnips, cabbage and cook for 5 minutes.

Add the cauliflower, broccoli, and peas and cook for another 4-5 minutes or until tender and cooked. All vegetables should still be slightly firm but not mushy.

Season to taste.
Notes
Sweating or to 'suer' the first vegetables helps to soften them and enhance their flavour.
A small pinch of salt at the beginning of the cooking process builds more flavour than adding it at the end.
Do not overcook the vegetables and preserve the natural and vibrant colours.
If the vegetables are mushy then blend the vegetables to obtain a great mixed creamy soup.
Nutrition for 1 portion
Calories:
128
kcal
Carbohydrates:
14
g
Protein:
9
g
Fat:
4
g
Cholesterol:
9
mg
Sodium:
431
mg
Fiber:
1
g
Sugar:
6
g
Vitamin A:
331
IU
Vitamin C:
16
mg
Calcium:
20
mg
Iron:
1
mg
Tried this recipe?
Let us know how it was! #culinaryambition