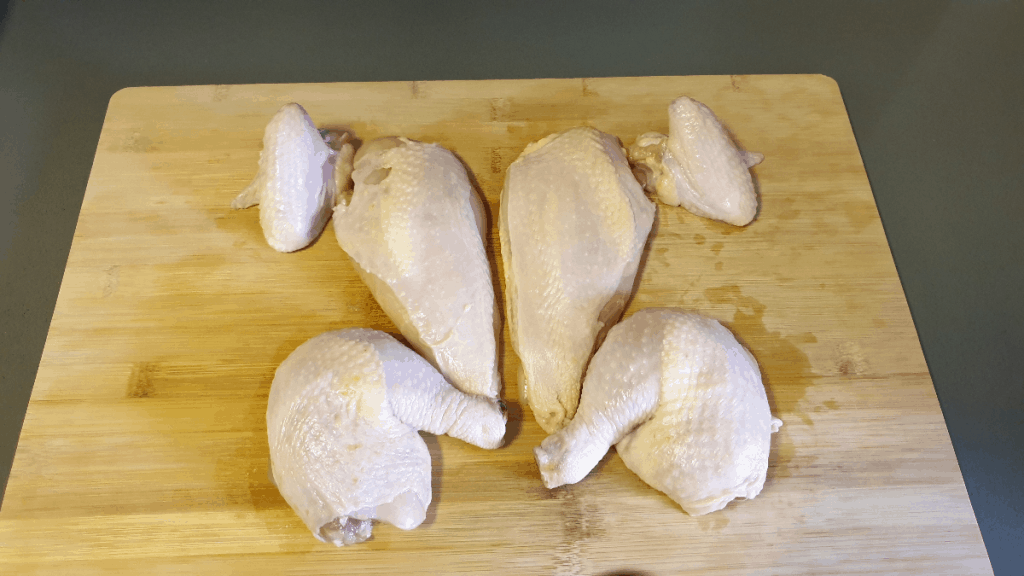 It looks like an impossible task but it doesn't require muscle or stress. We'll explain step by step how to master this technique and by the end of this "class", and with a few practice runs, you'll be able to do it yourself and wow your friends!
Why debone or break down a chicken yourself?
Money saving
Whole chickens are much cheaper, usually the price is to compare with the price of 2 attractively packaged chicken breasts. There are hundreds of recipes with chicken and we'll share a variety of them but keep in mind that we only started this blog and more recipes will gradually appear.
Diversity
Most people we know will only buy breasts or legs to cook with. However, It is amazing how the entire chicken can be used in a variety of dishes. The carcass and the skin to make stock and soup, the meat to fry, shred, roast or on a barbecue.
Deboning vs breaking down
Deboning is literally removing all the bones from all the pieces of the chicken. Breaking down is turning it into the various parts and pieces with bones still attached. We are going to describe how to debone and breakdown the chicken. This technique can also be used for a whole cooked chicken.
Get your knives ready and start practicing! You might want to check our review about knife sets. On Friday we will share a recipe where you can apply this technique.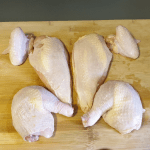 Print
Step by step deboning technique
With a few practice runs, you'll be able to do it yourself!
Equipment
Chopping board

Deboning knife
Instructions
Get ready
Prepare a sharp deboning knife.

Have a big cutting board ready.
Remove the legs
Lay the chicken on its back.

Pull the leg a little from the body.

Make a cut through the skin between the leg and the body.

Cut to the bone and then pop the leg out of its sickle by twisting the joint before cutting all the way through the joint.
Divide the leg in two parts
Find the ball joint at the 'knee' of the leg.

Cut through the line of fat that is at this point and separate the drumsticks from the chicken thighs.
Debone the thighs
Run the knife along the bone to free it from the skin.

Scrape the flesh from the bone and cut off at the large knuckle.
Remove the breasts
Cut from front to back over the sternum.

Slice your knife gently along the rib cage to cut the breasts off.
Separate the wings from the breast.
The wing tips are cut off to make stock.

Cut at the shoulder joints to separate the entire wing.
Nutrition
Calories:
310
kcal
|
Protein:
27
g
|
Fat:
22
g
|
Cholesterol:
108
mg
|
Sodium:
101
mg
|
Vitamin A:
202
IU
|
Vitamin C:
2
mg
|
Calcium:
16
mg
|
Iron:
1
mg