Crayfish Croquettes – a Belgian Specialty with a Twist
The original croquette, featuring mashed potatoes, originated in France by Monsieur Escoffier, the founder of classical French Cuisine. The Spanish transformed them into 'croquetas' and made a variety with a creamy béchamel filling.
In Belgium, grey shrimp croquettes are a long-time favourite of many and because we can't get grey shrimps where we live now in China, crayfish croquettes as a worthy substitute. Crayfish, crawfish, and crawdads are all names used for the same little animal.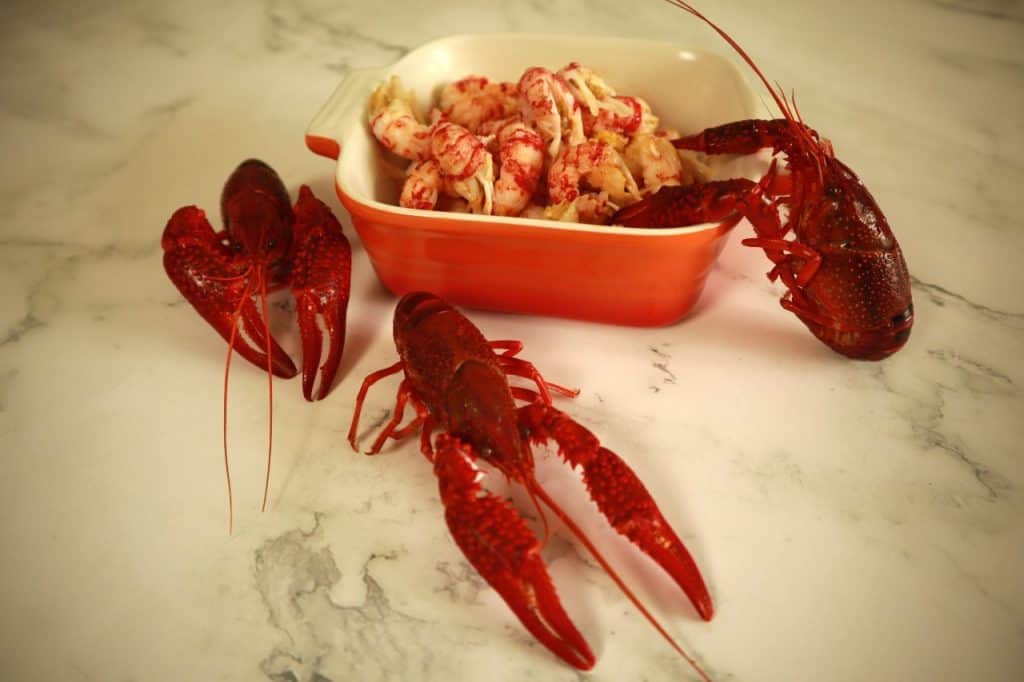 The most important factors for a good croquette filling are for the flavour to be rich and the texture to be firm, but with a certain creaminess so you don't need a sauce to pour over the top.
What is the correct size for croquettes?
There are no rules about standard sizes for croquettes. It all depends where in the world you are and when you eat them.
In Belgium, they usually look like cylinders with a length of about 8cm and we have them as an appetiser or with a salad. The Dutch have a similar way of eating them, but they also have their 'bitterballen' croquettes which are much smaller and eaten as a snack. The Spanish serve them in small sized tapas portions.
Deep fried or air fried?
We have tested both and although air frying is healthier, we prefer the deep-fried version. The croquettes came out crunchier on the outside and the filling tasted creamier.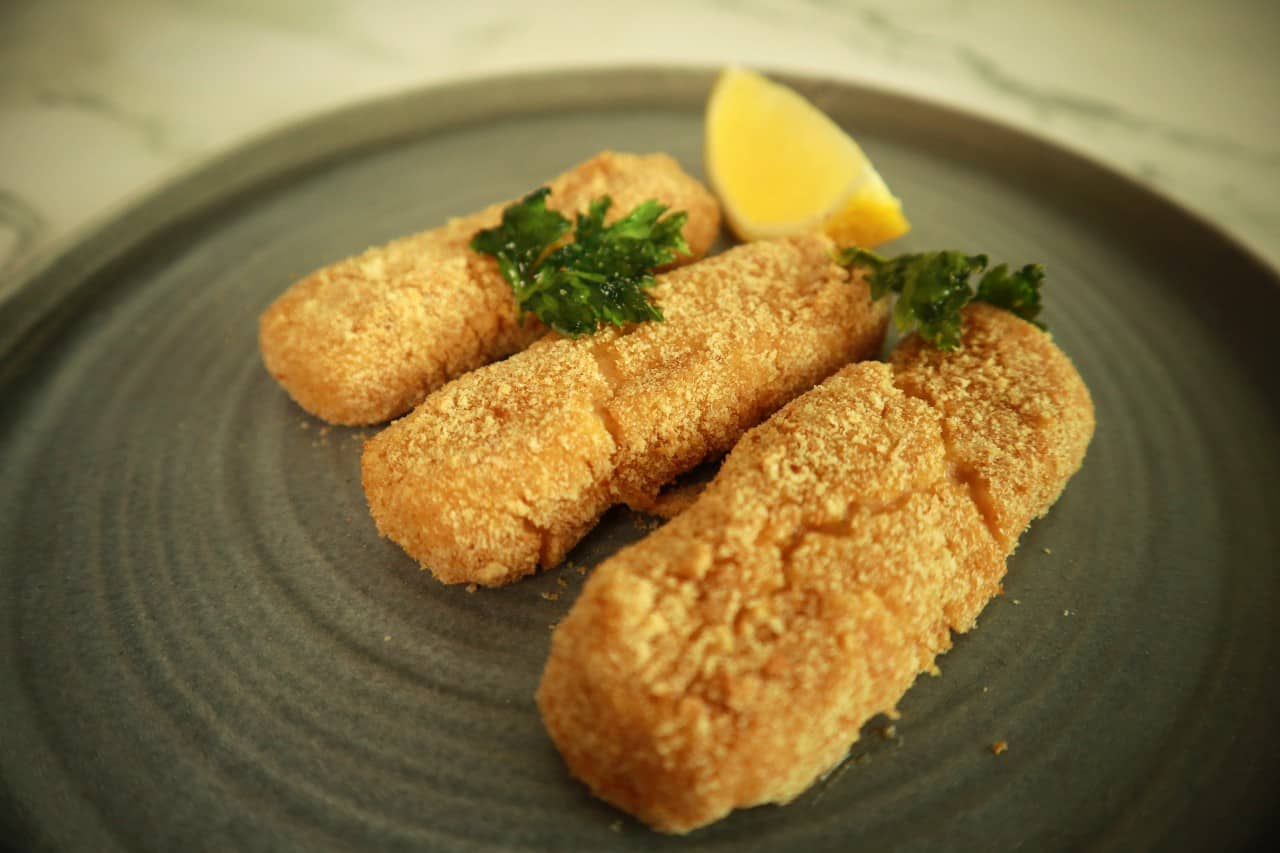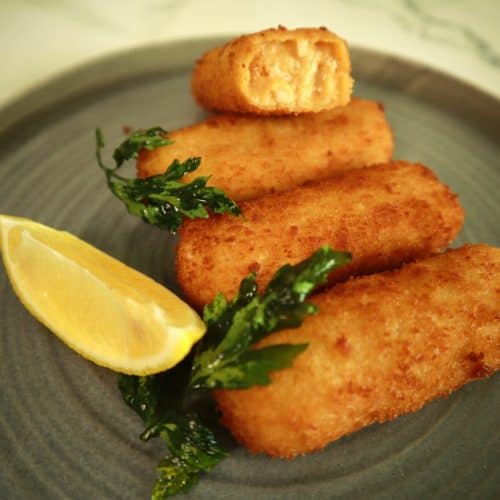 Crayfish Croquettes
In Belgium, grey shrimp croquettes are a long-time favourite of many, but crayfish tails as a worthy substitute.
Instructions
Day 1
Soak the gelatine sheets in iced water until soft (10 min)

Bring the milk with the prawn bisque to a boil and stir the roux into it until the mixture becomes a thick sauce. This process takes 3-4 minutes.

Add the softened gelatine sheets, stir to combine.

Season to taste with salt, pepper, cayenne chili pepper and lemon juice (optional)

Fold the crayfish meat into the mixture.

Transfer the croquette mixture into a container and refrigerate for a minimum of 2 hours or overnight.
Day 2
Whisk the whole eggs with 2 tbsp of water and 2 tbsp of oil, salt and pepper.

Arrange 3 plates; one with flour, one with the egg mix, and one with the breadcrumbs.

Remove the croquette mix from the refrigerator and divide into cubes or sticks.

Coat the croquettes into the flour, dust off the excess flour as much as possible.

Dip in the egg mixture and roll in the breadcrumbs until you have an even coating.

Place them on a tray and keep in the fridge for 15 minutes.

Preheat the deep fryer to 180°C and deep fry the croquettes until golden brown.

Or airfry at 200°C until browned and warm.
Notes
The croquette base technique is similar to a béchamel sauce with a large quantity of roux.
Plan ahead, you can easily freeze croquettes and deep fry them when you need them.
Nutrition for 1 portion
Calories:
99
kcal
Carbohydrates:
13
g
Protein:
3
g
Fat:
3
g
Cholesterol:
8
mg
Sodium:
62
mg
Fiber:
1
g
Sugar:
1
g
Vitamin A:
86
IU
Vitamin C:
1
mg
Calcium:
30
mg
Iron:
1
mg
Tried this recipe?
Let us know how it was! #culinaryambition