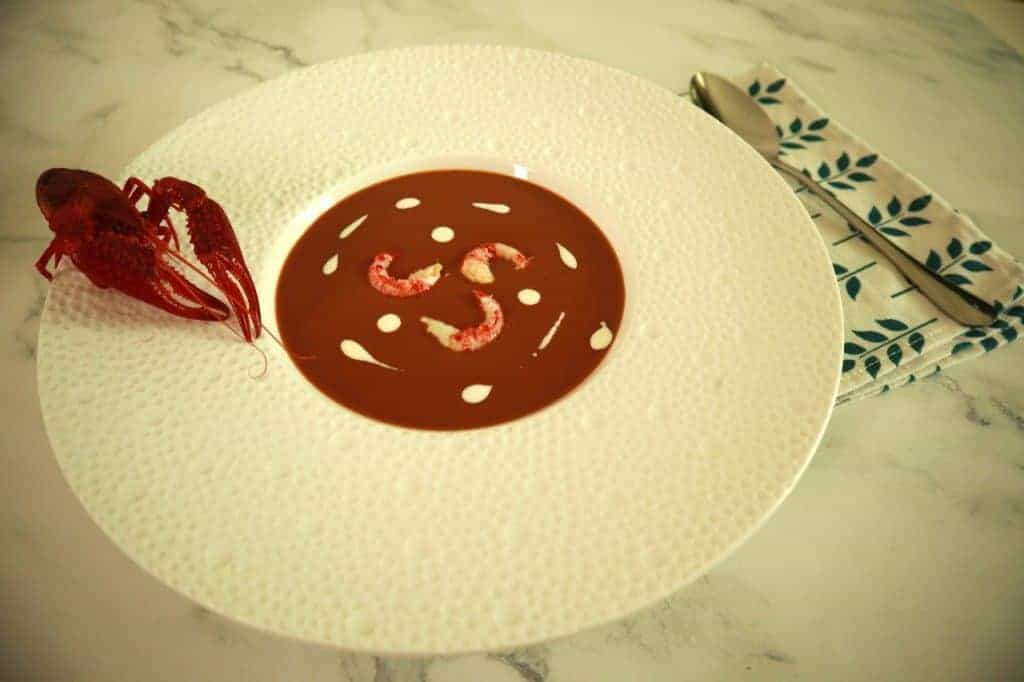 Wasting food is never a good idea, and when we prepare dishes with shrimp, crab or crayfish, we know a bisque will be made with the shells. Unless it is the shedding phase, crayfish shells are usually hard and crushing them during cooking will bring out flavours.
Fish and seafood are sold alive on local markets in China which is not always the case in other parts of the world. If you are lucky to find live produce, it is necessary to clean and brush the crayfish under cold running water. Once they are clean, cook them immediately.
This crayfish bisque recipe is suitable for after you have prepared recipes in which the crayfish tails were used. We have used a few fresh crayfish for the garnish of this bisque and as our recipe was made from scratch, we will be sure to use the remaining crayfish for other recipes and you can also do the same.
Related: Chinese style crayfish with garlic
Crayfish Bisque
This recipe is suitable for after you have prepared recipes in which the crayfish tails were used.
Ingredients
For the seasoning
Salt, white ground pepper, cayenne chili pepper
Instructions
Prepare the crayfish
Rinse the crayfish under cold running water.

Bring a large amount of water to boil and blanch the crayfish for 1 minute.

Cut or pull the heads off and keep aside for the bisque.

Devein the tails by pulling the middle tail (telson) out.
Cook the bisque
Heat olive oil in a big pot over medium heat and stir fry the crayfish heads and claws for 3-4 minutes, crush the heads and the claws.

Add the vegetable mirepoix and cook for another 4-5 minutes.

Add the garlic clove and stir the tomato paste into the mixture and flambée after 2 minutes with cognac.

Add the tomato concassée, the bouquet garni, and cover with the white wine and enough fish stock.

Bring to the boil and simmer for 40 minutes. Skim off impurities.
Finish the bisque
When cooked, remove from the heat and take out the bouquet garni. Use a hand liquidizer to blend the crayfish until smooth.

Pass the bisque through a sieve and discard the shells.

Bring the bisque back to the stove to boil for another 5 minutes. Skim the surface of any leftover impurities if necessary.

Whisk and add the roux gradually into the boiling soup until you get your desired thickness. Season to taste.
Nutrition for 1 portion
Calories:
132
kcal
Carbohydrates:
5
g
Protein:
5
g
Fat:
8
g
Cholesterol:
31
mg
Sodium:
65
mg
Fiber:
1
g
Sugar:
3
g
Vitamin A:
2165
IU
Vitamin C:
9
mg
Calcium:
37
mg
Iron:
1
mg
Tried this recipe?
Let us know how it was! #culinaryambition