How to Make Cooking with Kids fun and safe?
Article updated on 13-3-2022
Some families love cooking, others don't, but we feel teaching children how to cook is fun and at the same time educational. The perfect way to spend some quality time while teaching new skills.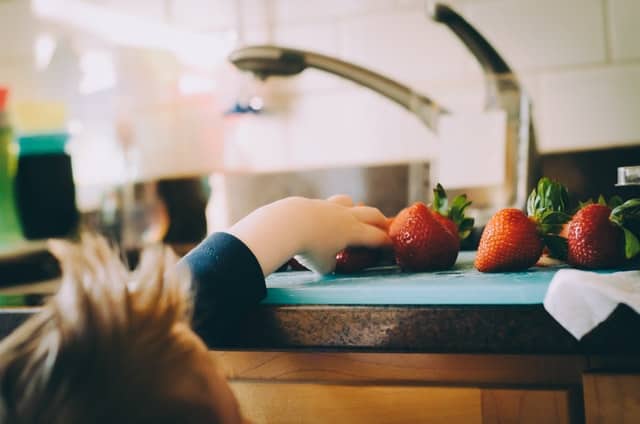 Cooking with kids tests their creativity, science, and coordination. While kids are helping in the kitchen, there is a good chance that they may start eating unfamiliar products as well as ones they previously disliked.
Where to start?
Shopping
Make a total experience if time allows, and integrate the shopping trip for the ingredients into your time together. Explain to them what you will prepare and let them help you search for the correct products. All thsese little steps in the process will help to create a positive mealtime experience.
Choose no bake or no cook recipes
Your experience of cooking will be different if you cook with a little child or with kids that are older.  If they are already used to being in the kitchen with you, they probably know about the danger of knives and warm ovens. If it is the very first cooking experience, then it's wise to consider no-bake or no-cook recipes. 
Supervise at all times
Whatever recipes you choose, supervision is required all the time, even if it is just to stop the children from eating all the ingredients. After all, you want to serve something to the rest of the family!
Kids cook books
Children's cookbooks can be helpful when it comes to techniques. They usually have lots of illustrations that explain about the food and measurements. They are a great help and can make the experience even more fun.
Also read : Best cookbooks for kids
Online courses
Check out a new app we love, that combines cooking, education, and culture! Built for kids, teachers, and parents, it enables you to cook to learn and learn to cook. Available for sign-ups here: tinyurl.com/chefkambition
Some recipe ideas
Devilled eggs – boil the eggs before the event, let them mix the mayo with the egg yolk, have some special cutters to make little chickens. There are many ways to make devilled eggs look cure.
Fruit skewers – you can make this colourful and fun with different kinds of fruits. Dip them in some melted chocolate and roll them into a nut mix to make pops.
Salad wraps – not all kids like vegetables but those who do, will love to show off their technical skills to wrap it all. Some sliced meat can be added for the carnivores.
Fruit shakes – mix fresh fruit, ice and yogurt or milk in a blender and produce different flavours and colours. An easy and very quick way to make the most delicious shakes. Serve them in fancy glasses to make the experience complete!
Mayonnaise – whisking eggs and mustard with oil together to see it transform into mayonnaise can be magical for kids. It can be used in the wraps or later with some fries.
Dessert pizza – Get some tortillas and fill them with Nutella and fresh fruit. Add some M&M's for more colour and it will be a guaranteed success!
Spiralized veggie dish – Get your spiralizer out and let the kids make veggie spaghetti. Serve with an easy tomato sauce et voilà another fun meal!
Safety in the kitchen
It is not a necessity but kids love to dress up and an apron is part of becoming a chef. At the same time, they will learn about hygiene and it's less work to wash all kinds of stains out of clothes.
Counter tops are usually too high for kids to reach. A kitchen tower is safe and stable and they will be at the correct height to help.
There are plenty of colourful, safe and fun tools available.
Kids knife sets make chopping and cutting stress free.
These are safe but it is important to have them the size of a child's hand as they will be lighter and easier to handle. Children will find cookery more fun if they have their own tools.
Pots and pans
Always turn the handles away from the cook. Use potholders and oven mitts where needed.
Summary
We as adults know that food nourishes our bodies and provides comfort and strength. Food is used to express feelings of love, friendship and even sadness.
Besides creating memories, kids will start to appreciate how enjoyable meals come together.