Fun Christmas Cookie Cutters to Capture the Magic of the Season
The world of Christmas cookie cutters is delightful, where festive shapes come to life in the form of delicious, homemade sweet treats.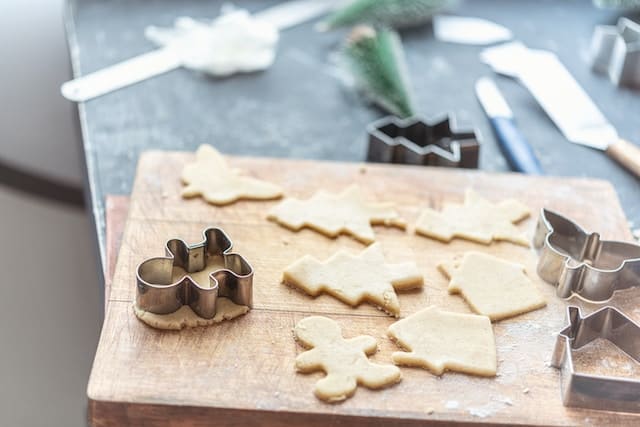 During the holiday season, these tiny tools are indispensable companions in the kitchen, transforming simple cookie dough into edible works of art that evoke the magic and joy of Christmas. The best part is that you don't have to be a seasoned baker.
Christmas cookie cutters add a dash of merriment to your culinary creations, allowing you to craft and shape cookies that not only tantalise the taste buds but also capture the spirit of the season in every bite. From classic symbols like Santa Claus, snowflakes, and Christmas trees to more playful designs, these delightful cutters turn baking into a festive adventure, creating a sensory experience that embraces the heartwarming traditions of the holiday season.
Whether you bake cookies for your family, make your own Christmas cookie advent calendar, or to give as a gift, we'll take you on a tour through the enchanting world of Christmas cookie cutters to help you make these holidays magical.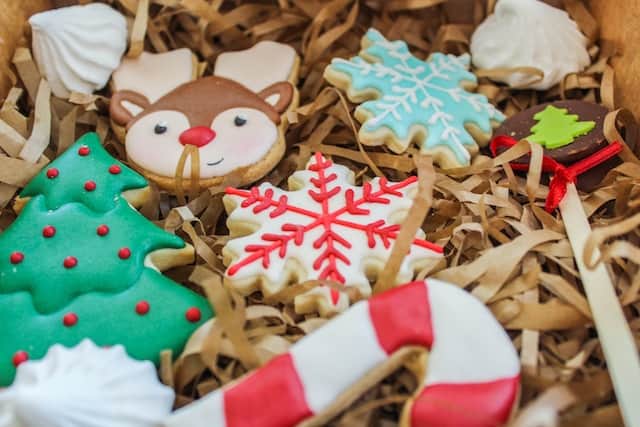 Mini Christmas cookie cutters
Mini Christmas cookie cutters shape your cookie dough into bite-sized, whimsical shapes, allowing you to create an array of adorably tiny cookies that are as delightful to behold as they are to savour. This small-scale culinary artistry, from dainty snowflakes and pint-sized reindeer to mini stockings and minuscule gingerbread men, with the help of these cutters you'll transform your cookie dough into a festive collection of edible treasures.
Mini Christmas cookie cutters lend themselves to a host of festive activities. Engage in a baking session with family and friends, host a cookie decorating party, or create edible gifts, these tiny wonders infuse a sense of playfulness into your holiday traditions.
These mini cutters are sturdy, well-sized, and easy to use. They don't bend or rust and they are also really easy to clean. Having 20 pieces in the package means there are plenty of shapes to choose from when making Christmas cookies!
Large Christmas cookie cutters
When stepping into the grand and festive world of large Christmas cookie cutters, baking becomes a bold and joyful affair. You can create eye-catching, larger-than-average treats that capture the spirit of the season in every delectable detail, while making a statement when turning your cookie dough into impressive edible canvases. Using these large cutters will surely satisfy the sweet tooth but you can also use them to create stunning cookie centrepieces for your holiday gatherings.
Let these large Christmas cookie cutters invite you to think big and dream up grand confectionary visions. Embrace the grandeur, relish the creative possibilities, and let these cutters elevate your holiday baking to a new level of joy and indulgence.
Each of the six designs is approx 4″ (10cm) and can be used as a pancake mould, or for cutting cookie dough, fondant, soft fruits, bread, sandwiches, or cheese. Novices can use the recipe book that is included for easy baking and decorating these fun shapes.
Unique christmas cookie cutters
If you like to create extraordinary, more unique Christmas cookies, and bake unexpected shapes then it's worth looking into unique Christmas cookie cutters or winter cookie cutters. It's another playful and inventive way to express the festive spirit through baked treats.
Break away from the conventional shapes of snowmen and Santa. Some sets have cutters in the form of whimsical winter animals such as penguins, polar bears, or even mythical creatures like unicorns. These distinctive designs add a touch of curiosity, but we find the unconventional shapes like mittens, ugly sweaters, and even popular cultural references fun. Unique Christmas cookie cutters invite you to explore your imagination and become tools for storytelling. Combine different shapes to create cookie collages, layer colours and icing for added dimension, the possibilities are as endless as your imagination and creativity.
This package of 5 assorted holiday shapes of a sweater, a hat, a mitten, a snowflake, and a coffee Mug are bigger than expected being 3 inches, but it is a great size for decorating sugar cookies on any holiday.
These winter cookie cutters are equally great as a pancake mould, to cut sandwiches. We recommend washing and drying them immediately after use to avoid the material getting rusty.
Vintage Christmas cookie cutters
Vintage is the new modern and there is no better time than Christmas to step back in time and savour the nostalgia of the holiday season with vintage Christmas cookie cutters. These allow us to carry with them the charm of yesteryears, evoking memories of the simple joys of festive traditions.
Vintage Christmas cookie cutters often boast classic shapes that have stood the test of time such as the elegance of an antique sleigh, or a graceful reindeer.
These classic shapes not only bring a touch of nostalgia but also offer a connection to family traditions. Vintage cookie cutters are not merely tools for shaping dough; they are keepsakes that carry a sense of history and sentimentality. Whether inherited from family members, discovered in antique shops, or even bought new, each cutter has its own story to tell, adding a layer of meaning to the act of holiday baking.
We all know Santa's old fashioned vintage truck with tree and this cookie cutter is perfect to bring back the nostalgic feel. There is nothing much to say, but to get the cutter and start baking!
We also like this set from the Clark family. They have original designs and once the ornament shaped cookies are decorated they are even more special. Don't forget to share pictures of your decorations!
Plastic christmas cookie cutters
Plastic Christmas cookie cutters and stamps equally come in a wide array of shapes and sizes, from traditional symbols like snowflakes and angels to contemporary and trendy designs. These are lightweight, durable, and perfect to use for both novice bakers and kids.
Many are colourful and come with easy-to-grip handles, making them ideal for family baking sessions with children. The easy maintenance is another appealing feature as plastic Christmas cookie cutters are typically dishwasher-safe, making the post-baking cleanup a breeze.
These plastic mini cookie cutters are designed into 16 different lovely patterns. These are actually more like stamps that need to be pressed into the dough to get a 3D impression with sharp outlines. You might have to practise a couple of rounds to know exactly how much pressure you need to make the perfect shape.
Metal Christmas cookie cutters
Metal Christmas cookie cutters are crafted from durable materials such as stainless steel or tin to withstand the test of time. They are available in a myriad of shapes, ranging from the quintessential symbols of the season—think snowflakes, Christmas trees, and gingerbread men.
Their sharp edges allow you to create cookies with clean lines and precise shapes, making them ideal for those who take pride in the aesthetics of their baked goods.They can handle a variety of dough types and are sharp enough to cut through gingerbread, shortbread and sugar cookies.
Be aware that metal cookie cutters might require more attention when it comes to cleaning. Always dry them well to prevent them from getting rusty.
This set of 6 large cookie cutters includes a Santa face, a Christmas sock, a Christmas glove, a Christmas tree , a gingerbread man, and a Christmas house shape. The smooth surface is made to make sure you don't hurt your fingers. This set is made of sturdy stainless steel and is durable without getting rusty. If you like traditional, then this set is something for you!
Highlights of Christmas cookie cutters
Baking is one of the most fun things to do at Christmas time. Of course, there is putting up the tree and decorating it, but kids also love spending time with their moms and grandmothers making all sorts of lovely and tasty treats.
Another reason to use Christmas cookie cutters is to make ornaments for the tree or fireplace. You can make a salt batter, then harden the dough once it is cut out in different festive shapes. Paint the designs and then use a shiny wash like craft vanish to seal and finish off the dough.
You can also add all kinds of decorations such as beads, glitter, string, and buttons. Just don't forget to make a hole at the top of the ornament before you let it dry, so that you can add a ribbon to hang it. Also, use non-toxic or edible materials.
As you can see buying a set of Christmas cookie cutters can be a real investment for many fun Yuletide projects.