China – Part 2 – The Famous Ice Sculpture Festival in Harbin
Although travelling is challenging or not possible at all, we still want to look back on the beautiful things we have seen and hopefully it makes you dream for a brighter future when we can travel again!
Living in China can be challenging, but the best part of being an expat in a completely different culture is being able to explore many new things. One special destination within China is Harbin. It is the capital of Heilongjiang, China's northernmost province, and it is hosting yearly the world's biggest ice and snow sculpture festival. The city grew in the late 19th century with the influx of Russian engineers constructing the eastern leg of the Trans-Siberian Railroad. Today you can find a lot of Russian architecture.
As we lived all our adult life in tropical or desert destinations, we wanted to experience the other extreme and so we got ready to visit this unusual place that is called Harbin.
The world biggest ice sculpture festival
The festival is officially from the end of December to mid-February, but exact dates change yearly depending on the weather; the best advice is to check your travel agent or the internet if you organise everything yourself.
In the last decade, the festival has grown in international participation, and as China's economy grows, so do the sizes of the sculptures. The majestic ice sculptures are lit at night and make the place look very romantic. There are ice slides, ice bridges, replicas of well- known buildings from around the world.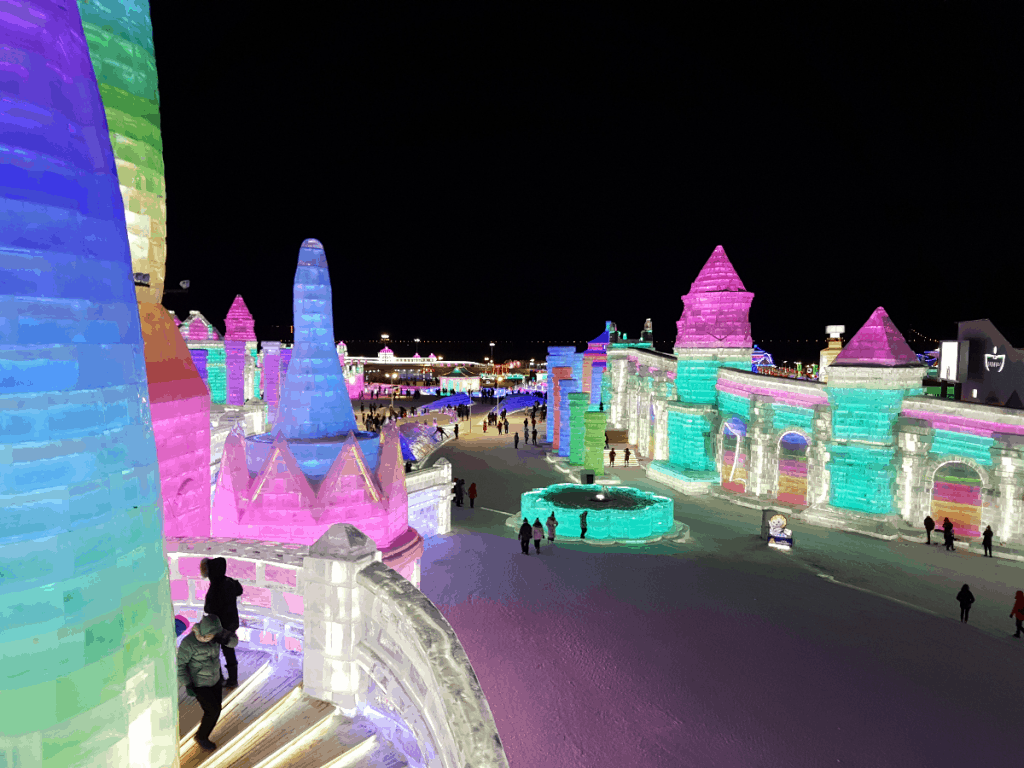 Our evening out at the ice sculpture festival grounds was busy but luckily for us and most other people, the organisers are well prepared and provide shelters scattered around the ice park where hot drinks are served.
There is not much more to say about the festival except for the fact that it is overwhelmingly beautiful. We got transported to another world and the most amazing thing is that so many nationalities come together to sculpt this fairy tale.
Huge ice-bricks are cut out from the Songhua river that is completely frozen in winter that even cars can drive on it. To give you a better idea of the sheer size of all this; they collect and transport nearly 200,000 cubic meters of ice to the site and these blocks weigh up to 700 kilograms each.
Besides a visit to the cathedral and the beautiful ice sculptures there is the well known walking street where people wait in line to buy the famous Harbin ice cream.
We didn't get to taste the ice cream, thought it was too cold, but went a little fancier for dinner in a complete, top to bottom, ice restaurant…very cold throughout the meal but again an amazing experience we can tick off our list.
What else to do in Harbin?
Saint Sophia Cathedral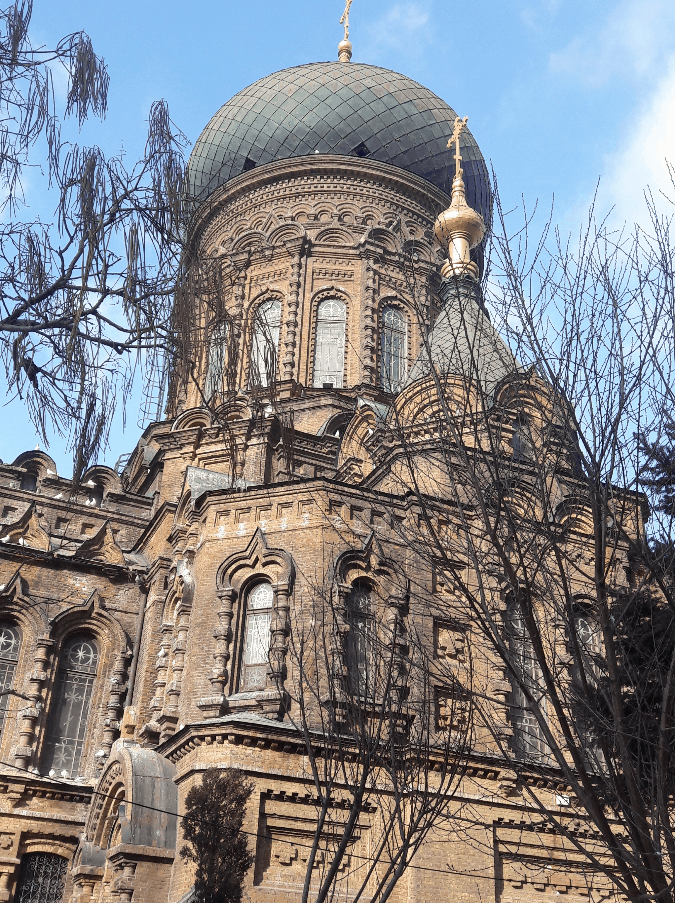 The green-domed Cathedral in the center of Harbin is an Eastern Orthodox church, and the main attraction showcasing Russian architecture in the town. It has beautiful paintings and functions as a small museum now.
The Songhua River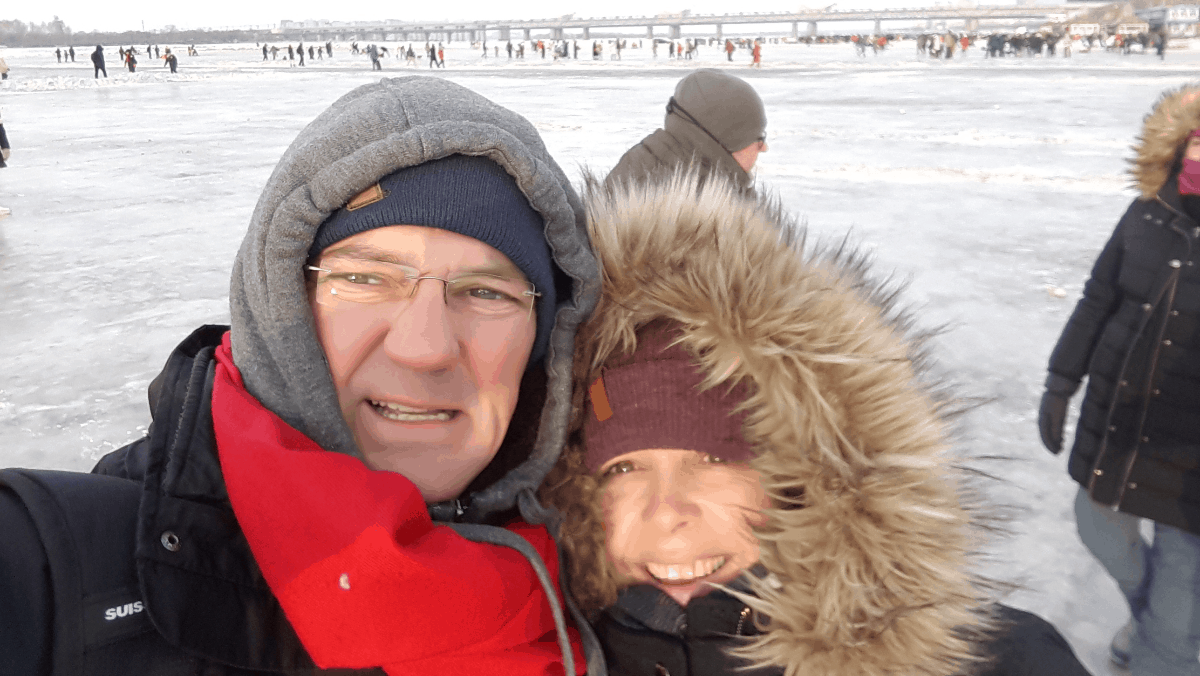 It wouldn't be right not to find winter activities in this ice-cold city, and the Songhua river is the place to be in Harbin. The river is completely frozen and offers the biggest free ice skating we have ever seen, or you can rent an inner tube and sled down the small icy hills. If you would like to experience more of the local habits, you can rent an on-ice bicycle in which you push yourself around on a chair using poles. These are all fun options but we are not very stable on ice, so we only went for a little walk.
Pedestrian street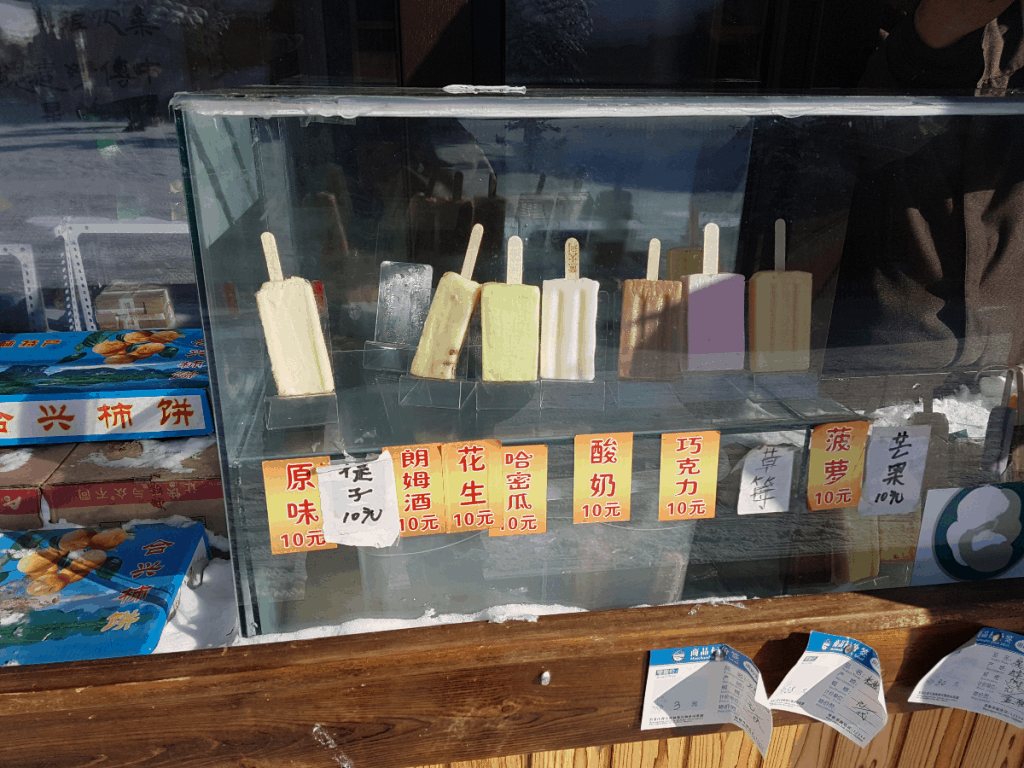 Also called Central Avenue is a walking/shopping street with more beautiful, smaller, ice sculptures. There are lots of small restaurants and places to stop for a drink and some food and warm up from the sub-zero temperatures.
Don't miss out on the most famous street food of Harbin while in Central street. It's almost unthinkable but we are talking about ice cream with a taste of sweetened milk. There are lines of people at the Modern Hotel to get hold of the authentic version of this creamy ice. Good thing, it doesn't melt easily with these sub-zero temperatures and locals say it warms your body, not sure if that is something we believe ????
Ice restaurant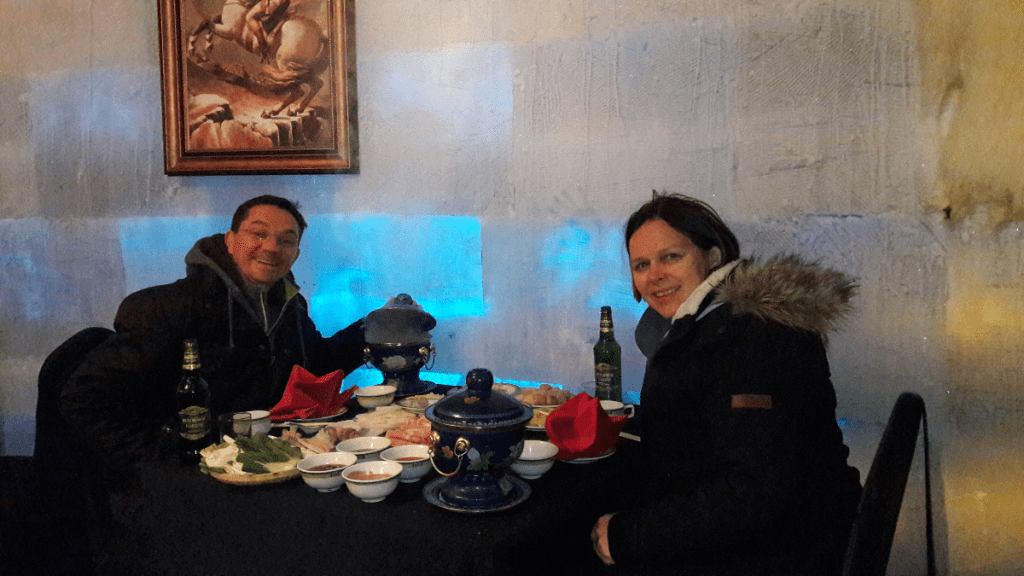 We have been in ice bars before but never eaten in an ice restaurant, so we gave it a try and went to the Shangri-La hotel for this once in a lifetime experience. Food is served frozen and you get a hot pot with a broth flavoured to your preference. Warm tea is served on the size and although we asked for a beer, we recommend you stick to tea to keep you warm in this naturally chilled restaurant.
Tiger park
We can be very short about this, the animals surely have space, but we are animal lovers and it is not a nice sight to see how live chickens are sold to feed the tigers simply to please the visitors.
What to pack?
Winters in Harbin are really cold! Be prepared to have temperatures from -10°C to -25°C when it's windstill. We had one windy day during our stay and these already freezing temperatures are then even feeling worse. We wore 3 layers of clothes with extra hand and body warm packs just to be on the sure side but here is an overview of the necessities to pack.
Thermal clothing
Thermal underwear, warm clothes, gloves, scarves, ear warmers, and a good hat are essential. Ski boots and a few layers of socks are also handy to keep your feet warm. Use a facemask or a scarf to protect your face from getting cold-burns as I had.
Sunglasses
The snow and the ice reflect the sunshine and sunglasses or, even better, snow glasses, will protect your eyes. They also protect when there is a strong wind.
Warm patches
We stuck them on our back, in our boots and in our pockets. These patches are available around Harbin in case you can't find them where you live. Be aware of frostbite; if your hands, feet, nose or ears are getting too cold, start doing some exercise to warm up to restore circulation slowly and go indoors for a while.
Extra phone battery
Cold weather is not optimal for the lifespan of your batteries. We stuck one of the patches on the back of the phone and in between taking pictures it's best to always put your phone in your warmed pockets. Even with these precautions your battery life will be shorter than usual. The same for a camera, prepare an extra battery and keep them warm!
Fluids
It is not really something you need to pack but be aware that despite the cold it is very dry in Harbin and drinking some water or tea regularly is necessary.
Our Recommendations
Sleeping
It is generally known amongst the expats that the hotels in Harbin are not the cleanest. Choose International hotel chains to have the best option for clean clean places with easy to access. English is not very widely spoken.
Dining
We had many local food in restaurants where we saw a lot of people. A good thing to know is that food is mostly frozen before they cook it so there is little chance to get food poissoning. We went to the ice restaurant in the Shangrila hotel where we had a hot pot. A different experience!
Get Organised
Flights and accomodation
You can organise flights and accomodation seperately but there are plenty of organisations who can help you with tailormade packages. These tours are made for your convenience and to optimise your time during your holiday, whether you like a relaxing holiday on the beach or a cultural trip in an exciting city somewhere on this globe. Travelstride has gathered different organisations and there is surely something that will suit your needs. Check out the many ways on how to explore part of China guided or by yourself!
Luggage Storage
If you are only visiting for a short time you might need a safe place to store your luggage. Bounce is an organisation with over 6000 locations around the world to safely leave your bags while you explore the city or enjoy a short stopover.
Car Rental
Discover Cars is a good website for comparing prices to find the best deal. They search both local & international rental companies.
Protect Your Trip
Get yourself travel insurance and offer yourself a stress free trip! Protect yourself from possible injury and theft while travelling. World Nomads has good and affordable cover for short term trips and don't forget to organise all necessary documents before travelling.
VPN
Not everything on the web is accessible in China, but a good and reliable vpn helps. We tried a few and Astrill or PIA are working the best.