China – Part 1 – Amazing first impressions of Shanghai
Sometimes you think you know it all but when you move to China for the first time, you realise you don't…. Welcome to Shanghai, China's commercial capital and most populous city.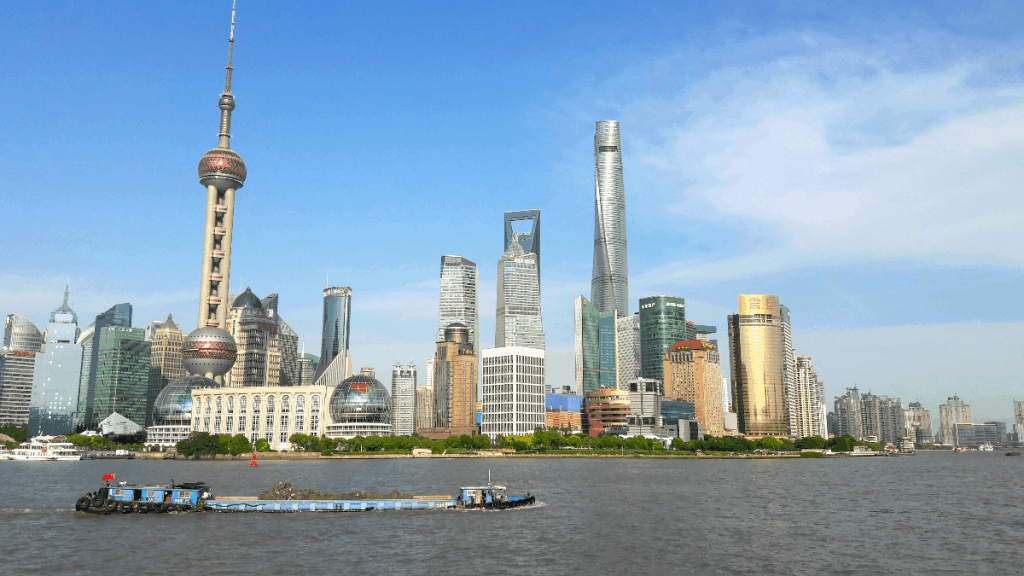 We arrived in May 2017 and were ready to discover the ins and outs of this city. It was our biggest challenge yet, as we researched very little before moving here.
We'll explain about the most important changes we went through at the beginning of our stay in Shanghai, how we felt and how we adjusted. As always, our open mind and flexibility helped us a lot.
The City
There are just under 30 million people living in Shanghai, and it is a clean, safe, and very well organised city. The Huangpu river divides the city into two major parts, Pudong and Puxi.
We live in Pudong, the newest part of Shanghai. We chose to live here as it is only a 15-minutes walk to work. This part of the city is also called the financial district and has the most beautiful modern landmarks, including the tallest building in China – The Shanghai Tower, a 128 storey skyscraper.
Puxi is often referred to as the past of Shanghai. Besides the famous Bund, there are many historical buildings and residences. The countless lanes are a must to visit with plenty of cosy restaurants and bars.
The language
Ni hao… Chinese was and is still not a language we speak. The official dialect in Shanghai is Mandarin.
We very soon learned that there are several other dialects which made it all sound like 'Chinese' to us. So, while Yannick started work, I took a speed course to learn the basics of Chinese. It was fun and interesting but also difficult. My smartest decision at that time was to download some apps to help us get around the city. As a result, life using mandarin took off!
Do you know that the Chinese type using English letters (pinyin), and that the text appears in Chinese on the chat or screen? Another method they use is an app to talk into their phone and it writes exactly what they say, give or take a few errors here and there.
The People
The Chinese are travelling to Shanghai from all over the country for work and leisure. Their geographic backgrounds are diverse as well as culture, food choices and language. We also learned that not all Chinese are stereotypical small.
We did learn quickly that they are extremely helpful, and they try their best to understand us… thank god for this translation technology! Language challenges can at times be funny, but it can also be frustrating. At the end of the day, it's part of our adventure and we wouldn't want to miss out on any of it.
Technology
It is important to hold on to your phone when in China! Don't worry it is super safe here, it's just that you always need it! It's used for work, translating, research, payments and for many official and leisure occasions. You can of course use it to make a simple phone call.
Chinese people are way ahead of us both regarding using technology. We quickly found out that.
Wechat is the most important app to have. It is a combination of Twitter, Facebook and Instagram.  Besides, we also use it to help translate, as well as pay for electricity, water and gas. Wechat also gives you access to public services, health, wealth and numerous other services. Best off all, we have a great connection to call home without hiccups or cut offs. If you are travelling to China, note that not everything on the web is accessible, unless you have a good and reliable VPN.
Another app which was and is still helpful is 'Explore Shanghai'. It is a fantastic metro app, not a full Shanghai travel guide, but at the same time a route planner and GPS. It works offline and it is in English, hurray!
Besides the phone technology and the several helpful apps there are of course also the many cameras around the city. Many find it disturbing but we don't have a problem with it, we don't have anything to hide, it actually gives us a very safe feeling. There are also live webcams so you can see the city from wherever you are in the world.
Work
Yannick works as a culinary instructor at Le Cordon Bleu. Before heading here, we wondered how teaching in China could work.
Every country has its challenges, but we are talking about China here… Learning to speak Chinese is more difficult than any other language, perhaps of the 5 different tones and because there are so many dialects? However, there is a solution to everything and in China they do it in style. Yannick teaches in English or French and a translator is by his side, translating simultaneously!
And this is how teaching classic French classic cooking becomes easy peasy…
Culture Shocks
We have plenty of stories, but we are pointing out those that were most shocking to us, some in a fun way, others in real way.
Spitting – although they are working on it, it is still a habit and not considered as bad manners in China. This said, we will never get used to it. It gives us shivers every time we hear or see it nearby. The person who dares to spit close by, usually hears how I think about that.
Drinking – wow Chinese can drink, or not? They enjoy beer, wine, and often drink baijiu which is a local rice wine. During parties, they drink a lot in a short amount of time… no need to explain further.
Travelling – Chinese don't need to travel the world…Everything is possible in China! They have recreated some of the most famous world heritage monuments; The Eiffel tower, Thames town and Angkor Wat are just a few to name.
Censorship – the great firewall sounds like The Great Wall of China but don't confuse the two. This censorship makes many common western websites and famous social media channels inaccessible. We learned our way around it but we will never get used to being blocked from certain information channel.
Napping – isn't it wonderful to be able to sleep at all times? If you ever come for a visit, don't be surprised to see people asleep in supermarkets or shops like Decathlon or Ikea… the tents, beds, sofas are all perfect places, or perhaps they think extra testing is needed.
Quietness – don't get us wrong, but for a big city it is a fairly quiet place. Imagine all people mingling in the metro, malls, restaurants and parks. Yes, there is traffic, a lot of traffic, but most vehicles are electric which helps fight against noise pollution.
Transport
It's amazing how easy it is to get around Shanghai.
Usually close by, there are bicycles to scan and rent everywhere. For those who are less sportive, there are 17 metro lines at your service. Busses are a little slower but still comfortable, and extremely cheap to get around the city. Last but not least there is Didi, a taxi service, always available just a click away and still very affordable.
There are passenger ferries to cross the Huangpu river all day long for only 2 Rmb per person. Very convenient and great to get views of both sides of the city.
To get out of Shanghai it is easy and most convenient to take the bullet trains. They are fast, comfy and easy to reserve! We made a few trips already and have never been disappointed.
Wine and Dine
As foodies it is impossible to miss out on this very important part of the Chinese culture.
When we arrived, we didn't have our home, so whilst sorting out accommodation, we ate out every day. This was a great way to get to know Chinese food and habits. We very often picked a restaurant in the neighbourhood and then used our Wechat translation to see what was on the menu. (we are still using this wonderful technique). You get the scariest names for dishes like 'grandma feet' or 'duck ass'. We didn't try all the dishes but they for sure have their way of describing food!
Shanghainese food is in general quite sweet and sour and known for its strong flavours. Our favourites are the Xia Long Bao or Shanghai dumplings and the local pork neck. Our first seasonal food hit was the crayfish in June, prepared with local Tsingtao beer and chili. The hairy mitten crab is another delicacy which is in season late fall.
We hope this first part gives you a vague idea of our arrival in Shanghai. This was only the beginning of our adventures in China. We will write more about our life in Shanghai and the other places we visited in another blog. Keep in touch!
Our recommendations
Sleeping
Most 4 or 5 star international hotel chains are clean and easy to access. English speaking service is mostly available.
Dining
It's difficult to recommend typical local restaurants because we can't read the names of those establishments. We are not even sure if they all have a name. We usually look at how busy it is. If there is a good flow, we try it. Always check the menu too before entering or else you might be in for a few surprises. Remember it's all part of the adventure.
Good Chinese upper class restaurants are usually in the international hotels. It will be more pricey but you will be able to taste fine Chinese cuisine. Jin Xuan restaurant at The Ritz Carlton Pudong has been tested and approved.
Get organised
Flights and accomodation
You can organise flights and accomodation seperately but there are plenty of organisations who can help you with tailormade packages. These tours are made for your convenience and to optimise your time during your holiday, whether you like a relaxing holiday on the beach or a cultural trip in an exciting city somewhere on this globe. Travelstride has gathered different organisations and there is surely something that will suit your needs. Check out the many ways on how to explore part of China guided or by yourself!
Luggage Storage
If you are only visiting for a short time you might need a safe place to store your luggage. Bounce is an organisation with over 6000 locations around the world to safely leave your bags while you explore the city or enjoy a short stopover.
Car Rental
Discover Cars is a good website for comparing prices to find the best deal. They search both local & international rental companies.
Protect Your Trip
Get yourself travel insurance and offer yourself a stress free trip! Protect yourself from possible injury and theft while travelling. World Nomads has good and affordable cover for short term trips.