What is The Difference between Chicken Stock and Chicken Broth
Chicken stock or broth is used as a basis in many recipes such as soups, sauces, and vegetables dishes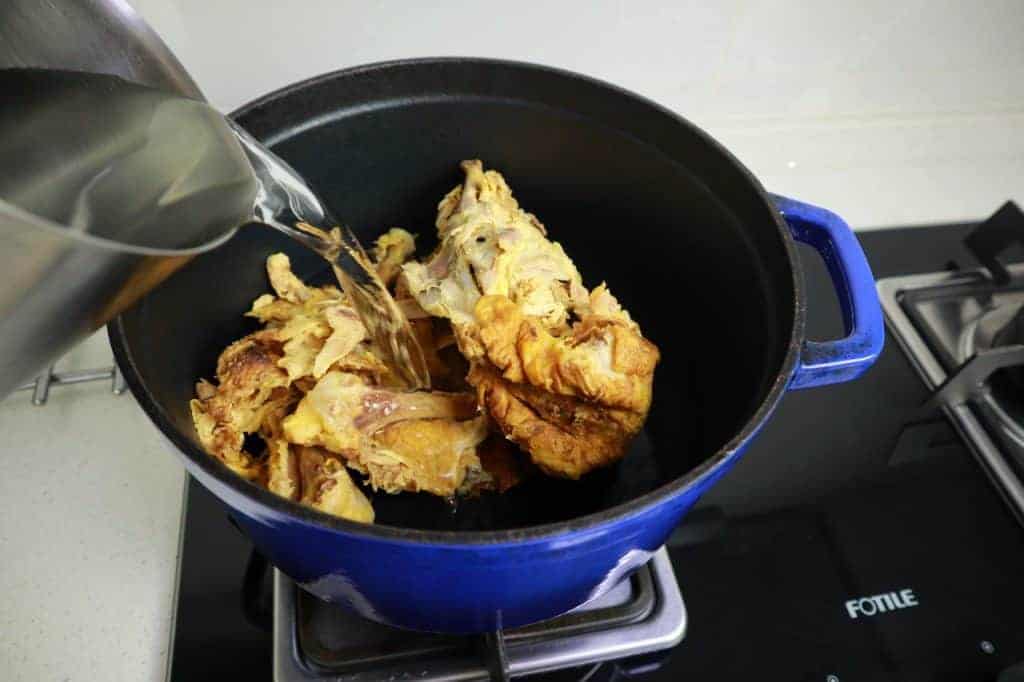 Chicken stock
Chicken stock, called chicken fond in French, is made from the carcass and bones. Due to the release of gelatin from the long-simmering bones, chicken stock will have a richer flavour. The bones are usually roasted first and whilst this is not essential, it does make for a richer, more deeply coloured stock. Never add salt to chicken stock as it might be too concentrated after the long simmering and you want a neutral liquid as a basis for your other recipes.
Chicken broth
Chicken broth, also known as bouillon, is made with a whole chicken or with the meat. There is no roasting needed so the broth will stay clear and can be eaten on its own as a soup. Broth usually has a shorter simmering time then stock.
Nutrition
When it comes to health, stock and broth each have their pros and cons. Broth contains about half the calories of stock, and broth contains slightly less carbohydrate, fat and protein than stock, though it's also significantly lower in vitamins and minerals.
Still buying stock or broth?
Store bought broth or stock is a great time saver but it won't give you the full 'stock experience'. However, you can enhance these often flavourless products, by adding carrots, onions, leeks, celery, fennel, parsley, bay leaves, black peppercorns, or garlic and simmer for a while.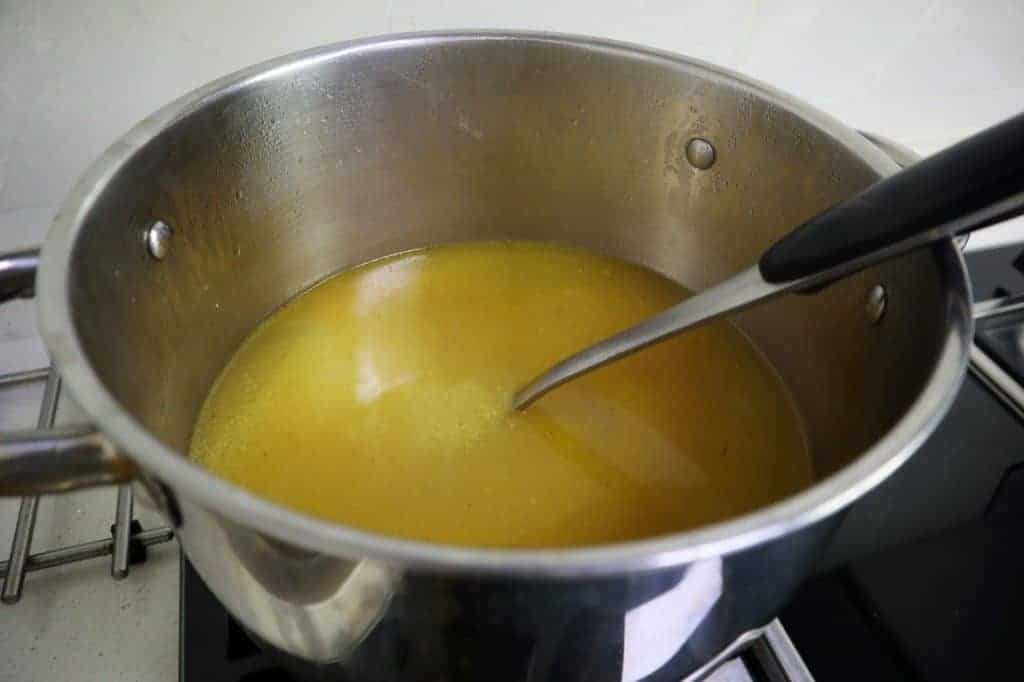 Read also : How to debone a chicken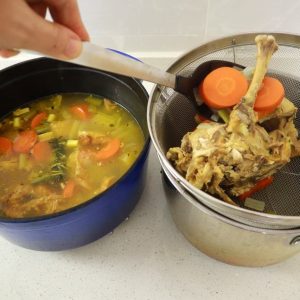 Chicken stock or broth
Chicken stock or broth is used as a basis in many recipes such as soups, sauces, and vegetables dishes
Instructions
Place the whole chicken or the carcass in a large cooking pot and cover with cold water before bringing to the boil (blanchir).

Drain out the water and refill the cooking pot with water. Meanwhile, wash, peel and cut the vegetables into large pieces and add to the pot with the chicken and seasoning.

Bring to the boil and simmer for 1 hour (whole chicken) and 30 minutes (carcass and wings).

Remove the chicken and veggies, allow to cool down and refrigerate for any other recipe. (carcasses can be discarded)

Pass the broth through a sieve.
Notes
Keep the chicken broth simmering to get a clear broth.
Lack of flavour? Reduce the broth by simmering even more to concentrate the flavour
You can freeze chicken stock in an ice cube tray for easy use.
Nutrition for 1 portion
Calories:
104
kcal
Carbohydrates:
24
g
Protein:
3
g
Fat:
1
g
Sodium:
60
mg
Fiber:
5
g
Sugar:
9
g
Vitamin A:
11043
IU
Vitamin C:
19
mg
Calcium:
85
mg
Iron:
2
mg
Tried this recipe?
Let us know how it was! #culinaryambition