Pan roasted beef Chateaubriand with Arlequin sauce
You can refer to Chateaubriand in two different ways. Firstly, it was Auguste Escoffier who named the specific centre cut of the tenderloin the Chateaubriand, while the second term originally referred to the preparation of the dish.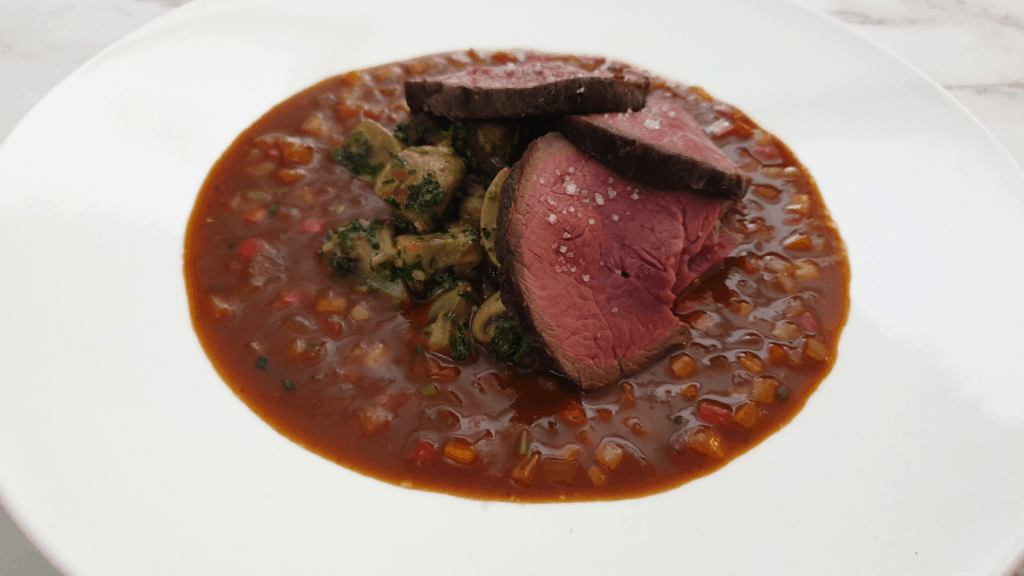 Don't let this confuse you because whenever you order a chateaubriand from a French restaurant menu, you will receive a beautiful piece of tender beef tenderloin with a classic red wine sauce. This piece of meat is often enough for 2 people.
This cut melts in the mouth and is not only tender and juicy but when served with Arlequin sauce and the mushrooms, it is a real mouth-watering delightful and festive dish.
So, enough talking, here is the recipe so you can start cooking and experience it yourself!
Don't forget to check out our other meat recipes.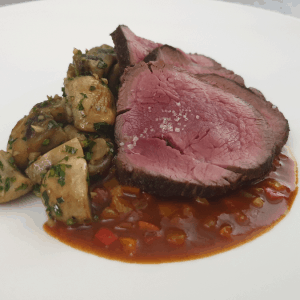 Beef Chateaubriand with Arlequin sauce
This cut melts in the mouth and is tender and juicy.
EQUIPMENT (click pictures for details)
Instructions
Bind the beef tenderloin with kitchen twine.

Sear the beef in olive oil on all sides.

Heat the oven to 180°C and cook the chateaubriand in the oven for 8 to 10 minutes (medium rare).

Place the chateaubriand on a wire rack to rest with some thin foil on top.
Prepare the sauce
Sweat all vegetables until translucent, deglaze with the white wine, then pour in the fond de veau.

Add the tomato sauce and a dash of the sriracha.

Cook for 4-5 minutes, season to taste and whisk in a few knobs of cold butter (monter au beurre).
Prepare the garnish
Sauté the mushrooms in hot oil for 2-3 minutes, then place in a colander.

Sauté the chopped garlic until fragrant and add the mushrooms. Season to taste and add the chopped parsley at the end.
Plating
Arrange the Arlequin sauce on the bottom of the plate, place the mushroom and a thick slice of chateaubriand on the sauce and sprinkle some fleur de sel over the beef.
Notes
Chateaubriand is a thick piece of beef tenderloin from the centrepiece, or the thick end (head).
Monter au beurre is whisking some cold butter parcels into a hot sauce to give a smooth texture and shiny finish.
Nutrition for 1 portion
Calories:
558
kcal
Carbohydrates:
11
g
Protein:
37
g
Fat:
39
g
Cholesterol:
123
mg
Sodium:
381
mg
Fiber:
3
g
Sugar:
5
g
Vitamin A:
1011
IU
Vitamin C:
57
mg
Calcium:
18
mg
Iron:
5
mg
Tried this recipe?
Let us know how it was! #culinaryambition