Chabichou Goat Cheese Salad
You asked for salads so we will deliver. This crunchy salad with creamy Chabichou goat cheese can be eaten as a starter but I have personally classified it as a main course so I get to enjoy it more often!
The making of Chabichou
Chabichou du Poitou is a traditional soft, unpasteurized, natural-rind French goat cheese. The small cone shape is characteristic, and the cheese has a thin, wrinkled and white-grey rind.
It usually matures for 10-14 days before it's ready to be sold, but there is also a more mature version available which takes 5-6 weeks to develop a stronger taste.
The texture of a young Chabichou is very creamy and runny when ready to consume. The more mature version becomes drier and crumbly on the inside during the maturation process.
Its taste is sweet, salty and tangy, similar to lemon zest when this goat cheese is young. It has a more spicy and nutty taste when well-matured.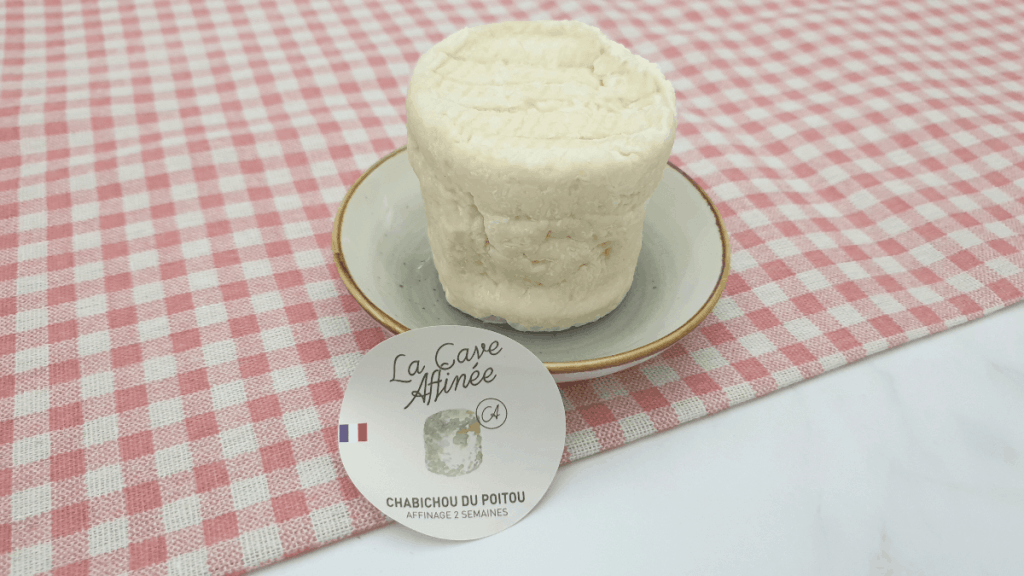 History
The legend of Chabichou goes back to the time of the defeat of the Arabs in the area, with domestication of the goat in this area in the 8th century, after the Battle of Poitiers. Many of them left the area but some settled there with their families and, in particular, their goat herds. The cheese was then named cheblis ("goat", in Arabic), which would become "Chabichou" thereafter.
Cheese and wine
Chabichou is a good choice for a cheese platter and is often eaten just as a spread on crunchy French bread. It is often paired with dry fruits and honey and even herbs. Light white wines accompany the young cheese very well, but the more mature cheese pairs particularly well with another local speciality, Pineau de Charentes.
Related: Minted goat cheese salad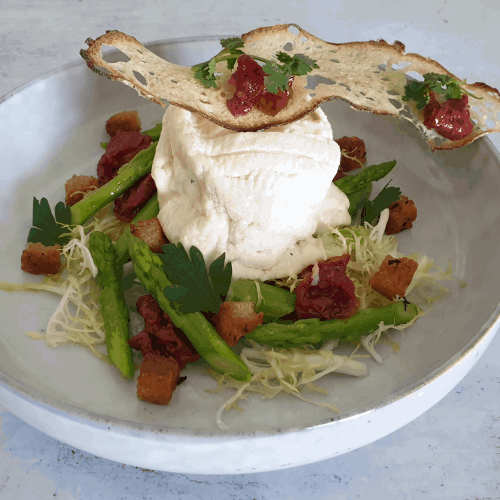 Chabichou Goat Cheese Salad
This crunchy salad with creamy Chabichou goat cheese is perfect as a meal or a starter.
Instructions
Warm some butter with olive oil over a medium to low heat and sauté the diced bread until golden brown. Transfer the croutons on a kitchen towel and sprinkle with some salt.

Sauté the green asparagus in olive oil for 4-5 minutes over a medium to low heat, season to taste.

Whisk all ingredients for the dressing together and season to taste.

Toss the chicory frisee, green asparagus and parsley with 1 or 2 tbsp of dressing.

Arrange the chicory mix with some sundried tomatoes on a plate and add the croutons. Place the Chabichou cheese on top of the salad before serving.
Notes
If you don't have Chabichou, you can opt for another fresh goat cheese.
Nutrition for 1 portion
Calories:
218
kcal
Carbohydrates:
18
g
Protein:
2
g
Fat:
16
g
Cholesterol:
1
mg
Sodium:
145
mg
Fiber:
1
g
Sugar:
6
g
Vitamin A:
265
IU
Vitamin C:
7
mg
Calcium:
29
mg
Iron:
1
mg
Tried this recipe?
Let us know how it was! #culinaryambition