Ceviche of Scallops and salmon
Raw fish, lime and chilli are the main ingredients of a traditional ceviche.
If you want to keep it basic, then a white firm fish is a good choice, but you can pick any of your favourite fish or seafood. Having it really fresh is the only requirement and this is non-negotiable.
Fresh lime juice is the best citrus fruit to 'cook' the fish. Nowadays, modern twists are added to this recipe with the use of other citrus varieties.
As for the third ingredient, In ancient times, they used really hot peppers but you can of course make it as spicy as you can handle.Often, some red onion is added for a sweet touch to balance the sour flavours.
Where does ceviche originate from?
This delicious dish comes from Latin America and was more precisely introduced by the Moche from Peru. They used the fermented juice from local banana passion fruit to marinate their raw seafood. The Spaniards, upon arrival, modified the dish slightly and ceviche then spread to other Latin America nations as local populations added their own take on this recipe.
Today we make this hearty recipe with scallops and serve it as a starter, but you can also enjoy it as a Peruvian main course and serve it with sweet potatoes and corn as a side dish.
Ceviche is great if you want a nutritious meal without a lot of effort. It tastes best when it is fresh. Also check out our carpaccio of scallops.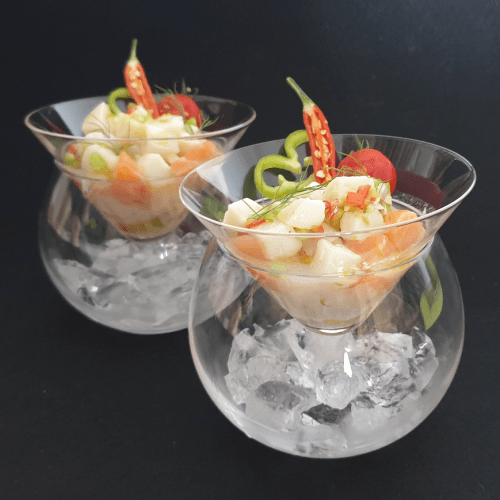 Ceviche of scallops and salmon
Ceviche is great if you want a nutritious meal without a lot of effort.
Instructions
Cut the scallops and salmon into small cubes of 1cm.

Deseed the red and green chilies and slice finely. Chop the red onion.

Combine the lemon and lime juice with the olive oil, chilies, red onion, a good pinch of salt and some freshly cracked pepper.

Pour the dressing over the scallops and salmon, gently toss together and place in the refrigerator to 'cook' the seafood.

Sprinkle some lemon and lime zest with dill on top just before serving.
Notes
It is difficult to indicate the 'cooking' time for the fish. This depends on personal taste. If you like it still pretty raw, then 1 hour will do and if you like the fish 'cooked' more, the refrigeration time can go up to 6 hours.
Make sure that the salmon and scallops are extremely fresh. Scallops are often only available frozen. The sashimi grade can be used for ceviche but needs to be drained well.
Nutrition for 1 portion
Calories:
125
kcal
Carbohydrates:
1
g
Protein:
8
g
Fat:
10
g
Cholesterol:
22
mg
Sodium:
27
mg
Fiber:
1
g
Sugar:
1
g
Vitamin A:
19
IU
Vitamin C:
1
mg
Calcium:
5
mg
Iron:
1
mg
Tried this recipe?
Let us know how it was! #culinaryambition