Best Traditional Foods to Celebrate Thanksgiving
Thanksgiving Day is largely celebrated in the North Americas (the USA and Canada) and as the name itself suggests – to give thanks! Historically, Thanksgiving is believed to have been introduced by the pilgrims aboard the Mayflower ship who reached America in 1621. After a good harvest the community would have a feast to give thanks for a successful harvest. Ever since, a day of Thanksgiving has been celebrated on the fourth Thursday of November, and the meal is often served in the evening with all the family together. Those with plenty of free time make it a full day celebration!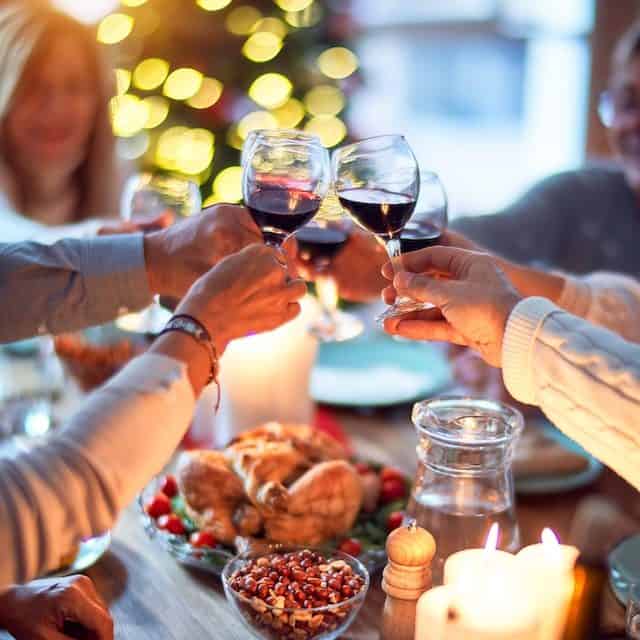 Over the years, a special Thanksgiving menu has developed as traditional fare and regional variations have evolved due to local preferences, availability or modern-day innovations. Feel free to share your traditional or personal thanksgiving recipes in the comments box below this article.
Turkey
A whole turkey roasted and served for Thanksgiving symbolises abundance. Flavoured with different herbs, or with lemon and garlic, the turkey is the centrepiece of the meal. Roasted with crispy skin and with succulent, tender meat inside, the turkey is carved on the table just before serving. Sides, also named trimmings, are other dishes served. Smaller families might decide against a huge bird to avoid too many leftovers and swap the turkey for a whole roast chicken. If you happen to have leftover turkey it can be frozen and used as an ingredient for future meals!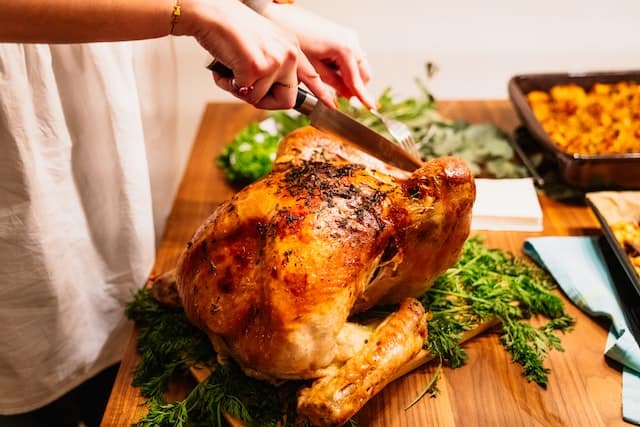 Thanksgiving stuffing
Also referred to as bread stuffing, is made out of stale bread, sourdough bread, or cornbread for a twist in the recipe. Although it is referred to as 'stuffing' it does not go inside the turkey but it is prepared as a totally separate dish. Pieces of bread are mixed with butter, onions, and herbs before being added to a batter made from eggs and chicken stock. The mixture is baked in the oven until golden brown on top. Additional ingredients of dried fruit or pecan nuts provide different textures and extra flavour and moisture.
Gravy
What's a good roast without gravy? Though it sounds simple, the recipe is a little time-consuming as it is a two-step process. Firstly, it requires roasting chicken or turkey cut offs such as wings along with onions, carrots and seasoning. The second stage is to remove the meat pieces and obtain the fat drippings and brown bits, which are then cooked further with white wine and flour to make a thick creamy gravy. Spare yourself stress and time on the big day by making this sauce ahead of time so it only needs reheating on the day!
Potatoes
A must-have carbohydrate with this traditional Thanksgiving roast, potatoes in any form or shape are welcome. Creamy, cheesy mashed potatoes or just simply roasted potatoes are a favourite. Other variations depend on personal preferences such as regular or sweet potatoes, baked or in casseroles.  
Cranberry sauce
Cranberry sauce pairs very well with turkey, potatoes and gravy giving the palate elevated flavours that are a combination of sweet, salty and tart. Cranberry sauce may be store-bought, although it is extremely easy to cook from scratch with simple ingredients of fresh or dried cranberries, water, sugar, and a squeeze of lemon juice.
Vegetables
Every meal needs 100% healthy additions and some greens or vegetables on the side are always welcome. Green beans in any form, kale, squash, cauliflower, roasted onions, or a salad provide additional nutrition. Cumin glazed carrots, brussels sprouts with or without bacon bits, roasted butternut squash or creamed spinach are other popular options.  
Pumpkin pie and other desserts
An essential serving of popular and traditional pies and desserts are enjoyed during Thanksgiving. Pumpkin desserts or pies can be mildly sweet and spiced with additional flavours like cinnamon. Many households prepare (and freeze) pumpkin puree from the pumpkins they may have hollowed and carved for Halloween a few weeks earlier. You can make dessert all about pie with the addition of pecan or apple pies, served on their own or with a dollop of whipped cream or ice cream. 
Other dessert options can be your own family favourites, and apple and berry cobblers, or bundt cakes with warm flavours will always be a hit!
Apple cider
Traditionally, apple cider was the accompanying drink for a Thanksgiving meal as it was brewed locally. Nowadays, besides cider, the drinks menu ranges from cocktails to wine, and from juice to sodas, depending upon family preferences.
Traditional Thanksgiving
A Thanksgiving meal is often celebrated with the extended family as well as friends. The host, or the best chef in the family, usually prepares the turkey, whilst everyone else brings the accompanying dishes for a large, gastronomic feast.