Shaved Brussels sprouts salad and crispy bacon
You only need 4 ingredients to make this delicious shaved Brussels sprouts salad! It is up to you to decide if you find this perfect winter salad best as lunch or as a side dish. There is no doubt though that it is very straightforward to make.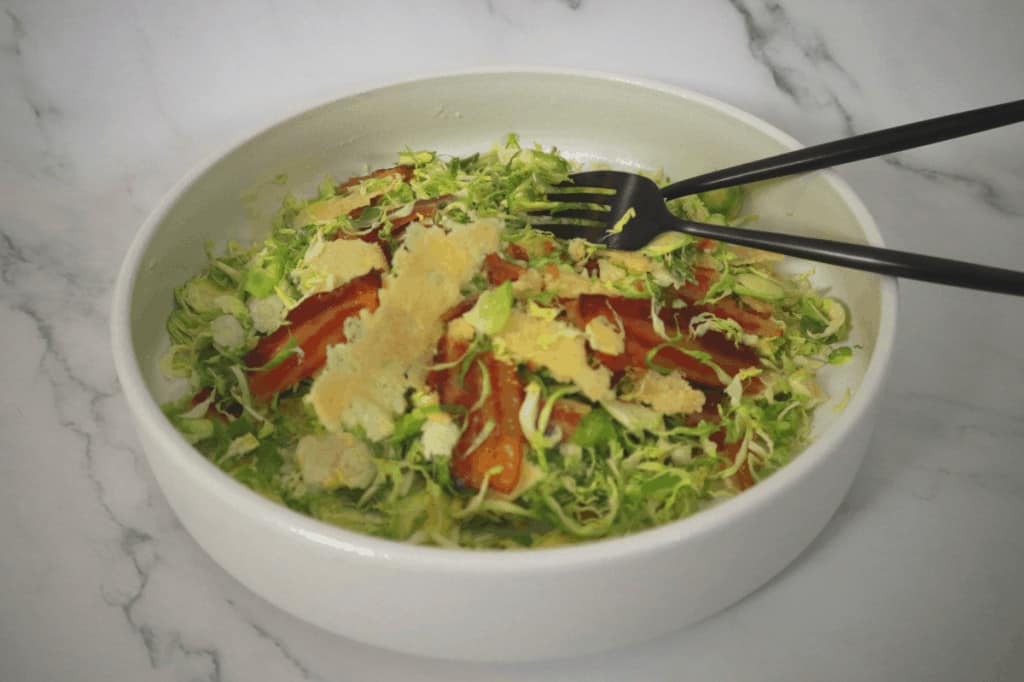 Although festive meals are over for now, Brussels sprouts are still in season and since they are one of the most versatile vegetables out there, and one of my personal favourites, we want to show you a different way to prepare them.
Can we eat Brussels sprouts raw?
We sure can and they are delicious and totally different when raw!
Most of you will only have them traditionally roasted or added them cooked to a salad, but there are no easier green vegetables to make a salad with because Brussel sprouts stay crunchy even when you prepare the salad in advance.
Another interesting fact is that the strong odour, which can spread when cooked, is not present when using them raw and their flavour is very mild too.
How to shave or shred Brussels sprouts?
We use a mandoline in this recipe, but you must be very careful as this tool is razor sharp. To be on the safe side, always use the safety guard that comes with this equipment. We usually make the shavings quite thin, but you can opt for a thicker version.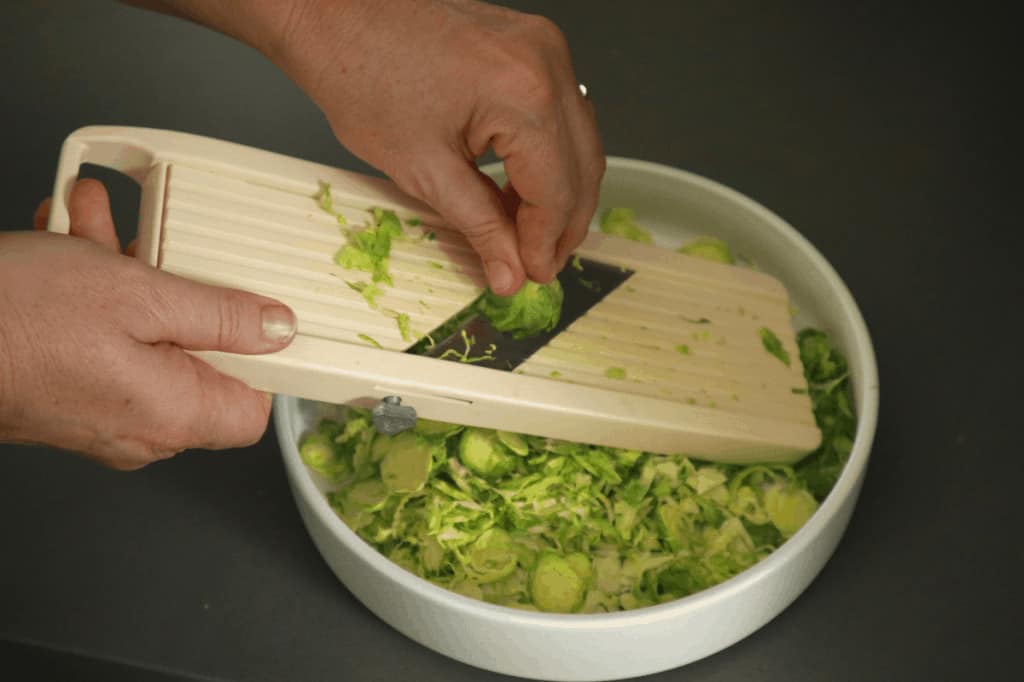 You can obtain the same result by using a sharp knife and slicing the Brussels sprouts very thinly too.
The last option is to shred them using your food processor. Only use the pulse function so you don't mush the sprouts. When using this option, trim the ends off first.
You can choose to keep the salad as per our recipe or you enhance it and add other ingredients such as roasted nuts, dried cranberries, green apples and even eggs. You can even exchange the Caesar dressing for a dressing of your choice!
Do you know that these little sprouts are also known as cold-weather superfood? This recipe is made with thoughts of our ultra runner friend Veronique. It surely will help during your next run because Brussels sprouts produce sugar to give you natural carbs, and with added grilled chicken you'll also get the necessary proteins!
Check our lists with seasonal products in winter.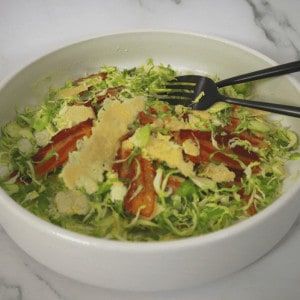 Shaved Brussels sprouts salad with crispy bacon
Brussels sprouts are versatile and work perfectly in a salad.
Instructions
Preheat the oven to 180°C.

Arrange the bacon slices on a baking tray with parchment on the bottom. Place a second parchment sheet over the bacon and put a tray on top. This will help to keep the bacon slices straight. Roast for 10-15 minutes or until crispy.

Make parmesan crackers by melting the cheese over a low heat in a pan.

Remove all dried outer leaves from the Brussels sprouts and shred them with the help of a mandolin.

Combine the shredded Brussel sprouts with a little Caesar dressing.

Arrange the bacon and parmesan on top and serve!
Nutrition for 1 portion
Calories:
313
kcal
Carbohydrates:
13
g
Protein:
12
g
Fat:
25
g
Cholesterol:
27
mg
Sodium:
717
mg
Fiber:
5
g
Sugar:
4
g
Vitamin A:
1099
IU
Vitamin C:
106
mg
Calcium:
304
mg
Iron:
2
mg
Tried this recipe?
Let us know how it was! #culinaryambition