Classic Breaded Veal Escalope
Is it a Wiener Schnitzel or Veal Milanese? There are discussions about this, and as delicious as it is to eat, it is believed it was created in Italy and named after its place of origin, Milan.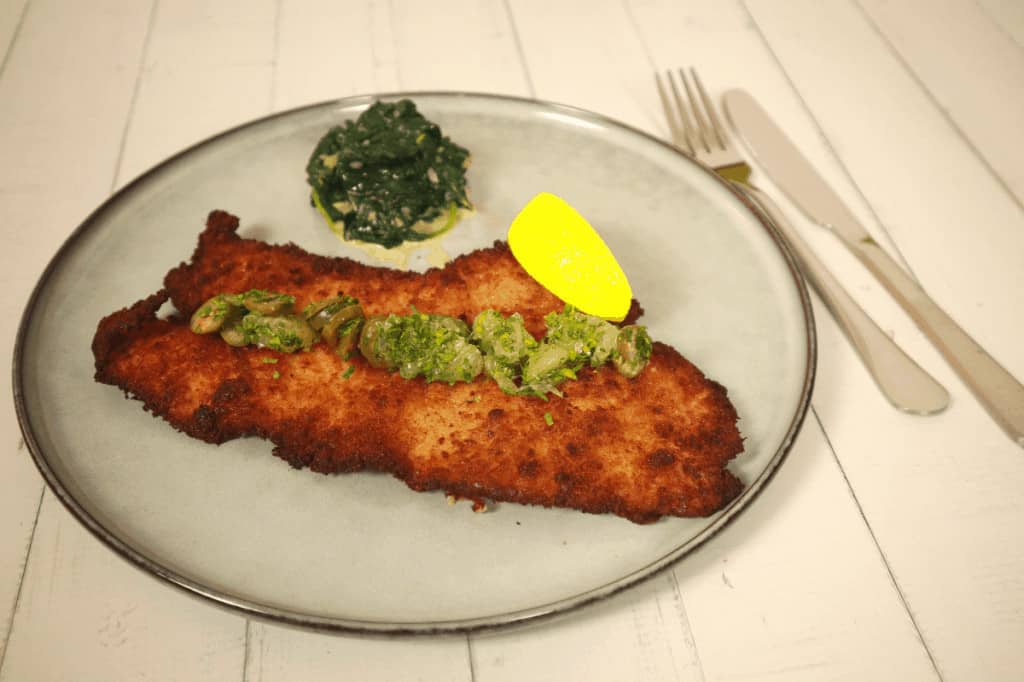 One sure thing is that breaded veal is a favourite of many. A perfectly coated, thin breaded veal escalope is tender and juicy with a crispy bite. 
Lemon, parsley and capers are the perfect finish to this dish.
What is escalope?
Escalope is a very thin piece of meat. The term usually refers to veal. Escalope has no bone and is made by flattening with a rolling pin or by pounding with any strong utensil or meat tenderizer. This process makes the meat nice and tender to eat.
Wiener Schnitzel or Veal Milanese?
Veal Milanese coats the meat, originally veal chops, with an egg mixture and breadcrumbs. Parmesan cheese can be added in the bread mix.
The Wiener Schnitzel, a cut from the rump or the flank, is a drier version with the meat first being dredged in flour. 
Read also other meat recipes.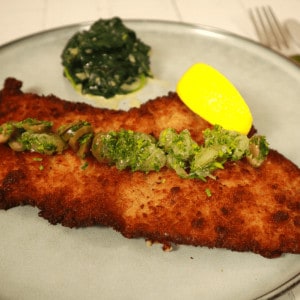 Classic Breaded Veal Escalope
Breaded veal is a favourite of many. A perfectly coated, thin breaded veal escalope is tender and juicy with a crispy bite.
Ingredients
For the garnish
Instructions
Flatten the veal slices with a butcher hammer.

Mix the whole egg with the milk and season with salt, pepper and cayenne chili pepper.

Prepare three large plates or trays with the flour, the beaten eggs and the breadcrumbs.

Coat the veal escalope in the flour (dust off the excess flour as much as possible).

Dip in the egg mixture and roll in the breadcrumbs until you have an even coating.

Use the back of a knife to make a criss cross mark on the breaded veal. Let the escalopes rest in the fridge for 15 minutes.

Heat cooking oil in a large sauté pan and shallow fry the breaded veal until golden brown on both sides.

Garnish the escalope with the parsley, lemon segments and capers.
Nutrition for 1 portion
Calories:
755
kcal
Carbohydrates:
42
g
Protein:
31
g
Fat:
51
g
Cholesterol:
103
mg
Sodium:
332
mg
Fiber:
2
g
Sugar:
3
g
Vitamin A:
51
IU
Calcium:
111
mg
Iron:
4
mg
Tried this recipe?
Let us know how it was! #culinaryambition
Highlights of fried veal escalope
In this recipe, we chose to bread our veal escalope then pan fry it in oil. The texture of the fried veal is crispy, but the inside is juicy and flavourful.
If you are making breaded veal escalope for your family, there are many side dishes to serve with it. Some favourites are mashed or roasted potatoes, rice, fresh salad, carrots, broccoli, or green beans. Whatever your family enjoys will be the perfect addition.