4 Best Food Dehydrators for Your Home Kitchen
Food can be preserved in many different ways! Dehydrating food is old-fashioned but with a food dehydrator it is easy and fun. Use this technique to preserve an abundance of home-grown seasonal vegetables and dehydrate meat or fish or make delicious and healthy snacks.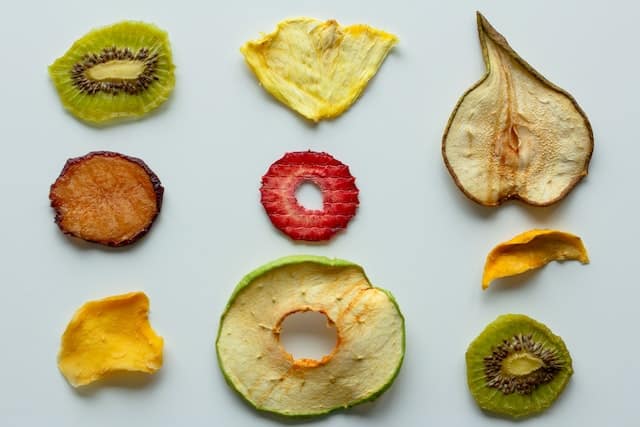 Dehydrated foods at low temperatures have more concentrated, intense flavours while retaining maximum nutritional content. You can't go wrong with a food dehydrator as they are easy to use, efficient, and precise. The dehydration draws the moisture out of food eliminating one of the elements needed for bacterial growth. Dehydrating your own foods compared to buying store bought dry foods won't save you a lot of money. However, the advantages of home dehydrating is control over added sugar or salt and the ability to ensure 100% natural products.
List of best food dehydrators
Things to consider before buying
Capacity and size
Dehydrating food takes time. The appliance extracts moisture from the product during a period of time at low temperatures. Therefore it is good to choose a machine that can hold a few trays at once and spread food out for optimal drying. Keep in mind that the larger the capacity the bigger your dehydrator will be.
Temperature control and timers
It is best to have a dehydrator with a temperature control function. A single temperature setting will do the job if you are a beginner, but adjustable temperature settings will dehydrate different types of food better with more precision. Temperatures should range from 80°F to maximum 180°F (26 to 82°C).
140°F (60°C) is recommended as it leaves enough time to extract the moisture from the food before the outside is too dry. Because dehydration takes a long time it is good to have a timer and some appliances also have an auto-shutoff button.
Heating elements and airflow
To ensure a steady airflow throughout the machine a fan is a essential. Dehydrators work through circulated heat that evaporates the moisture in the food. A fan makes the process more consistent, especially if you are using horizontal airflow. With vertical heating it is recommended to rotate the trays during the dehydration process. To optimise airflow it is vital not to overload the machine and leave space in between trays.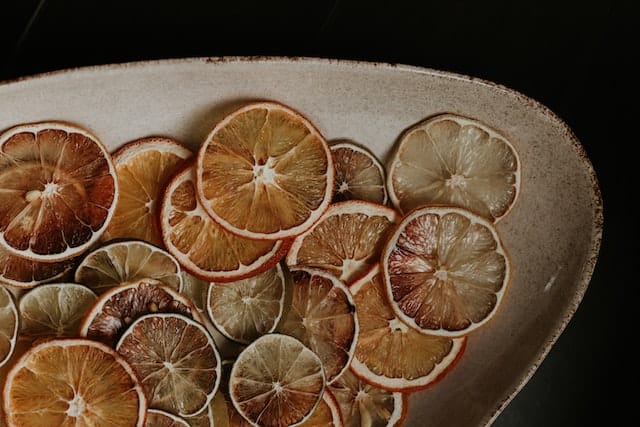 Overview of best food dehydrators
This black stainless steel dehydrator arrives fully assembled and comes with 6 stainless steel trays, 1 mesh screen, 1 fruit roll sheet, and a recipe book. The glass window allows you to see how the drying process advances and the digital control panel is easy to use. Temperature can be set for up to 48 hours (with an automatic shut off) meaning the machine can work overnight with a noise level of less than 48dB and an automatic shutoff feature stops the machine from working beyond the time set. All trays are dishwasher safe for easy cleaning.
At the time of writing, this appliance had over 14500 positive reviews on Amazon and we agree that this is a very good investment if you often dehydrate food.
Another great machine that arrives fully assembled and works very easily. A rear-mounted drying fan and air flow circulation dries food evenly without needing to rotate the shelves. Although the timer can be set only for a maximum of 24 hours, this is plenty of time. The automatic shut off function works well and a keep warm button can be activated if you choose to keep the food warm for an extra 24 hours. This dehydrator is delivered with 7 stainless steel trays, 2 mesh trays, 2 non-stick fruit leather sheets, a cookbook and a silicone oven mitt. Cleaning is easy as all trays and liners are dishwasher safe and the housing can be easily wiped down with a damp cloth. Extra safety is built in with auto shut off if the machine overheats.
The only negative for this dehydrator is the long warming time of 30 to 40 minutes before use.
This affordable dehydrator works with up to 5 stackable drying trays. Time can be set for 48 hours and will auto shut off when ready. The closing lid is clear but you can only really see the upper tray to check the progress of dehydration. Although there is a continuous airflow we recommend rotating the trays as the lower ones dry quicker than the top trays.
Besides the 5 trays this set also includes one fine-mesh sheet for drying small foods such as herbs and one solid sheet for making fruit rolls.
You might need to pay more attention to the drying process, but this Hamilton Beach dehydrator is great value for beginners and it is compact enough to store when not in use.
This compact Elite Gourmet model is a great budget price. It's a small appliance with basic controls which makes it very easy to use. However it needs a little practice to learn how to adjust to specific temperatures. The entire machine is see-through and it is easy to follow the drying process. This model also needs a little more attention during the process and trays should be rotated for even drying of the products. Note that it takes about 20 minutes before the machine is at the correct temperature and ready to use. After use, the trays are dishwasher safe and can collapse for storage.
To learn about more kitchen gadgets, and how they can help you, take a quick look here!