Thailand part 1- Authentic beach life in Koh Samui
Our paths crossed in the spring of 1999 on this tiny tropical island in the Gulf of Thailand. Koh Samui, a stunning coconut island with authentic facilities was just starting to gain popularity. We met in a little bar on the beach in Bophut Fisherman's Village.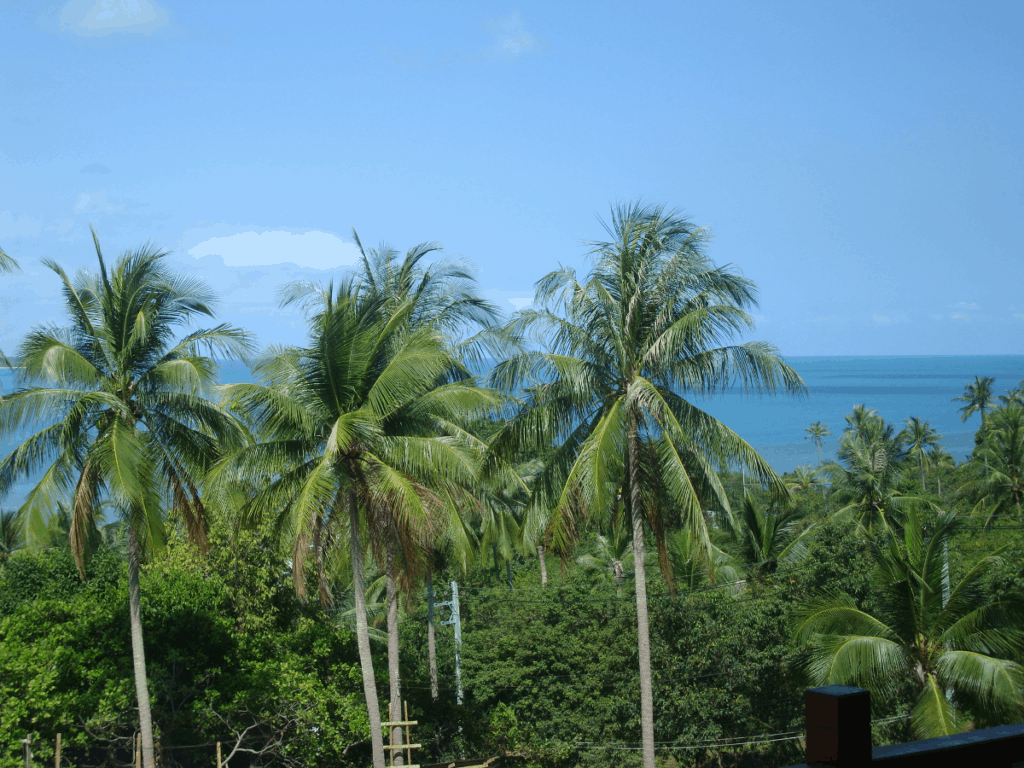 You probably understand why this is the most important part of our adventures together.
Falling in Love
Yannick was working as Executive Chef in a Boutique hotel. I was on my way to Belgium after backpacking in Australia, but during my little 'after holiday' in Samui, I got a job offer as a tour guide. It was an easy decision to stay and keep living life on a fairly unspoiled island.
We clicked from the first meeting in the little bar and soon after we were a couple! We remember how it was quite funny because Yannick didn't speak English at all and my French was not half as good now. Meanwhile, we have both learned a lot and chitchat all the time now in English and French!
This is where our adventures together started.
Lifestyle
We didn't only fall in love with each other, we also fell in love with Koh Samui.
We enjoyed work but we also appreciated the laid back lifestyle. An affordable weekly massage on the beach was only one of the great things. There were very few rules and regulations, having a campfire on the beach was no problem, no closing times, and everyone knew everyone.
There were only a handful of hotels with lots of open spaces on the beaches. Every evening, food vendors installed themselves and this created a great relaxed ambiance. Noodle soup, seafood BBQ and curries; everything was available for very cheap prices. I remember buying Pad Thai (fried noodles) for only 20 Baht a meal.
There were weekly 'moon' parties in the undeveloped bays. Full moon, half moon, no moon…even finding names for parties was done in a-laid back style.
The airport was small and without complicated controls; it was so easy going that we could walk to the plane to pick up visitors! How much more VIP can you be??
Development and Changes
With shorter plane rides and more tourists wanting to see this beautiful island, the development started. We decided to leave the island and look for other adventures. We travelled a little in Europe, found another job in Phuket, but we didn't like it and went back to Samui… all within the same year…
Meanwhile changes were still ongoing, the dirt tracks got paved and became roads, hotels were under construction and development of villas started. More bars and proper restaurants opened, and the little food shacks were moving towards the inside of the island. We missed the wooden huts that were falling apart and the simplicity, but the charm of the 'inner' island and the people remained.
Some ATM's popped up in Chaweng, which made it more convenient as we didn't have to drive to the other side of the island anymore for the one and only ATM for cash.
With the changes and the tourists came more traffic, as well as more rules and regulations. Closing times were implemented for clubs, and even Mcdonald's and a real supermarket found their way to Koh Samui. Luckily, the laidback lifestyle remained.
The Mangrove
A beautiful open wooden house was up for rent and we decided to open our own business. Our restaurant was off the beaten track, with romantic riverside dining and with view of the mangroves, hence the name.
It was challenging at times because import of ingredients was irregular, but we relied on seasonal and local products and of course the fresh seafood.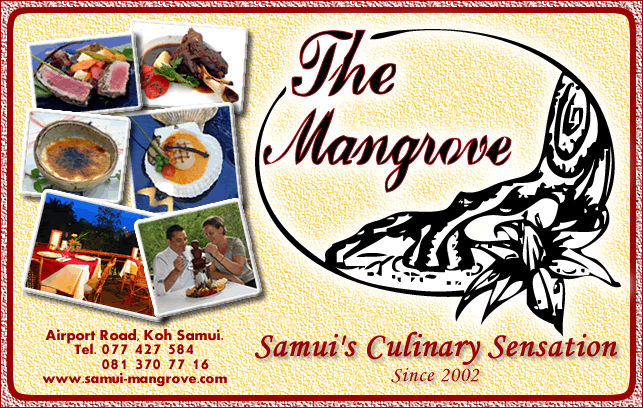 We had a lot of fun too, and not only with cooking and serving our guests. The Mangrove has been the set for a couple of scenes for an international murder scene called "Nature Morte". We even starred in this movie for a few minutes!
It was a lot of hard work, but we did place The Mangrove on the map. The best compliment we got was phrased in a dining guide…'Belgian/French quality, Thai hospitality and international credibility.'
We helped with the setup and development of a few other venues, just to keep variety and excitement in all our undertakings. In the end, you can't go to the beach all the time 🙂
Beaches
Everyone goes to an island to enjoy the sun, sea and beautiful beaches. In Samui it is possible to change your daily scenery and location and we can't miss out on telling you about a few.
Choengmon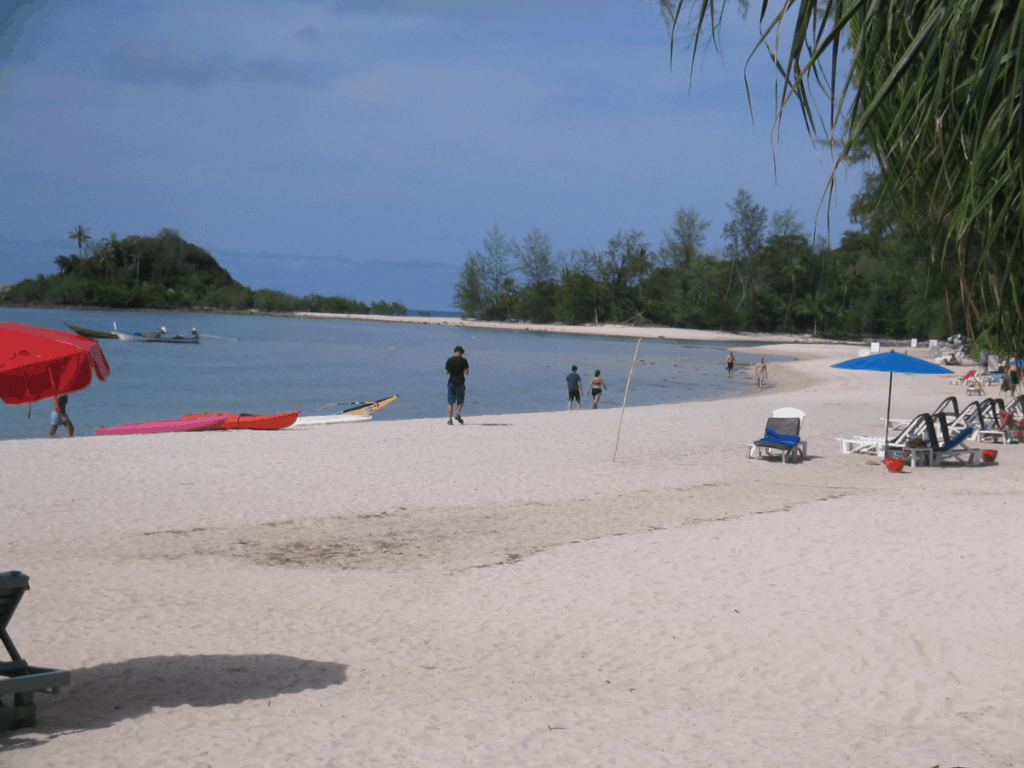 This is our favourite heavenly beach and lucky for us, we lived around the corner. It's perfect for a swim or some kayaking and enjoying some papaya salad overlooking the beach. This beautiful bay has kept the laid back atmosphere with a good balance between development and authenticity.
Chaweng
This is the main beach, with the longest beach of the island at 7 km. It is also the most touristic beach. You'll find hotels for all budgets all along. Not so much our place to be but the place to be for party people! The village offers everything, from restaurants and pubs to discos and shops…just don't expect it to be quiet. All watersports are available but be careful when swimming in February/March as there are strong undercurrents at certain parts of the beach.
Lamai
A copy of Chaweng but smaller and with more long-term tourists, it feels more like a village. To us not the best place to swim as you are immediately into the deep water and there is no smooth walking into the sea.
Bophut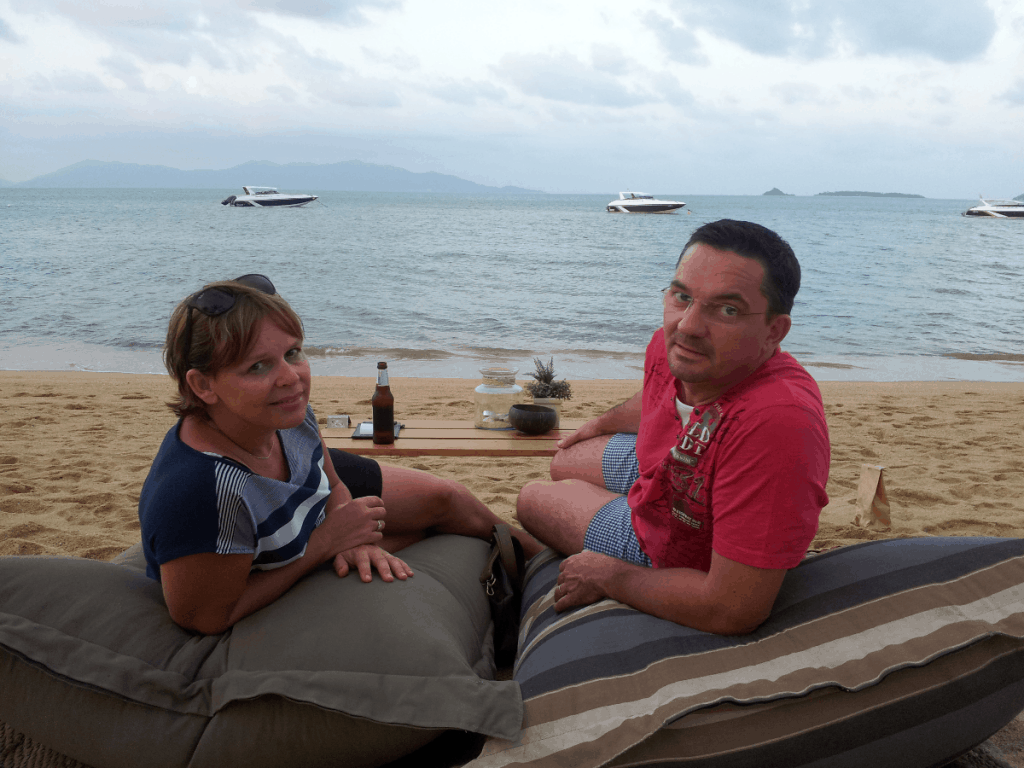 The view of Koh Phangan at the horizon is probably the best here and there is always something to see such as sailing boats anchoring in the bay. Most day trips depart from here and it's a great place for people watching.
Sights not to miss out on
Big Buddha
The most distinctive attraction on the island is Wat Phra Yai with its majestic golden buddha statue. Many shops cater for the tourists, but it is still an active place of worship. This place becomes even more magical during special festivals such as Loy Kratong, the lantern festival.
Hin Ta Hin Yai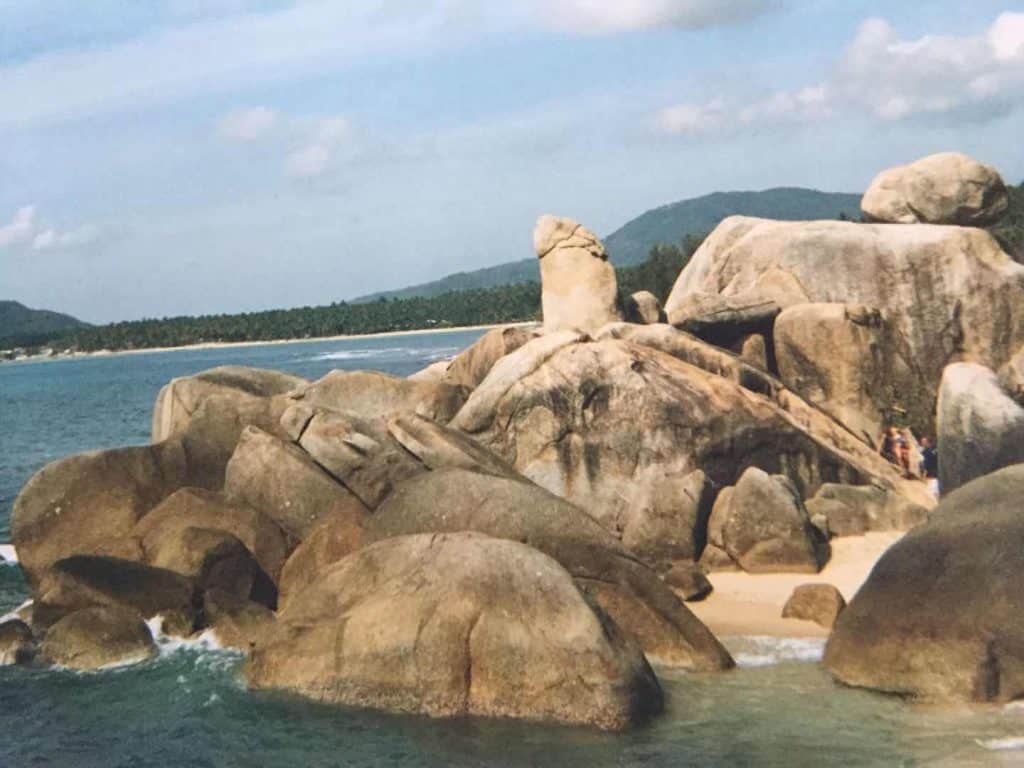 These fascinating rock formations, known as Grandpa (Ta) and Grandma (Yai), look, respectively, like male and female genitalia. It's always fun to hang around and watch people giggling while taking pictures. The pristine waters here are so clear that colourful marine life can often be seen from the surface.
Fisherman's Village
The best village of the island, remember, we met here! There are not many fishermen anymore but the typical wooden historical houses remain, and are now the scenery for the many restaurants, bars and shops in this one street village. There is an all-day chilled out vibe from breakfast to dinner. Friday nights are legendary for the 'Walking Street market'
Namuang Waterfall
You get two for the price of one. The smaller one is extremely easy to reach and great for a refreshing swim. A little hike of thirty minutes gets you to the second waterfall which is an impressive 80m high. The surroundings are stunning lush forests and you might spot monkeys some days. You can enjoy endless refreshments without carrying too much because friendly vendors are all around with fresh drinks and delicious Thai snacks.
Magic Garden
This secret Buddha garden is hidden up high in the hills in Koh Samui's interior, offering majestic views and an unusual collection of statues. It's one of our favourite places, in the lush jungle. The gardens are a creation of an old Samui fruit farmer who started building his magic dream in 1976. You can get there if you rent a jeep but for the non adventurous, most organised jeep safari tours are passing here.
Activities
Diving
Samui is one of those tropical wonderlands which is also surrounded by great marine life. The island itself is good for learning and shore dives, but all the spectacular sides are just a speed boat ride away. From beginners to pros, the calm waters of the Gulf of Thailand will spoil you with submerged pinnacles, large rocky seamounts, colourful corals and reefs with plenty of marine life for you to enjoy, including opportunities to see whale sharks. The waters of Thailand are generally calm and warm, so a high-quality rashguard is a great thing to have in your dive gear bag. 

Thai Cooking Class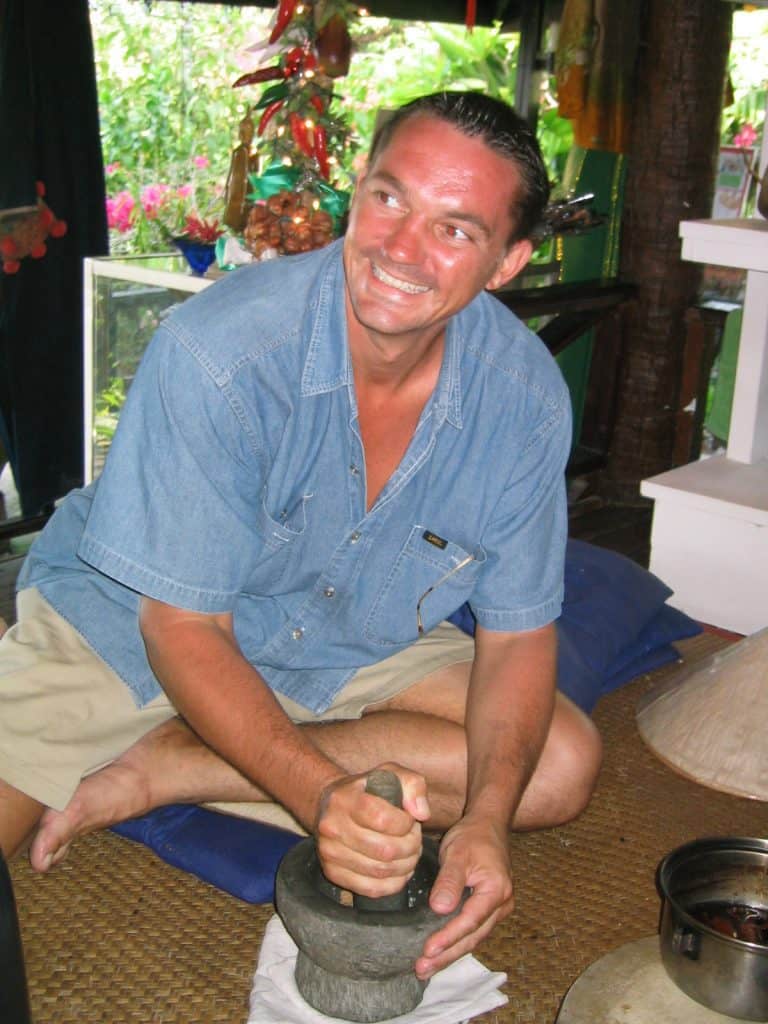 Cooking classes are available around the island. We took a few classes because it's fun and the locals are so proud of their food culture; you will always learn something new. They usually start with the basics as well as explaining how to mix all the typical spices. This is great learning to enable you to prepare curries and other dishes once back home.
Ying's Thai cooking home is very much like it was in our days. She invites you to her classic Thai vintage home , hidden in the jungle off the beaten track, where you can experience the local lifestyle. She takes time to show you what is real Thai food.
Spa
A massage on the beach or by the pool is a fantastic treat. We recommend not to miss out on a real spa experience. Tamarind Hills was the first 'jungle spa' on the island and offers an exceptional service you will never forget. The different packages cater for individuals and couples and you can choose from different treatments. Make a day of it, you won't be disappointed.
Wine and Dine
Did you know that Thai people usually greet each other by asking if they have eaten? That explains immediately how important food is in their culture. Every meal is a party and they surely take the time to enjoy their food.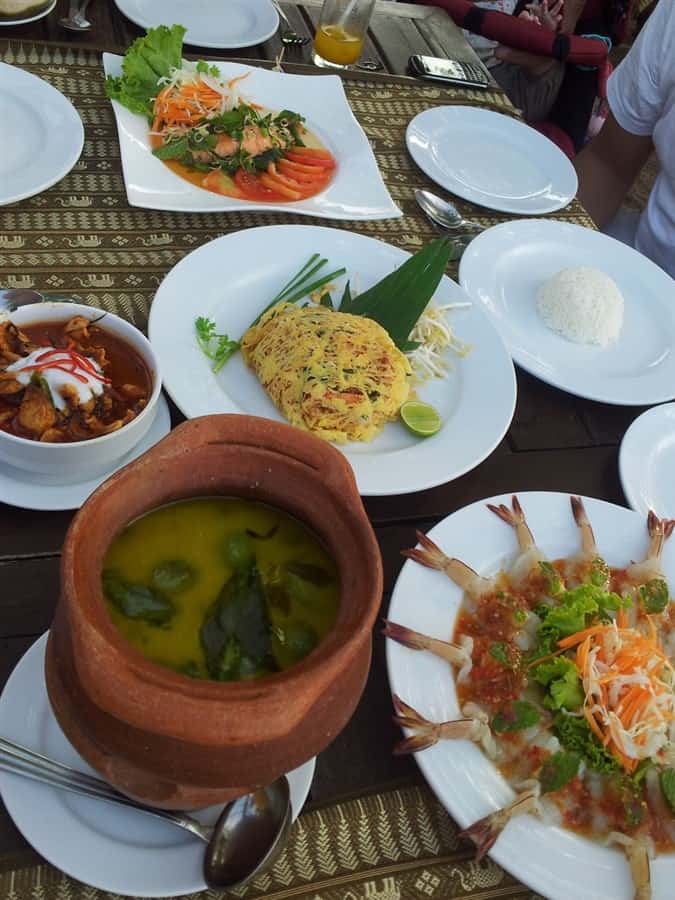 Isn't Thai food just the best? Papaya salad with the delicious marinated chicken and sticky rice on the beach, perfect! Or, just a table on the side of the street where they serve the best curries, and the vendor on his motorbike with a sidecar that houses a fully equipped kitchen. We love them all for the authentic dishes they prepare repeatedly. You can't go wrong with Thai food but be aware of the spiciness. The easiest way is to tell the vendor how many chilis you want..a little or medium spicy for them, is mostly still burning hot for us!
When in Samui you can't miss out on seafood. The fishermen sail out daily for the freshest fish. Shrimps, barracuda's, snappers and clams are local delicacies.
Our recommendations
Sleeping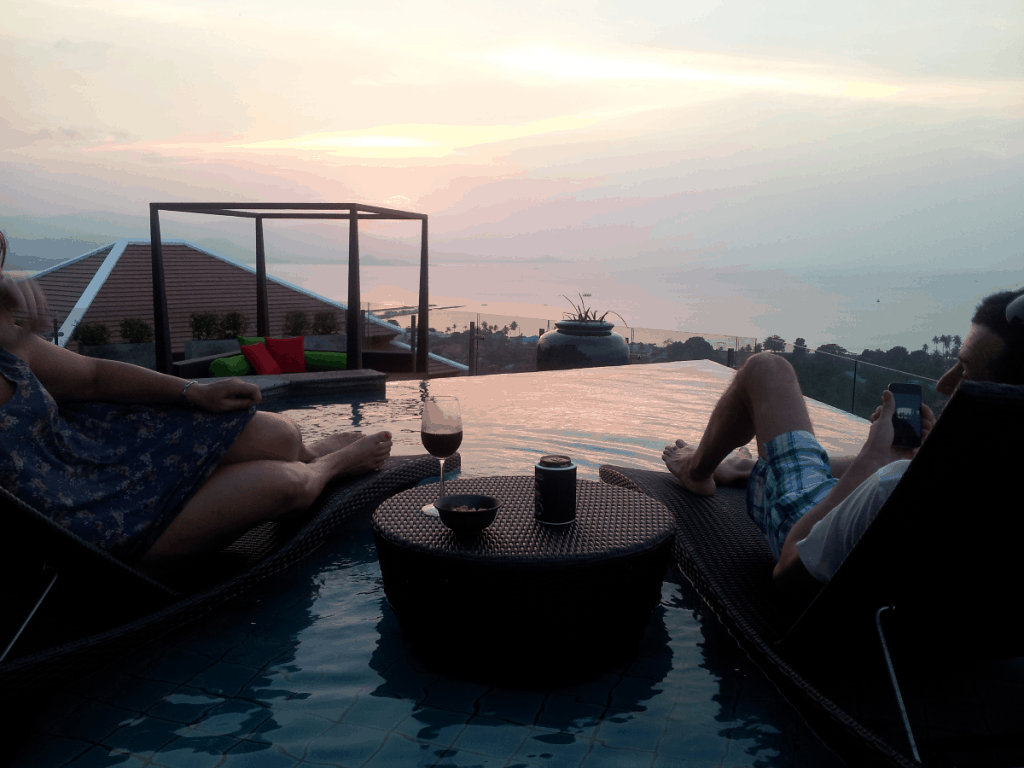 We prefer the private pool villas, these are very affordable in Samui and come with hotel service. Check out White Rose Samui. They have great properties around the island on their list, many with gorgeous views. We love the hilltop property in Ban Plai Laem.
There are many good beachfront hotels on all the beaches but we prefer high end Sala Samui and for lower budget Honey Samui, both on our favourite Choeng Mon beach.
Dining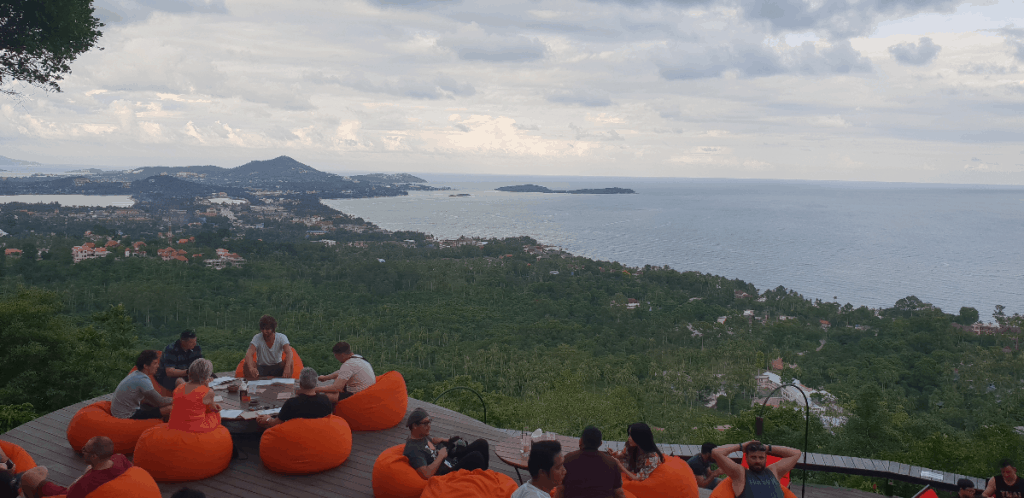 Jungle Club Viewpoint is the first on our list, and great from breakfast to dinner. The spectacular views will add to the culinary pleasures. They also have accommodation.
Head to Bophut for breakfast at Karma Sutra Bar with a super chilled atmosphere and the best shakes. In the same village is Frogs & Gecko's, is well known for 20 years for the best island pub quiz. Their live music nights have a great ambiance and their drinks and food are also of a high standard.
Get organised
Flights and accomodation
You can organise flights and accomodation seperately but there are plenty of organisations who can help you with tailormade packages. These tours are made for your convenience and to optimise your time during your holiday, whether you like a relaxing holiday on the beach or a cultural trip in an exciting city somewhere on this globe. Travelstride has gathered different organisations and there is surely something that will suit your needs.
Luggage Storage
If you are only visiting for a short time you might need a safe place to store your luggage. Bounce is an organisation with over 6000 locations around the world to safely leave your bags while you explore the city or enjoy a short stopover.
Car rental
Discover Cars is a good website for comparing prices to find the best deal. They search both local and international rental companies.
Protect Your Trip
Get yourself travel insurance and offer yourself a stress free trip! Protect yourself from possible injury and theft while travelling. World Nomads has good and affordable cover for short term trips