A Traditional prepared Basque Piperade
Piperade or piperrada is a recipe from the Basque region between France and Spain. It is made with sweet peppers or bell peppers, onions, tomatoes, and the local spice called Piment d'Espelette. It is sometimes referred to as the Basque version of a traditional ratatouille. It is the perfect accompaniment to poached eggs and ham, or it can be used as a sauce for pasta or served with fish or meat.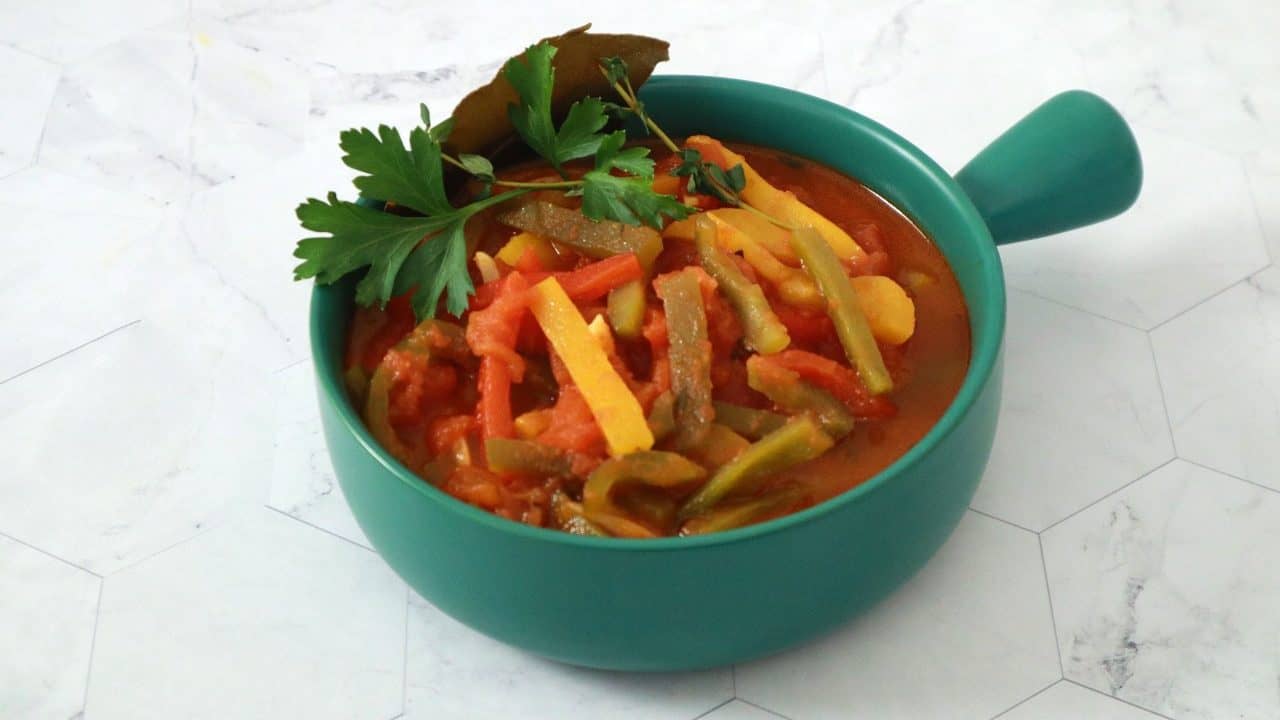 The red and green peppers, tomatoes and onions coincidentally represent the colours on the Basque flag. We are encouraged to 'eat a rainbow' so we have also added yellow peppers to our recipe, and while it might be good to improve your mood, this does not affect the traditional flavour of the dish.
What is Piment d'Espelette?
Piment is French for pepper and Espelette is the town in the Basque region where this spice is produced, hence the name Piment d'Espelette. This spice is adding subtle heat to dishes and is a delicate alternative to cayenne or paprika powder. It got the AOC accreditation (Appelation d'Origine Controlée) in 2000 for its regional importance, and it is worth noting it replaces white pepper in most recipes in this region.
Piment d'Espelette is available in powdered or paste form at specialty food stores. Locals traditionally highlight this product by hanging bunches of dried piment d'Espelette around the town during October's celebration of Peppers in Espelette.
In order to make this recipe tasty without the skins, you will need to peel the peppers and the tomatoes. Instructions are shared in this recipe to keep it easy for you.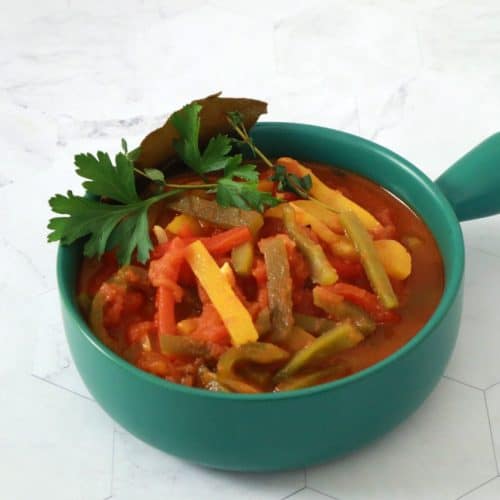 A Basque Piperade
Piperade is the perfect accompaniment to poached eggs and ham, or it can be used as a sauce for pasta or served with fish or meat.
Instructions
Peel the peppers
Grill the peppers using a blowtorch until the skin blackens.

Place them in a plastic bag or wrap in cling film for 15 minutes.

Remove the skins in a large bowl or under cold running water, and cut the peeled peppers into strips and keep aside
Peel the tomatoes
Wash and score the tomato skins with a crisscross.

Plunge them into boiling water for 15-20 seconds then transfer into iced water.

Peel them and cut strips after removing the seeds, cut into strips and keep aside.

Make tomato juice from the seeds and membranes by adding all in a blender and adding a little water.
Cook the piperade
Warm a good amount of olive oil over a medium heat and sauté the garlic, the thyme, the bay leaf for 2 minutes or until fragrant.

Add the tomato juice (500ml) and simmer for 15 minutes.

Add the sliced onion and pepper strips to the tomato sauce and cook together for 5 minutes.

Add the tomato strips, season to taste with salt, Piment d'Espelette, and continue to cook uncovered until the vegetables are soft and the liquid has partially evaporated, and the sauce thickens.
Nutrition for 1 portion
Calories:
87
kcal
Carbohydrates:
1
g
Protein:
1
g
Fat:
9
g
Sodium:
1
mg
Fiber:
1
g
Sugar:
1
g
Vitamin A:
222
IU
Vitamin C:
2
mg
Calcium:
4
mg
Iron:
1
mg
Tried this recipe?
Let us know how it was! #culinaryambition