Best Banana-Apple Energy Snack to Go
Our bodies need the right kind of fuel from food to perform at their best. It is especially important for athletes to find a balance of carbohydrates, proteins, fats, minerals, vitamins, and water to give the body the energy and whatever else it needs for peak performance.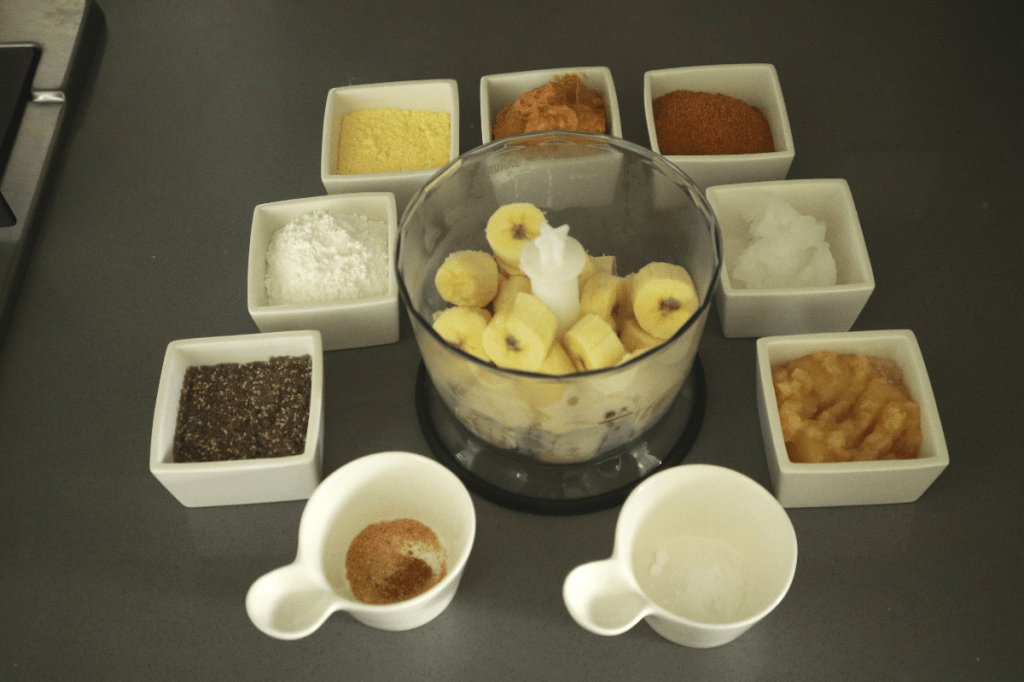 Our friend, Veronique Bourbeau, is an ultra-runner and asked us to create some tasty recipes in order to mix up her diet while keeping them healthy and delicious.
This banana-apple energy snack is perfect to eat 30 minutes to 1 hour before a long distance run. Depending on the length of the run it can also be eaten in small amounts during the activity because it is easy to digest and it will provide fast acting energy.
For our non-sporty followers, it is simply a tasty snack or dessert well worth giving it a try!
Related: Apricot tart with almond cream
Banana-apple energy snack to go
This energy snack is easy to digest and provides fast acting energy.
Instructions
Preheat the oven to 170°C.

Blend the bananas with the coconut oil, applesauce, peanut butter, soaked chia seeds, cinnamon, nutmeg and salt until well blended.

Then add the cornmeal, sticky rice flour, coconut sugar, the wet ingredients and blend to combine with the rest.

Line parchment paper onto a baking tin and sprinkle some toasted nuts and seeds.

Add the batter on top.

Bake for 35 – 45 minutes, or until done. A toothpick inserted in the centre should come out clean.

Place the pan on a wire rack to cool completely before slicing into squares of desired size and enjoy!

These bars can be stored in the refrigerator for 3 to 5 days.
Notes
Overripe bananas are perfectly safe to eat. They actually boast higher vitamin C and antioxidant levels. Their peel may change its colour or develop brown spots, but the flesh is still edible.
If the bananas are not ripe enough, place them in the microwave for 4-5 minutes at medium to high heat until the skin is black.
If the texture is too chewy for you and you like a firmer texture, replace the sticky rice flour and polenta with 50 gr buckwheat flour and 30 gr ground almonds.
Nutrition for 1 portion
Calories:
161
kcal
Carbohydrates:
22
g
Protein:
2
g
Fat:
8
g
Sodium:
173
mg
Fiber:
2
g
Sugar:
9
g
Vitamin A:
16
IU
Vitamin C:
2
mg
Calcium:
13
mg
Iron:
1
mg
Tried this recipe?
Let us know how it was! #culinaryambition