Artichoke with Sauce Vierge
Sauce vierge, literally translated as virgin sauce, was created only in 1976 by French chef Michel Guérard who is known as one of the founders of nouvelle cuisine.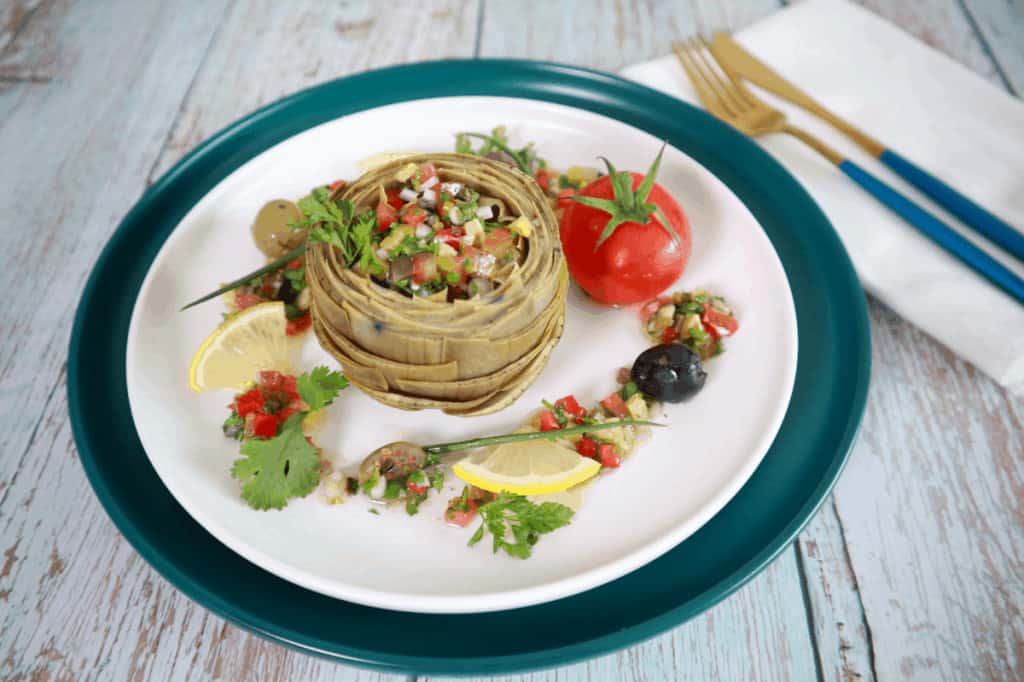 This light sauce is a spruced up vinaigrette with a refreshing finish. Must have ingredients in the basis of this sauce are fresh tomatoes, olive oil, lemon juice and fresh herbs. Thereafter you can give your own flare or make our version and make it a little more sophisticated with a Mediterranean twist.
The sauce pairs well with artichokes but it is also delicious with shellfish and fish. You can also choose to serve with other vegetarian options such as pasta.
Related: Traditional artichoke barigoule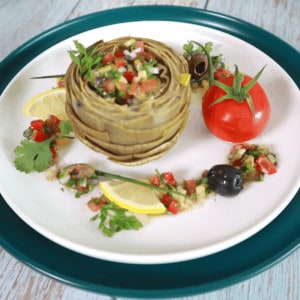 Artichoke with Sauce Vierge
This light sauce is a spruced up vinaigrette with a refreshing finish.
EQUIPMENT (click pictures for details)
Instructions
Prepare the artichoke
Bring a large amount of salted water with a slice of lemon to the boil.

Break the stems of the artichokes, cut the top leaves (optional) and use scissors to cut the pointed outer petals.

Rub the artichokes with the lemon to prevent oxidation.

Boil the artichokes for 15-20 minutes (depending on the size) until the heart is tender.

When ready, remove the artichokes and place them upside down on a wire rack to cool.
Prepare the sauce vierge
Combine all ingredients for the sauce and let macerate for 30-45 minutes to develop flavour. Adjust the seasoning to taste.
Plate the dish
Use your fingers to gently open the inner petals of the artichoke and remove the 'hairy' centre.

Pour the sauce in the centre and around the artichoke, then serve.
Nutrition for 1 portion
Calories:
233
kcal
Carbohydrates:
2
g
Protein:
1
g
Fat:
26
g
Sodium:
104
mg
Fiber:
1
g
Sugar:
1
g
Vitamin A:
40
IU
Vitamin C:
3
mg
Calcium:
16
mg
Iron:
1
mg
Tried this recipe?
Let us know how it was! #culinaryambition